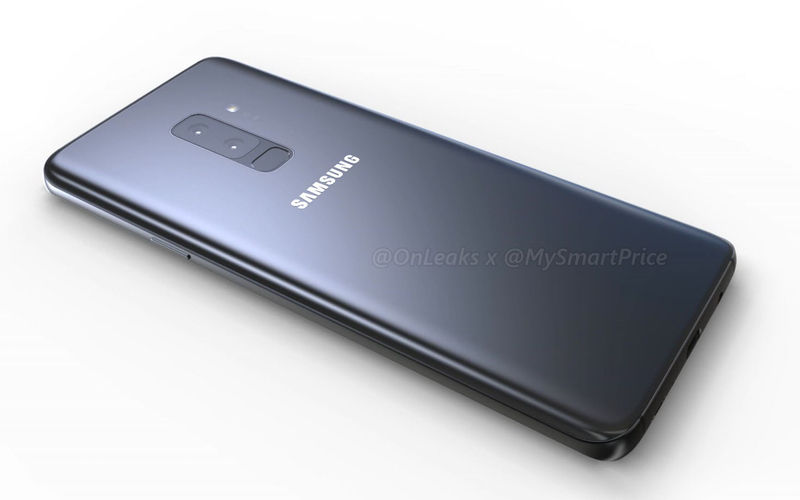 We're just a couple of months away from the announcement of the Samsung Galaxy S9 and the Samsung Galaxy S9+. Naturally, plenty of leaks and rumours have started pouring in. Some rumours claim that the Galaxy S9 and S9+ will feature even shorter bezels compared to their predecessors, the Galaxy S8 (review) and the Galaxy S8+. Some other rumours claim that the upcoming flagship smartphones from Samsung might come with in-screen fingerprint readers. However, we want to put an end to baseless rumours and inaccurate leaks by bringing you exclusive renders of the Galaxy S9+ and a 360-degree video of the smartphone in collaboration with @OnLeaks who has been quite accurate in releasing device renders before their official announcements.
Samsung Galaxy S9 Plus Renders
Samsung Galaxy S9 Plus Exclusive Renders
As you can see in the renders, the Galaxy S9+ uses a design philosophy that we already saw with the Galaxy S8+. The phone measures 157.7 x 73.8 x 8.5 mm and comes with a 6.1-inch screen. Unlike what some rumours claimed, the top and bottom bezels are just 0.1mm thinner than on the Galaxy S8+. However, there are a few differences, and the most important of them is the presence of a dual-camera setup and the placement of the rear-facing fingerprint reader. This means that all our hopes of an in-screen fingerprint reader have been buried. The fingerprint reader's new placement below the camera sensor means that it can be slightly easier to reach, though.
The heart-rate sensor and the single-LED flash is at the right side of the dual-camera setup. The USB Type-C port, 3.5mm headphone port, loudspeaker, and the primary microphone are at the bottom, similar to the Galaxy S8 and S8+. The power button is at the right side of the phone, while the volume rocker and the Bixby button are at the left side of the device. The secondary microphone and the SIM card + microSD card slot are at the top of the phone. Samsung will continue to use an iris scanner, which is evident from the placement of a bunch of sensors above the screen. It's good to know that Samsung isn't ditching the 3.5mm headphone port (yay!). Have a look at the 360-degree video of the Samsung Galaxy S9+ below.
Samsung Galaxy S9 Plus 360-Degree Video