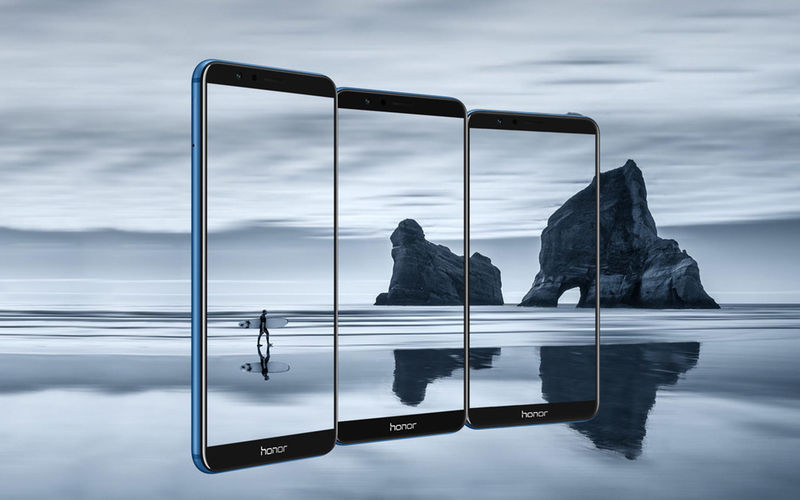 Display technology has come a long way in the past decade, with most of the research and development centred around the smartphone screen. While most advancements have revolved around the core display panel itself, bezel-less design has proven to be a more out-of-the-box solution to a problem that was inconspicuous, until we witnessed the phenomenon in person.
The genius of a bezel-less smartphone lies in the sheer simplicity of its design. In one fell swoop, it allows smartphones to tackle the mutually exclusive aspects of compactness and large screen size. Phones bearing bezel-less displays can house large screens without being overly imposing and hindering one-handed usage. It's quite brilliant, to be honest.
The future is bezel-less
But like all new innovations, bezel-less displays have hitherto remained restricted to the uber expensive flagship and high-end smartphones. However, what was until now a reserve of premium smartphones has come to the masses through the Honor 7X, which is the first in its segment to implement the innovative design element. With the screen-to-body-ratio touching 80 percent, the Honor 7X can incorporate a massive 15.06 cm screen without affecting ergonomics and, with some clever EMUI 5.1 optimisations, one-handed usage either.
What sets the Honor's FullView display apart from the competition is that unlike other implementations, the Honor 7X sports a much higher FullHD+ resolution of 2160×1080. Combine the Honor 7X's superior resolution with its large display, and you get an impressive pixel density in excess of 400ppi. What you have here is a display in the league of phablets, without losing out on compactness or ergonomics, while also being sharper than anything in its price range. This here is the holy grail of display technology.
See more, do more
Another upside to Honor 7X's FullView display technology is the ultra-wide aspect ratio. The unique FullView display with a 2:1 aspect ratio is engineered for a richer movie and TV show viewing experience. To put it in layman's terms, the FullView display either completely eliminates or greatly reduces the ugly black bars surrounding film content to show you more of what you're watching.
And it isn't all about entertainment either. The taller FullView screen also shows more of your favourite app and minimises the need to scroll through webpages as you can see more content on screen. The One-key Screen Split function, for example, depends fundamentally on the ultra-wide aspect ratio of the FullView display to effectively run two separate apps on the same screen. That means, you can watch a movie and chat with your friends at the same time.
We got all the bases covered
When it comes to real-world usage, a good display has to walk a tightrope between maintaining colour accuracy while also not compromising on the vividness of the rendered images. While it's important for a display to capture the entire colour gamut in indoor settings, it should also be bright enough to be legible outdoors. And it has to do all this while being durable and power efficient. It's for this reason that the Honor 7X is equipped with the tried-and-tested IPS LCD display. This allows the phone to be colour accurate, without worrying about burn-in issues and colour shift problems associated with competing display technologies.
The 5.93-inch FullView display is versatile enough to be both legible in bright outdoor daylight conditions, while also being gentle on your eyes whilst reading in the dark. The IPS panel ensures that the colours maintain their integrity and the display looks uniform even at extreme viewing angles. The underlying IPS LCD panel is not only more durable, but it also maintains its colour uniformity and brightness better over the entire lifespan of the device. That way, while other phone screens look progressively worse with age, the Honor 7X will maintain its pristine good looks for a long, long time.
Performance simplified
In fact, if you happen to be a power user, the Honor 7X offers the most comprehensive display tweaking options through the setup menu. Users can not only choose from various display presets, but everything from colour saturation, gain, temperature, and more can be modified by the means of an innovative graphical interface that's intuitive enough for even complete laymen to get the display set up to their preferences.
The Honor 7X's 6-inch FullView IPS LCD display doesn't just herald premium bezel-less design for the masses, but it also encompasses an unprecedented level of quality and performance at a price that just beggars belief. Get ready for a world of ultra-wide gaming and video playback through the Honor 7X's FullView display that leverages the power of EMUI 5.1 to increase productivity and enrich your smartphone experience.