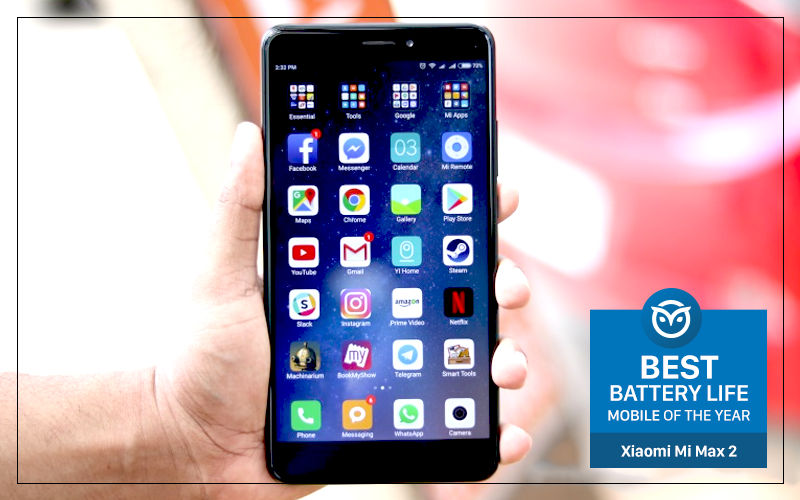 Battery life has always been one of the most important criteria of any smartphone, especially in India. We still remember the year 2014, when the flagship smartphones equipped with Snapdragon 810 processor faced huge battery life issues because the processor had batter efficiency issues. Unfortunately, that year, smartphone manufacturers were also concentrating on design and were lowering the battery capacity to make slim phones. As a result of an inefficient processor, and lower battery capacity, most of the flagship smartphones that year delivered a terrible battery backup. Luckily, the year 2017 has been the year where most of the smartphones have good battery life. Let us have a more detailed look at factors that influence battery life on a smartphone.
Factors that influence smartphone battery life
Battery Capacity
Battery capacity is the most important factor for battery backup. The higher the battery capacity, the longer the device lasts. This year, the manufacturers were in a race to equip their smartphones with larger batteries, which obviously benefits users. We were happy to see that not only high-end smartphones but also entry-level smartphones were equipped with larger capacity batteries. Xiaomi has been the prime manufacturer to equip smartphones with large capacity batteries, followed by Lenovo, Gionee, and Samsung.
Power efficiency
The power efficiency of the components used in the smartphone matters a lot. The three components that have a great impact on battery life are processor, display, and wireless radio. Even though the displays have not seen a significant improvement in power consumption, the processors and radios have.
A processor consists of transistors, and the smaller the transistor, the lower the power it consumes. This year, most of the processors from Qualcomm, Samsung, Huawei, and Apple are based on 10nm and 14nm technology, compared to the last year's 22nm technology. Therefore, the processors have become more power efficient this year, and they have contributed to the increased battery life of smartphones.
Moving on to the wireless radio, connectivity features like Wi-Fi, Bluetooth, GPS, and cellular modem are all packed into the smartphone's SoC (system on chip, also known as mobile processor). A power-efficient radio results in lower battery drain during sleep as well as during any connectivity operations. The radios used in the smartphones have also become much more efficient this year, resulting in improved battery life.
Software optimisation
It doesn't matter how large the battery capacity is, or how power-efficient the components are unless until the phone's operating system and software are optimised. This year, Android smartphones have seen a huge improvement in software optimisation, thanks to the Android Nougat's inbuilt feature called 'Doze', which monitors the usage patterns of the user, and power consumption of the applications and then accordingly sets the parameters to reduce the battery drain. Apart from Doze, most of the smartphone manufacturers have implemented some or the other kind of low-power mode to increase the battery backup in times of need.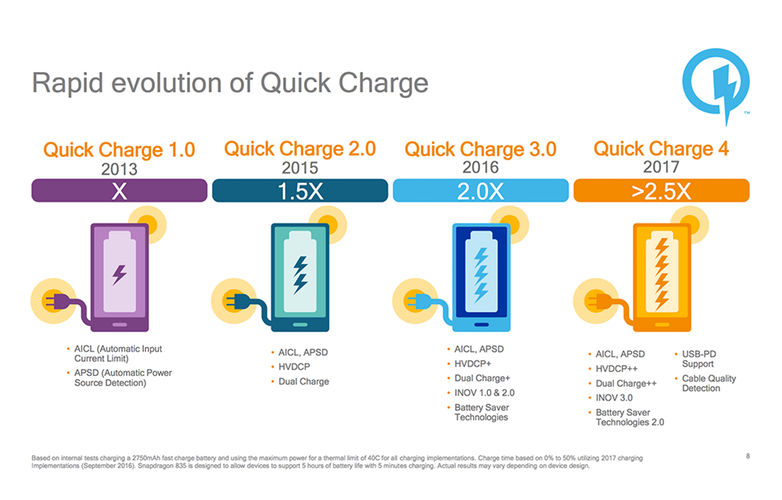 Charging time
Most of the smartphones in 2017, regardless of their price category, have been equipped with some kind of rapid battery charging technology, which has reduced the charging time by a huge margin. Even Apple has equipped its latest smartphones with fast charging technology this year, which shows how important fast charging is for any smartphone user. Here are the fast charging technologies that are being used this year in smartphones.
Qualcomm Quick Charge 3.0
OnePlus Dash Charge
Samsung Adaptive Fast Charge
Oppo VOOC Fast Charge
Motorola Turbo Charge
Apple Fast Charge
Apart from fast charging technologies, the year 2017 has also bought wireless charging to many smartphones. Manufacturers like Samsung, LG, HTC, and Apple have equipped their flagship smartphones with wireless charging. However, according to us, wireless charging is still an immature technology, as it takes a whole lot time to charge the device. Only Samsung allows rapidly charging a smartphone's battery through wireless charging.
This year's top smartphone contenders

The Xiaomi Redmi 4 is among the best affordable smartphones one can buy in India. The device packs a massive 4100mAh battery, which is paired with a very power-efficient Snapdragon 435 processor, and low power consuming 5-inch HD IPS LCD display, which results in an extraordinary battery backup. The smartphone lasts about two days under heavy usage. Unfortunately, the device misses out on fast battery charging technology.

The Xiaomi Redmi Note 4 is currently the highest selling smartphone in India; it is powered by a 4100mAh battery. The device features an octa-core Snapdragon 625 processor, which is built on 14nm technology, meaning, it consumes very less amount of power. Also, the device comes with a very optimised MIUI 9 software, resulting in an excellent battery backup. Similar to the Xiaomi Redmi 4, the Redmi Note 4 too lasts about 40 – 48 hours with an average screen-on time of 7 – 8 hours. It also comes with 10W fast battery charging. Read our full review of Xiaomi Redmi Note 4 here.

The Xiaomi Mi Max was an absolute hit last year due to its excellent battery life, packing a massive 5000mAh battery and a large 6.44-inch screen. However, the Xiaomi Mi Max 2 takes the game even further with an upgraded battery capacity of 5300mAh. Yes, you've heard it right; it packs a jaw-dropping 5300mAh battery, due to which, it has no problem providing you with a battery backup of more than two days under moderate usage. Additionally, the device comes with Quick Charge 3.0 technology, which makes charging the device a hassle-free task. Read our full review of Xiaomi Mi Max 2 here.

The Samsung Galaxy J7 Pro packs the largest battery among all the Samsung smartphones launched this year, which coupled with power-efficient Exynos 7870 processor, and intelligent software, gives the J7 Pro an amazing battery backup. The device lasts about 30 to 36 hours with an average screen-on time of 7- 8 hours. Even though the device doesn't packs any fast charging technology, it charges in a fair amount of time due to a relatively smaller battery capacity.

The Samsung Galaxy A7 (2017) packs the same amount of battery as that of the Samsung Galaxy J7 Pro; 3600mAh to be precise. However, the processor and GPU of the Galaxy A7 (2017) run at lower frequencies than that of the Galaxy J7 Pro, as the processor and the GPU are more powerful, thereby, consuming lesser power, resulting in an even better battery backup. Also, the Samsung Galaxy A7 (2017) features fast battery charging technology, due to which we give it a slight edge over the Galaxy J7 Pro. Read our full review of Samsung Galaxy A7 (2017) here.
Our Choice: Xiaomi Mi Max 2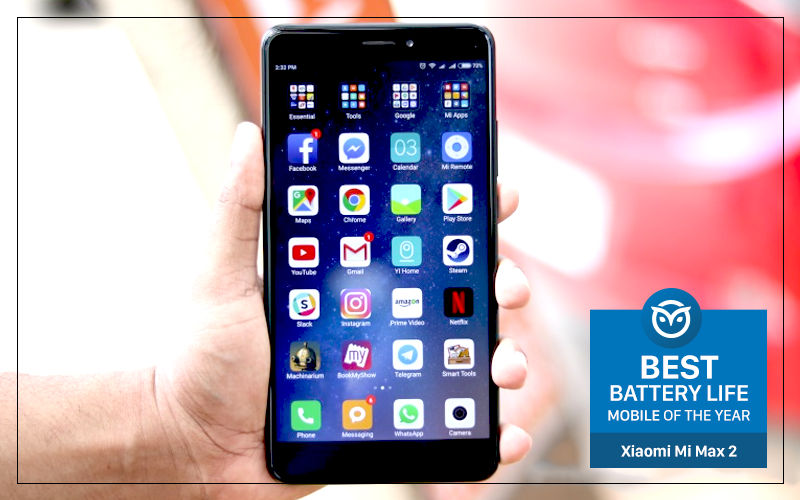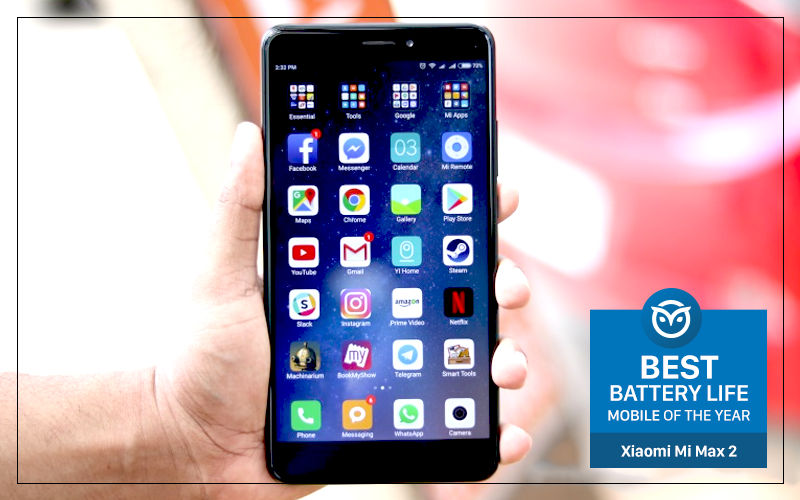 The Xiaomi Mi Max 2 is our choice for the best battery backup, as it not only has the highest battery capacity and the longest battery life among all the smartphones launched in India this year, but it also comes with the latest fast charging technology, Quick Charge 3.0, which saves a user's time by a huge margin. Apart from the great battery backup, the device also comes with additional useful features like stereo speakers, 4K video recording, dual-band Wi-Fi ac, and USB Type-C port, which make this device a much more sensible buy than the other contenders.