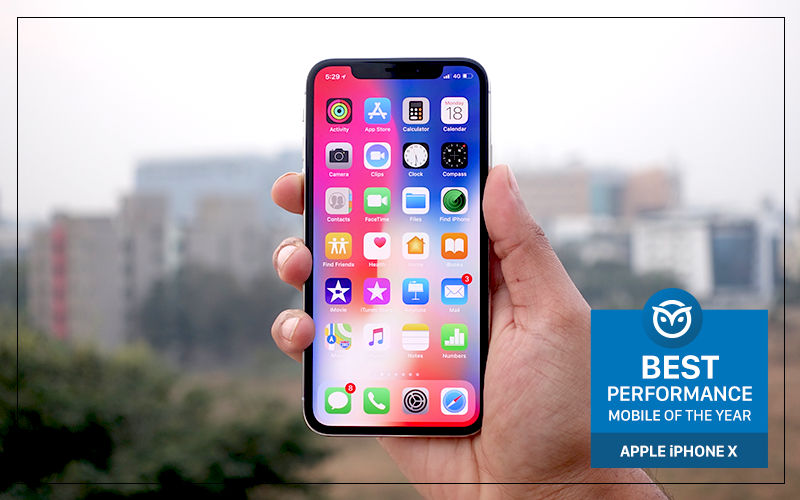 It's that time of the year when we look back and analyse what exactly happened in the smartphone industry over the course of the year. With more smartphone brands launching each year and quality hardware components being within everyone's reach, it's getting harder and harder for people to know which smartphone performs better by just glancing over the hardware specifications.
Most of the differences stem from how well or badly the companies have put the components together and how well the software binds them. Consumers can't experience those things from the comfort of their homes or at stores. This is why we review all the important devices that are launched throughout the year. As a part of MySmartPrice Mobile Of The Year Awards 2017, we analysed the performance of every top smartphone released over the past one year to choose the best performing device overall.
Which things are important for better performance?
A smartphone should be not only fast but also reliable. To do that, it needs a fast processor, enough RAM and storage (and storage expansion if possible), well-optimised software (and timely software updates), clear and loud speakers, good wireless reception (including cellular, Wi-Fi, and Bluetooth), a bright and well-calibrated display, and long battery life. We will first focus on the phone's speed and software smoothness because we have separate award categories for choosing the smartphone with the best display and the smartphone with the best battery life. However, if a phone has a better displays and battery life, it will get the upper hand over the other in case there's a tie. Here are the things that we will focus on:
Processing performance
RAM and storage
Software optimisation
Loudspeaker quality
Wireless reception
Security
Before explaining to you how we shortlisted the finalists, let us go through the smartphone trends that we saw this year to give you a better idea of how to gauge the performance of a phone as our usage habits and patterns keep on evolving each year.
This year's smartphone trends
There was a common theme among almost all the high-end or flagship smartphones launched this year. Almost all the phones used processing chipsets that are built using 10nm processes (Samsung's or TSMC's), 4GB or more RAM, and at least 64GB of UFS 2.1 or faster storage. They also employ faster and more secure biometric authentication systems. Almost all phones have gigabit LTE speeds, quicker Wi-Fi and Bluetooth connections for faster data transfer.
Efforts were made to enhance augmented reality, virtual reality, and artificial intelligence performance. AI-focussed components can improve the smartphone experience by making things like Bixby, Google Assistant, and Siri faster. Image library apps like Google Photos and the iPhone's gallery app can sort images based on the subjects in it or the people recognised in those pictures. Phones with dedicated AI processing blocks can perform those tasks faster.
Most of the phones released this year also have dual-cameras and all of them can record videos in 4K. All these trends improve a user's imaging experience. However, the only negative trend is the omission of a 3.5mm port for headphones/earphones. Five out of our top ten smartphone contenders do not have a dedicated headphone port. Even though all those phones come bundled with a USB-to-3.5mm port adapter, but one can easily forget or lose them. Talking about wireless audio, we found that its quality still hasn't reached what you get out of wired earphones. Moreover, you'll have to remember to charge wireless earphones, which is cumbersome.
In short, these were the trends that were visible in the high-end smartphone segment in 2017:
10nm process for power and space efficiency
More powerful graphics with AR & VR support
Support for dual-cameras
Improved image signal processors and digital signal processors
Gigabit LTE and beyond
Better security
Dedicated cores for artificial intelligence and machine learning
Let's have a closer look at the smartphones chipsets that made most of these features possible.

Apple A11 Bionic
The Apple A11 Bionic is built using TSMC's 10nm process and is used in the iPhone 8, iPhone 8 Plus, and the iPhone X. It's the first time Apple chipset to use a hexa-core CPU and a home-made GPU. The company has also used brand new CPU cores: Monsoon and Mistral. The new performance controller allows all six cores to run at the same time. No wonder, the A11 Bionic destroys other chipsets in single-core as well as multi-core performance.
Even in graphical performance, the GPU is 25% faster than its closest competitors. The Neural Engine inside the A11 is a dedicated block that's faster in performing artificial intelligence (AI) and machine learning (ML) tasks. Apple claims that the Neural Engine can perform up to 600 billion operations per second, and is used to enhance Animoji, Siri, and face recognition and augmented reality (AR).
Huawei Kirin 970
The Kirin 970 is Huawei's latest chipset, and the company is marketing it as the world's first AI chip for smartphones, owing its dedicated cores for running AI tasks, much like Apple does. Huawei claims that the NPU used inside the Kirin 970 can perform twice as fast as Apple A11 Bionic's Neural Engine. The company has done a great job in the past, and its flagship chipsets are neck-to-neck with the best mobile processors in the market right now.
The Kirin 970 is made using TSMC's 10nm process and consists of four Cortex-A73 cores clocked at 2.4GHz and four Cortex-A53 cores clocked at 1.8GHz. Huawei has also used a pretty beefy GPU – ARM Mali-G72MP12 – this year, which is as fast as the one used inside the Snapdragon 835. The chipset uses a dual-14-bit ISP, and it supports dual-channel 32-bit LP-DDR4 RAM, UFS 2.1 storage, and 4K video recording and playback. Its modem supports a maximum download speed of 1.2Gbps and an upload speed of 150Mbps.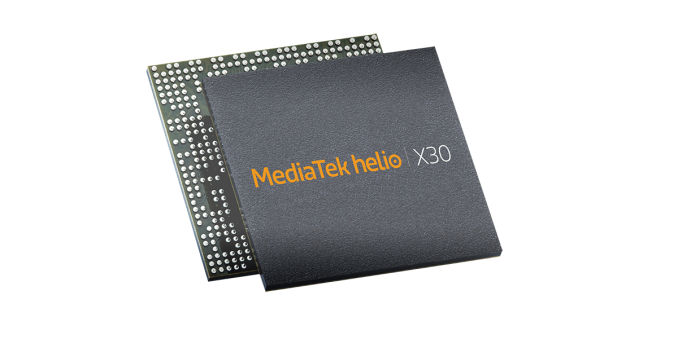 MediaTek Helio X30
While most MediaTek processors are currently used only in low-end and mid-range smartphones, at least in the Indian market, the Taiwanese fabless company also makes high-end mobile chipsets. Its best mobile chipset right now, the Helio X30, is made using TSMC's 10nm process. It uses an unusual combination of two Cortex-A73 cores clocked at 2.6GHz, four Cortex-A53 cores clocked at 2.2GHz, and four Cortex-A35 cores clocked at 1.9GHz, making it a 10-core CPU. The company's strategy to run high-performance cores at higher clock speed than others seem to be working as the phones using the processor perform very well in CPU intensive tasks.
It supports up to 8GB of LP-DDR4X RAM, 4K HDR10 video playback, and up to 16MP + 16MP dual-camera systems (using the dual-14-bit Imagiq 2.0 ISP). There's a dedicated VPU to perform machine learning. The GPU side of the story is nothing to write home about, though, because it is the least powerful among the competition. Moreover, the integrated cellular modem only supports up to 450Mbps download speed (with 3xCA) and up to 150Mbps upload speed.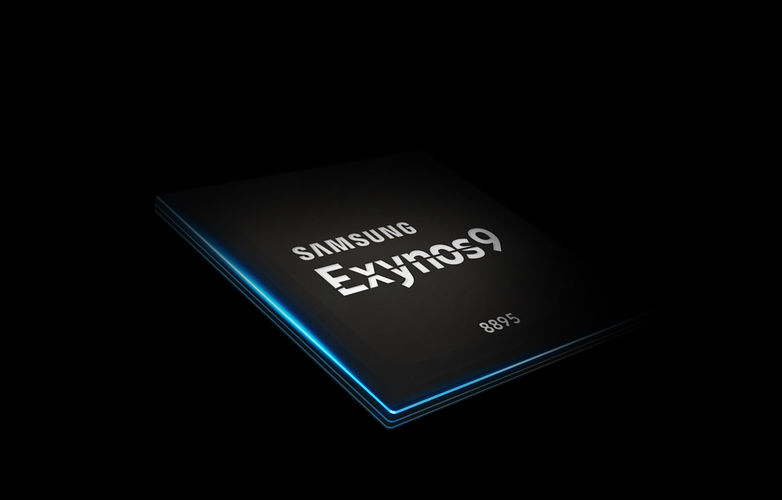 Samsung Exynos 8895
Samsung has always been quite competitive in the mobile SoC space since the Galaxy S days, and its flagship chipset which was launched earlier this year is the Exynos 8895. It is used in the Galaxy S8, Galaxy S8+, and the Galaxy Note 8. It is made using Samsung's own 10nm FinFET LPE process. It uses a combination of four Exynos M2 CPU cores clocked at 2.31GHz, four Cortex-A53 CPU cores clocked at 1.69GHz, and the ARM Mali-G71MP20 GPU. Exynos M2 is the company's second-generation custom CPU.
It also supports LP-DDR4X RAM and fast UFS 2.1 storage. The integrated modem supports up to 1Gbps (with 5xCA) download and up to 150Mbps (2xCA) upload. It supports 28MP + 16MP dual-camera setup and 4K 120fps video recording. It is being rumoured that Samsung is developing its own GPU as well. If it becomes successful in doing so, Samsung would have complete control over all the important parts in a smartphone, including the CPU, GPU, cellular modem, ISP, and DSP, which could improve performance and optimisations.
Qualcomm Snapdragon 835
The Snapdragon 835 is Qualcomm's best smartphone chipset available right now, and it is used in most high-end smartphones launched this year, including the Google Pixel 2, HTC U11, OnePlus 5T, Sony Xperia XZ Premium, and the Mi MIX 2. It is built using the same 10nm LPE FinFET process which used to make the Exynos 8895. Qualcomm is using eight semi-custom Kryo 280 CPU cores, four of them clocked at 2.36GHz and the other four clocked at 1.9GHz.
At 567 GFLOPS, the Adreno 540 is an extremely powerful GPU, second only to the A11 Bionic's GPU. The chipset supports dual-channel LP-DDR4X RAM and UFS 2.1 storage. The chipset also consists of a dual-14-bit Spectra 180 ISP, Hexagon 682 DSP, and a gigabit LTE modem. The ISP supports up to a 32MP camera or dual-16MP camera setups, 4K video recording at 30fps, HDR video capture, and hybrid autofocus. The X16 LTE inside the Snapdragon 835 supports up to 1Gbps download speeds (4xCA) and 150Mbps upload speeds (2xCA).
What about RAM, storage, and connectivity?
The race among the smartphone makers to offer the most memory seems to be dying down. Apart from the OnePlus 5T, Galaxy Note 8, and Mi Mix 2, most high-end smartphones launched this year had 4GB of RAM or less. Google's latest Pixel phones perform admirably with just 4GB of RAM, and so do phones from Apple, HTC, LG, and Sony. The OnePlus 5T uses 6GB or 8GB of RAM, while the Galaxy Note 8 and the Mi Mix 2 use 6GB of RAM. According to us, 4GB of RAM is enough to run most high-end tasks if the software is well-optimised.
When it comes to storage, phones using UFS 2.1 storage are faster than the ones that use eMMC or UFS 2.0 storage. The phones like the iPhone X which use an NVMe storage controller perform even better. As always, the higher the storage capacity, the better it is for a user. Additional marks to those phones which have expandable storage. Gone are the days when consumers needed to check whether a phone supports Indian LTE bands because all the latest smartphones do. Phones with dual-band Wi-Fi ac, Bluetooth 5.0, and USB Type-C ports get brownie points as well.
This year's top smartphone contenders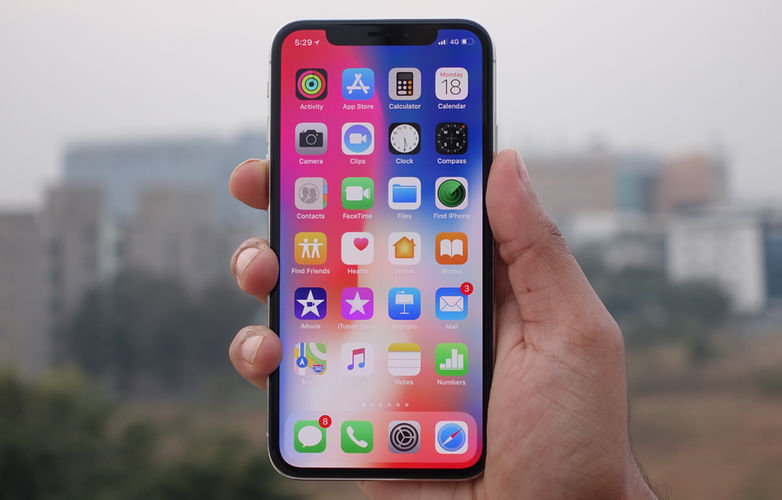 Apple iPhone X
The iPhone X, with its A11 Bionic chipset, 3GB of RAM and up to 256GB NVMe storage, is blazing fast. We found out during our one-month review period that the iPhone X is a consistent performer, be it the phone's overall zippiness, the speed at which it downloads, installs and opens apps or games, or its battery life. Things like its fast and secure face recognition system, impressively loud stereo speakers, and strong wireless reception make it a great phone. Its performance wasn't perfect, though, as we noticed some stutters and a few instances where apps didn't stay in the memory for long enough.
Apple iPhone 8 Plus
The iPhone 8 Plus (review), unfortunately, lives in the shadow of the iPhone X. It has the same internals as the iPhone X, including the A11 Bionic processor, 3GB RAM, and up to 256GB NVMe storage. Audio through the iPhone 8 Plus' loudspeakers sounded a bit clearer and had more depth compared to the iPhone X's. We found the TouchID fingerprint reader to be relatively easier and faster to use. The iPhone 8 Plus also lasts longer than most high-end phones on a single charge. It's just that the phone doesn't look as exciting as the iPhone X or some other smartphones in this price segment because it lacks a bezel-less or OLED screen. It's still a great phone, though.
Google Pixel 2 XL
Last year, Google took a more reserved approach with the first Pixel phones. This year, however, the company went all out with the Pixel 2 XL. It has all the features that excite smartphone enthusiasts these days. It has an 18:9 OLED screen with minimal bezels as well as front-facing stereo speakers. The phone is also water-resistant and performs very fast and smooth. The phone's UI was slightly more fluid than the iPhone X's.
However, we faced too many issues on the Pixel 2 XL to recommend it to anyone. Its screen has a lot of issues, including limited viewing angles, blotchy colours, and smearing. There were multiple reports of screen burn-in as well. We also faced GPS related issues numerous times, and in one instance, the phone just restarted in the middle of navigation. Its stereo speakers were not as clear or loud as the ones on the iPhones.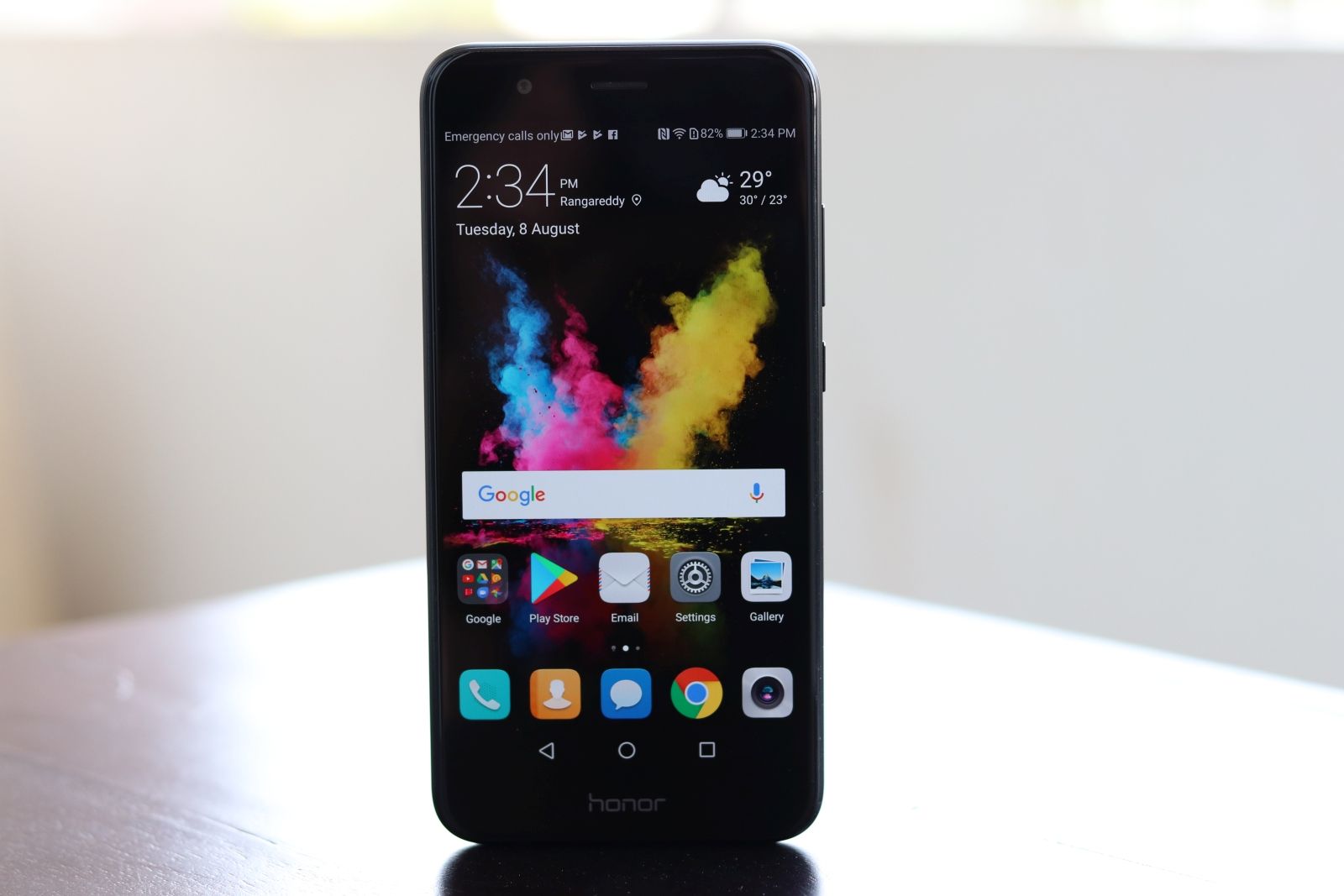 Honor 8 Pro
The company didn't launch any Kirin 970-equipped phones in India this year, so we had to consider the Honor 8 Pro which comes with last year's Kirin 960 chipset. It is the company's most high-end smartphone available in India, and it does very well in most CPU-intensive performance scenarios. However, the Honor 8 Pro's GPU isn't as good as the ones used in its competitors, so the gaming performance isn't quite competitive. The software and UI design approach could've been better, too. Moreover, the phone lacks stereo speakers. While the Honor 8 Pro is an impressive phone for its price, there are better alternatives out there when the price is not a concern.
HTC U11
The HTC U11 is the best phone the company has launched over the past few years. It gets all the basics right and offers an attractive design and an impressive audio setup. The phone performed well during the review period, and its performance was consistent over months of continuous usage. Although its screen wasn't as bright or colourful as the ones used on some of the competing phones, everything else was stellar, be it the software stability, UI fluidity, gaming performance, thermals, or audio quality. The front-facing stereo speakers and the bundled USB-C noise cancelling headphones won us over. The company has also started rolling out the Oreo update for the U11, but it hasn't reached Indian shores yet.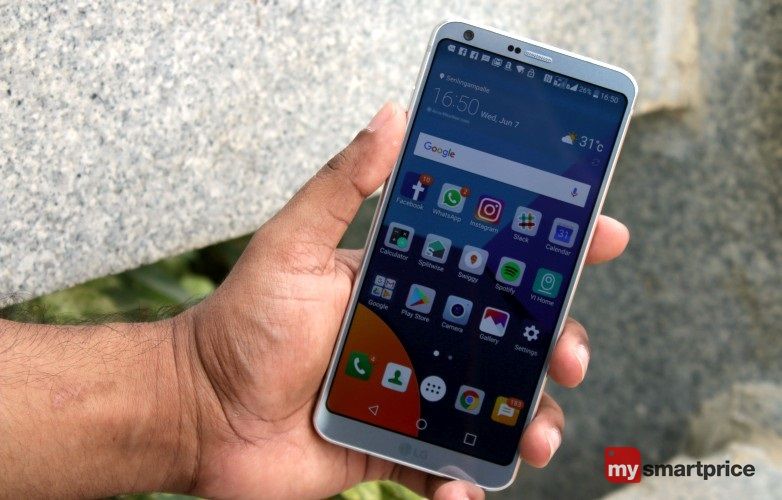 LG G6
The LG G6's launch was really a surprising one. The company chose last year's chipset, the Snapdragon 821, instead of the Snapdragon 835 for its flagship smartphone. So, there was bound to be a performance gap between the LG G6 and the other phones with newer chipsets (as found in our review).
However, the phone's software is very well-optimised, and we never felt wanting for more power unless we were comparing it side-by-side with other phones. The software design looks a bit dated, though, and it lacks a few features that are present on other phones such as an OLED screen, stereo speakers, and wireless charging. The LG V30, which has an OLED screen and a more powerful chipset, just missed the bus because of its late launch in India.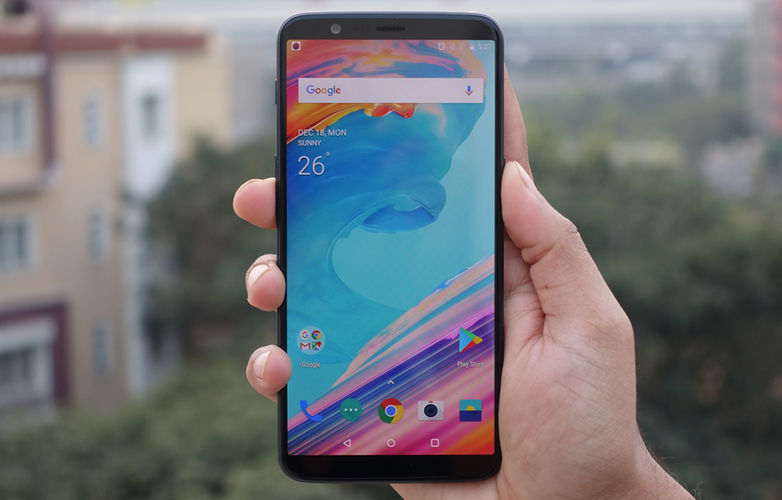 OnePlus 5T
The OnePlus 5T, powered by the Snapdragon 835 chipset and 6GB or 8GB of RAM, is one of the fastest Android smartphones out there. The UI is very smooth, and no matter what you put the phone through, it performs admirably. The software is very well-designed, following Google's methodology. There were a few minor software bugs, though. It also lacks some extra features found on other phones such as stereo speakers or wireless charging. The screen could've had a higher resolution screen, too. Not that it appeared lacking in sharpness in normal use cases, but a QHD screen could've helped it in better VR performance. Overall, the OnePlus 5T is one of the best Android smartphones, really close to being the best.
Samsung Galaxy Note 8
The Galaxy Note 8 improves upon the already excellent Galaxy S8+ (review). It adds an even better screen, the versatile S Pen stylus, more memory for improved multitasking, and a secondary camera sensor for bokeh effects. Samsung's software is infamous for slowing down after a few months of usage, but we found the Galaxy Note 8 to be better in this regard. Fingerprint and iris scanners are relatively faster but still slower than competing phones. The battery life is not as good as the iPhone X or the OnePlus 5T's, but good nonetheless. It has a lot of additional useful features, including Samsung Pay, Secure Folder, and fast wireless charging.
Sony Xperia XZ Premium
The Sony Xperia XZ Premium (review) has almost all the things one could ask for from a high-end smartphone, including an HDR-compatible screen, stereo speakers, a fast processor, smooth UI, quick and reliable fingerprint scanner, and a high-resolution camera. But as we know it, not everything in the spec sheet converts into actual performance. We found out during our review that the Xperia XZ Premium had immense problems related to cellular reception and the stereo speakers couldn't live up to our expectations. The speakers were quieter than some mono speakers on other phones. The 19MP camera was one of the worst among competing phones.
Xiaomi Mi MIX 2
The Mi MIX 2 (review), with its Snapdragon 835 processor, 6GB of RAM, and 128GB UFS 2.1 internal storage, should be lightning quick, but it doesn't feel as quick as it should, maybe due to the company's software implementation, transitions, and animations. The fingerprint sensor is quite fast, though. We also found the phone to be lacking in other areas. The 5.99-inch screen is neither sufficiently bright nor as colourful as we would've liked. The front and rear-facing cameras were one of the worst out there. The battery life was shorter than what we hoped for, but we're not complaining since the battery charges quite fast, thanks to Quick Charge 3.0. The loudspeaker is unimpressive, too.
Award for the smartphone with the best performance goes to…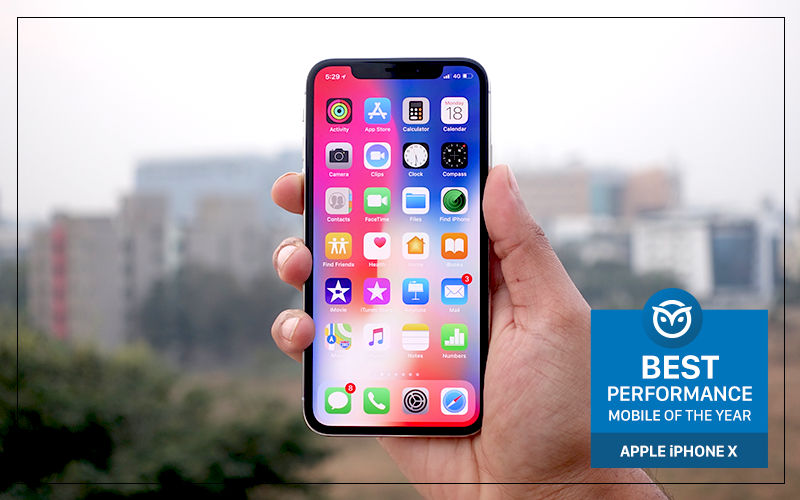 Apple iPhone X
Our choice for the best smartphone of the year in the performance category goes to the Apple iPhone X. Why? The A11 Bionic chipset is the fastest out there, whether you take into account its single-core CPU, multi-core CPU performance, or its performance in games. It has a well-optimised software, the latest version of iOS, the best stereo loudspeakers right now, and reliable battery life.
What increased its chances of winning our best performance award are things like the most colour-accurate bezel-less OLED screen (though we would've liked it better if it didn't have the notch), wireless charging, consistent dual-camera setup with 4K 60fps video recording, huge AR app ecosystem, and fast face recognition.