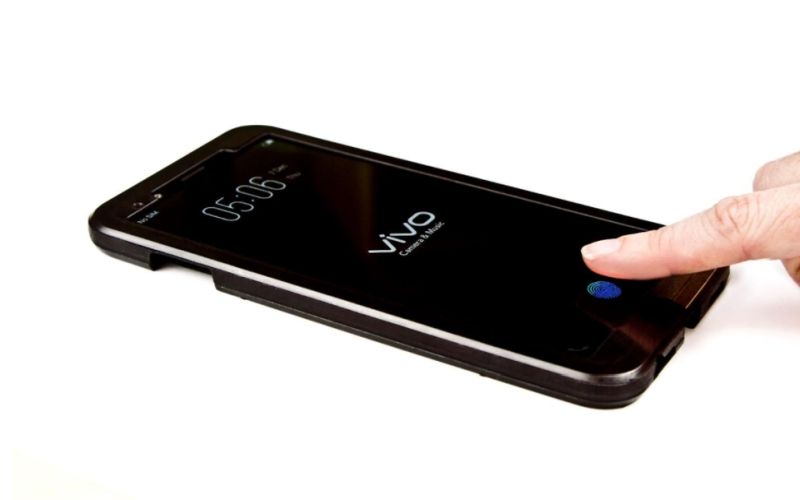 Synaptics announced last week that it was mass producing in-display fingerprint sensors for a "top five" smartphone OEM. Although initial speculation led us to believe that the vendor would most likely be Samsung, given their use of bezel-free infinity OLED displays in the Galaxy S8 and the S8+ as well as the Galaxy Note 8, there is news now from tech industry analyst Patric Moorhead, who has spoken of his experience with a pre-production Vivo smartphone equipped with the in-display fingerprint sensor from Synaptics in a post for Forbes.
Back at MWC 2017 in Shanghai, China, Vivo had showcased an under-display fingerprint scanning solution that was powered by Qualcomm. The company's decision to go with Synaptics has therefore come as a surprise, and is great news for Synaptics, considering the fact that there are more than a few sensor and smartphone manufacturing companies trying to implement similar technology in smartphones in a viable manner so that they're capable of high volume production.
Here are some pics @anshelsag and I took of the Vivo smartphone with the Synaptics in-display fingerprint reader. The CMOS image sensor is .7mm thick and reads the fingerprint right through the OLED display. The experience was faster than I expected. pic.twitter.com/u1NFpXtFQM

— Patrick Moorhead (@PatrickMoorhead) December 14, 2017
Of the technology, Patric Moorhead, in his post says, "This sensor is actually a CMOS image sensor, less than 0.7 mm thick, similar to what a camera uses. The OLED display illuminates the fingerprint, the sensor scans it and sends it back to the phone's processor (or host or application processor, depending on your preferred term) to be matched. The sensor is also sturdy—both scratchproof and waterproof since it is protected by glass."
Synaptics claims its Clear ID performs twice as fast as 3D facial recognition technology like Apple's Face ID, and doesn't depend on outdoor lighting condition to work well. Patric further speculates that Clear ID is considerably less expensive when compared to Face ID, and that puts Synaptics at a definite advantage when compared with alternatives.
Synaptics' original claim of mass production with a "top 5" smartphone OEM may seem questionable to some of you, but Vivo was indeed ranked fifth based on global market share according to IDC's Q1 2017 report, and dropped down to sixth in Q2 2017. Vivo also happens to be a subsidiary of BBK Electronics, alongside Oppo and OnePlus. Synaptics' total 2018 market projection for in-display sensors is about 70 million units, and is definitely indicative of the huge potential its Clear ID technology has.