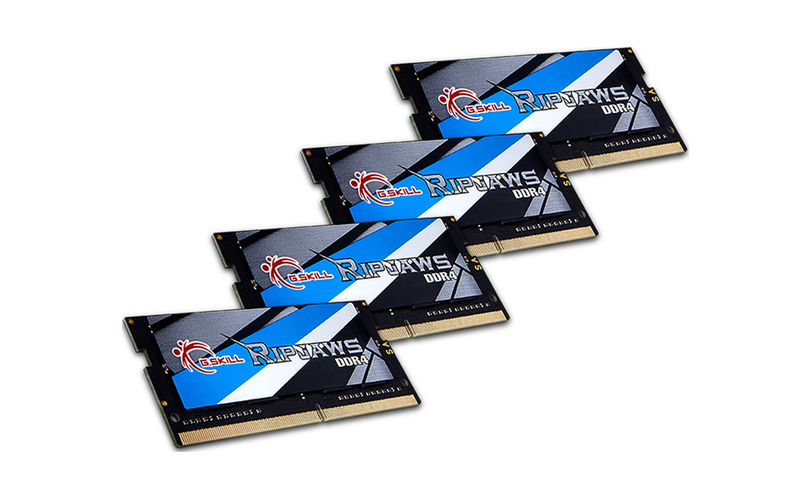 Two months ago, we saw the release of G.Skill's Ripjaws DDR4 SO-DIMM module line-up, which operated from 3200MHz to 3800MHz. In just two months, G.Skill has surpassed even that milestone as they just recently announced the release of a new 32GB SO-DIMM memory kit that is clocked at a whopping 4,000MHz.
G.Skill's Ripjaws DDR4 4000MHz SO-DIMM RAM: Features
The G.Skill Ripjaws 32GB DDR4-4000 SO-DIMM RAM kit comes in a 4x8GB configuration. This variant is built upon the same binned Samsung B-Die DDR4 chips like last time. These modules operate with CL18 18-18-38 latencies at 1.35V. This is slightly lower when compared to Corsair's offering of their DDR4-4000 SO-DIMM solution that operates at a latency of CL19 23-23-45, which they announced just prior to G.Skill's announcement.
All this technical jargon aside, both G.Skill's and Corsairs' kits are offering the fastest memory modules for small form-factor (SFF) high-end PC enthusiasts. Whether or not the small change in latency will offer any real-world performance difference is yet to be verified. Nevertheless, this is still a great achievement from a purely technological point of view, bringing SO-DIMM speeds closer to full-size DDR4 memory offerings.
Just like last time, however, keep in mind that these new modules will only be compatible with ASRock X299E-ITX/ac mini ITX motherboard, combined with the latest Intel's Skylake-X processors. We still cannot recommend using these with a seemingly compatible laptop, because this product was just not designed or optimised for that platform.
G.Skill's Ripjaws DDR4 4000MHz SO-DIMM RAM: Price, Availability
As for pricing and availability, G. Skill chose not to disclose the pricing just yet, which is understandable given that DRAM pricing is quite unpredictable and subject to availability. The company has confirmed though that the G.Skill Ripjaws 32GB DDR4-4000 SO-DIMM kit would be debuted in Q1 2018.