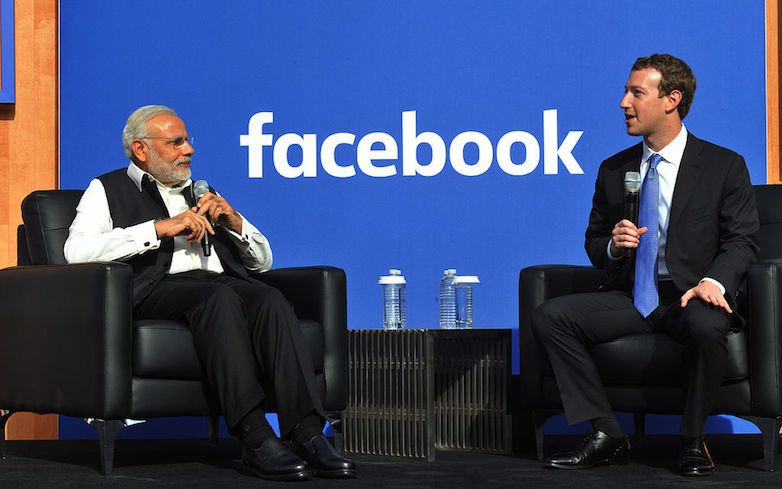 Update
Facebook has finally responded, unsurprisingly, with a boilerplate response:
"We want to make sure people can use the names they're known by on Facebook, and can easily connect with friends and family. This is a small test where we provide additional language when people sign up for an account to say that using the name on their Aadhaar card makes it easier for friends to recognize them. This is an optional prompt which we are testing, people are not required to enter the name on their Aadhaar card."
However, this raises more questions than it answers. What's the point of specifically mentioning Aadhar, when the official Facebook lexicon for such matters has employed the all-encompassing term: 'government issued ID' until now? Does this abrupt change in terminology allude to Facebook India working with the Modi government for a tighter Aadhaar integration within Facebook?
For more clarity on this burning topic, we posed the following questions to Facebook:
Due to various factors, Facebook tends to lock out accounts pending verification through a government issued ID. Are there any plans make the Aadhaar card the only permissible ID verification document in the near future?
Are there any future plans to make Aadhaar mandatory for registering a new account?
Furthermore, is Facebook working with the Indian Government in any capacity to solve the issue of rampant trolling through fake accounts on Facebook?
Facebook, however, categorically refused to either confirm or deny its involvement with the Indian government, regarding the integration of Aadhaar within the social networking platform, in response to the aforementioned questions.
---
The original story continues…
No matter what you do, you can't escape two things in this day and age. The first one being Facebook and, in more recent times, the Aadhaar card. In a new development, we could potentially be looking at an unholy union between the two. Facebook has been prompting some new users to enter their names as it appears on their Aadhaar cards. While the social media behemoth isn't forcing users to link their Aadhaar numbers to register a new account, the fact that it has begun mentioning the same to new profile registrants could allude to something similar in the works.
Interestingly, this Aadhar prompt isn't visible to everyone who registers for a Facebook account. So far, it isn't being delivered to new registrants on Windows, MacOS, and Android web interfaces, in addition to the Android app as well. The Aadhaar prompt is only encountered when creating a new account from the Safari web browser on iOS devices. Furthermore, we found that even then the prompt isn't displayed 100 percent of the time, but the occurrence is instead spread out randomly across several attempts.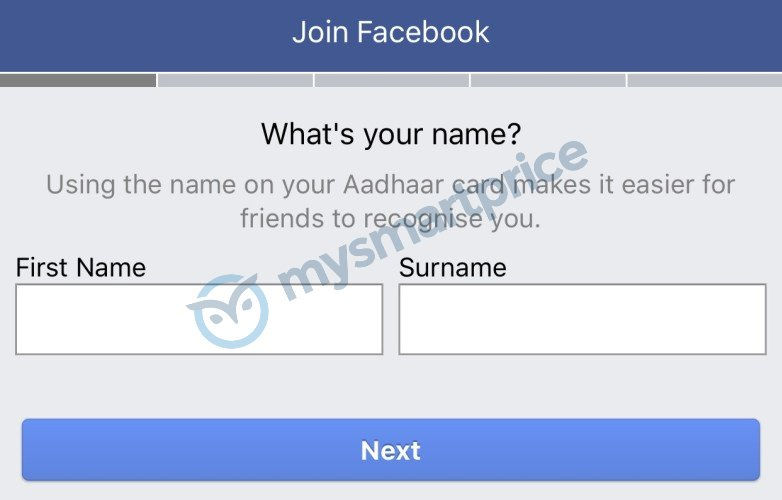 This is perhaps a sign that Facebook might be testing Aadhaar integration, primarily to curb the menace of fake profiles and sockpuppets that internet trolls frequently leverage for online harassment. What gives this theory further credence is the fact that Nandan Nilekani, the architect of Aadhaar and then UIDAI Chairman, had mentioned in his talks that the Aadhaar number could be used as a tool for identity verification across social media networks in 2011 at the Aadhaar Developer Track conference.
"UID can be an easy way for verifying one's Twitter and Facebook account," stated Nilekani during the Aadhaar Developer Track conference in 2011. "This implies that anyone (not just celebrities) will be able to get verified accounts, with their UID credentials. It can similarly be used for other online accounts where one needs to verify his/her identity."
Here's videographic evidence of the Aadhar prompt being served during new account signup, just in case you happen to be the kind that rushes to the comments section with your pitchfork prior to reading the article:
While parody websites such as Faking News have recently joked about the government making the Aadhaar card mandatory for creating a Facebook account, but in this case life seems to be imitating art and there seems to be some Aadhaar business, no matter how tenuous, going around at Facebook India. Making the Aadhaar mandatory will nevertheless have a far reaching impact on the social media space, as it will be significantly more difficult (if not impossible) for online trolls to create throwaway sockpuppets on Facebook.
Meanwhile, we have contacted Facebook India for a statement on this matter and we will update the article as and when it arrives, so watch this space for more updates.