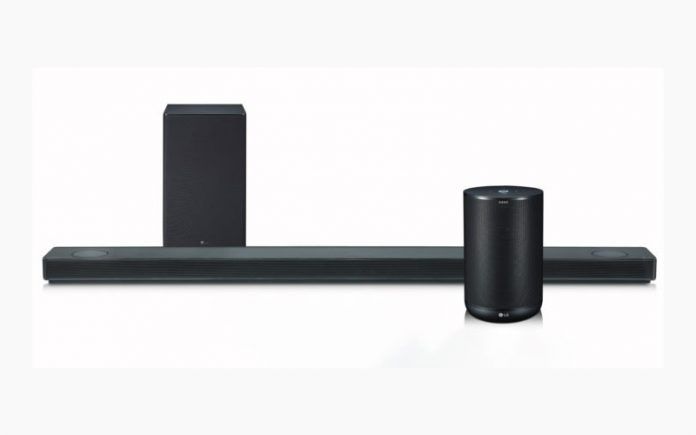 LG has partnered up with Meridian Audio to develop a new range of audio devices. LG has provided a sneak peek into its new lineup that is supposed to be unveiled at CES 2018. Among this new line of new devices is the Chromecast-enabled Dolby Atmos soundbar, a smart speaker with Google Assistant built in, and a few portable Bluetooth speakers.
LG SK10Y Dolby Atmos Soundbar
The LG SK10Y Dolby Atmos soundbar is equipped with technology designed by Meridian Audio, which promises a high-quality an immersive audio experience. It supports 5.1.2 audio channels and boasts a power rating of 500 watts RMS. This audio is emitted from two powerful upwards-firing speakers that promise to envelop listeners from all angles. Meridian Audio has equipped this speaker with its 'Bass and Space' technology that offers a rich, uncompromising sound, no matter where the individual is seated in the room.
The LG SK10Y Dolby Atmos soundbar also offers the ability to play any type of audio file. This includes high-quality lossless audio files, and the ability to boost conventional low-quality audio to higher 24bit/192KHz format. LG is marketing the speaker as a compliment to its own line of OLED and SUPER HD 2018 TVs. The standout feature of this speaker, however, is the support for Chromecast that will allow it to connect with a whole range of supported devices and also follow the usual Google voice commands such as "OK Google".
LG ThinQ Speaker
The next offering from LG is their first smart AI-powered audio device named the LG ThinQ speaker. This smart speaker is equipped with Google Assistant at its core. This means that the speaker will not only provide all the well-known Google Assistant functionalities but also offer a voice-based personalised interface for the LG ThinQ product range. This can be done by using audio commands such as "OK Google, Talk to LG," followed by the action you want an LG device to perform. This device is also being presented as a high-resolution audio player, which has been enhanced by Meridian Audio.
LG's range of portable and party speakers
LG has also announced the launch of a range of PK series of portable Bluetooth speakers, as well as a variety of party speakers that they offer as 'all-in-one party machines'. The PK series of speakers will offer powerful and undistorted bass and will be optimised for speech and vocals. They will also offer a range of mood lightings and are compatible with aptX HD Bluetooth connectivity. The party speakers, on the other hand, will provide a 1,800W output with DJ capabilities, karaoke modes, and lots of lighting effects.
Pricing and Availability
LG has not provided any details regarding the pricing or the availability of any of these devices. This is probably reserved for when they unveil these products at CES 2018. LG is confident that the amount of technology it has introduced into its audio products will definitely impress audiences.