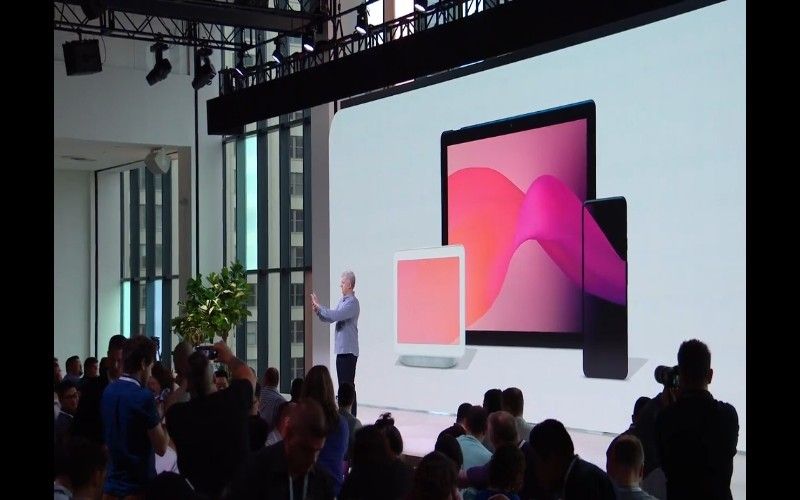 The 2018 Made By Google announcement is now in the history books. With its firm place in history, we here at MySmartPrice would like to reflect on all the product announcements of the day. For those of you that didn't get to see it, now's a good time as any to find out what you missed — and what may grab your eye and your wallet in the near future. What did Google announce at its last event of the year? The Pixel 3 and Pixel 3 XL, its new Google Home Hub Smart Display, the Pixel Slate tablet, fast wireless charging Pixel Stand, and even a new pair of Pixel 2 Buds.
Without further ado, let's get down to business.
Pixel 3 and 3 XL: new phones with wireless charging via Pixel Stand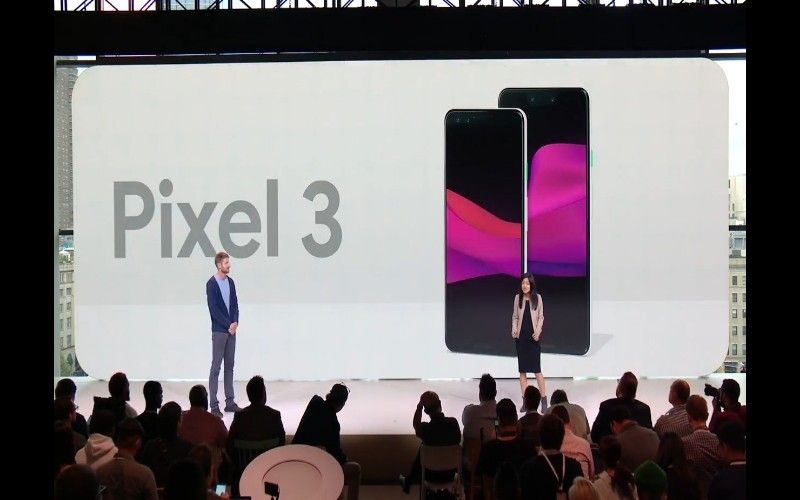 Google took a lot of time today to unveil a number of smart devices such as the Google Home Hub that are situated for the home, but we know what you want: you really want to read about the company's latest smartphones. Well, we're glad to oblige.
Google announced the Pixel 3 and Pixel 3 XL, with a few new impressive features. First, the Pixel 3 features a 5.5-inch display while the "XL" model boasts a 6.3-inch display. Next, there's the new Group Selfie camera alongside the normal selfie camera on the front. The new Group Selfie Camera boasts 184% more content in your selfies. Its wide-angle lens ensures that everyone can get in on the fun.
The back of the Pixel 3 phones retains the single rear camera, but Google has added wireless charging back with the arrival of a new wireless accessory, the Pixel Stand. The new stand places your phone vertically on the charger (no flat charging surface, though). The new dual front-facing speakers are 40% louder and richer than last year's audio. Last but not least, Google has a few new software tricks up its sleeve for the next-generation Pixels:
Top Shot – lets you select the best photo out of several
Super Res Zoom – seeks to solve the blurry photo effect when zooming in.
Night Sight – for improving low-light photography
Call Screen – identifies callers and lets you respond via text, without ever having to pick up the phone for spammers ever again.
Flip to Shhh – mutes notifications when you place your phone face-down.
Titan Security – greater on-device encryption
The new Pixel phones will go on sale on November 1st in India, with Google bringing the new Pixels to other markets as well: Australia, Germany, Italy, Spain, USA, Canada, Japan, Taiwan, France, Ireland, Singapore, and the United Kingdom (UK).
Pixel 3 specs
Google didn't discuss too many specs at the Made By Google event for its newest smartphones, but we've done some digging to uncover them:
5.5-inch display (Pixel 3), 6.3-inch display (3 XL)
Full HD+ (2160x1080p) resolution (5.5-incher), Quad HD+ (3 XL) with 18:9 aspect ratio
12.2MP rear camera (single)
8MP front cameras (one with a wide-angle lens)
SoC: octa-core Qualcomm Snapdragon 845 processor
RAM: 4GB (both phones)
2,915mAh battery (Pixel 3), 3400mAh battery (3 XL)
Android 9.0 Pie
64GB, 128GB storage variants
Colors: Just Black, Clearly White, Not Pink
The Pixel Stand costs Rs.6,900. Pixel phone buyers will receive six months of YouTube Music free.
Pixel 3 accessories: Qi charging cases, Pixel Buds 2
To accompany the new Pixels, Google announced Qi charging cases for its latest handsets. These cases will allow your phone to wirelessly charge on the new Pixel Stand while protecting your phone(s) from drops, bumps, and element impacts. The first-generation Pixel Buds also received a refresh with the announcement of the next-generation Pixel Buds 2 earbuds. These earbuds have some slight improvements over their first-generation ancestors, but they still retain Google Assistant and cross-platform access.
Pixel Slate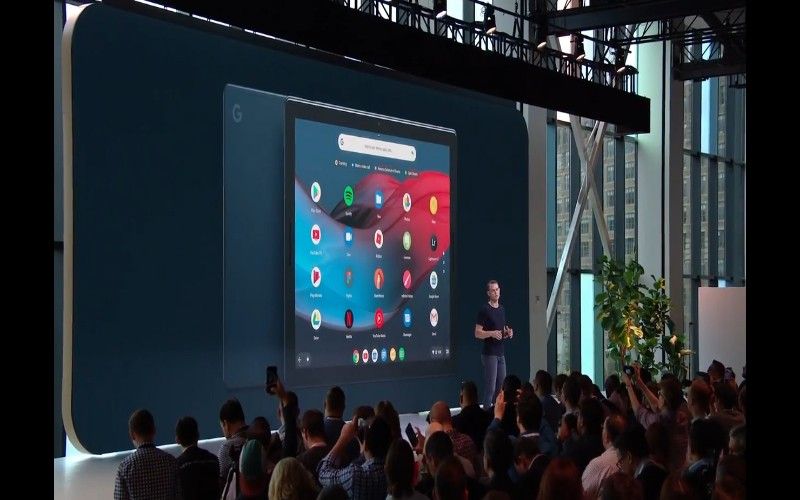 With the introduction of new Pixel 3 phones, Google also took to the stage to revolutionize its first Pixelbook with what it calls "a whole new chapter" in the laptop experience. The solution? The new Pixel Slate has a pixel density of 293ppi, dual front-firing audio speakers, and 8MP front and rear cameras. Its new software features include Portrait Mode and Split-Screen Mode. Google has added a fingerprint sensor to the Slate's power button so that users can now have fingerprint authentication at their fingertips. We leaked this feature back when we received word about the new Chromebook tablet. Pixel Slate accessories include the Pixelbook Pen and the Pixel Slate back-lit keyboard that comes with a Google Assistant key.
The new Pixel Slate is said to provide anywhere from 10-12 hours of battery life depending on usage.
The Pixel Slate costs Rs. 44,400 ($599 USD), while the back-lit Slate Keyboard accessory costs Rs. 14,700 ($199 USD) and the Pixelbook Pen Rs.7,300 ($99 USD). Pixel Slate buyers will receive three free months of Google's YouTube TV internet TV service.
Google Home Hub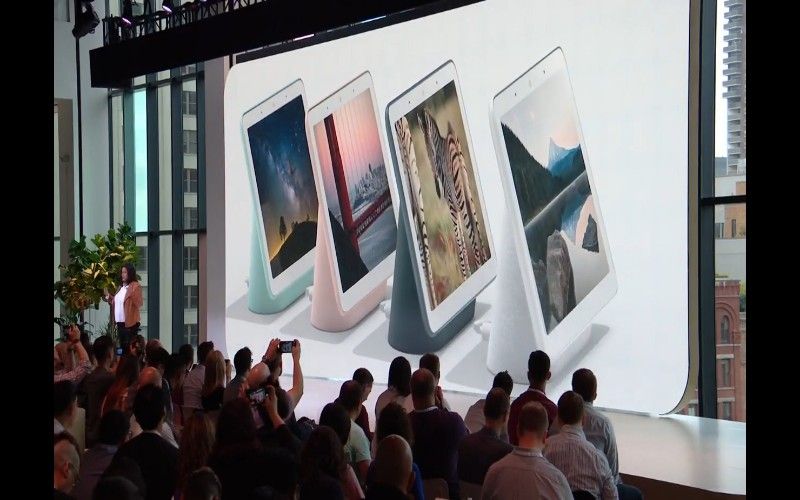 The Google Home Hub looks to make home automation an easier transition for curious consumers who want to try out the future before it gets here. And yet, Google's idea to create a central place whereby consumers can get all their necessary information (for traffic conditions and calendar events, among others) is genius. The Google Home Hub brings all your information together in one place so that you need only view one display to start your day. No need to view your phone, then a tablet, then your smartwatch, and so on.
The Google Home Hub comes in four colors and costs Rs. 11,000 ($149 USD). It is now available for pre-order. Buyers will receive free YouTube Premium for six months.
You can check out our Pixel 3 XL unboxing video below.