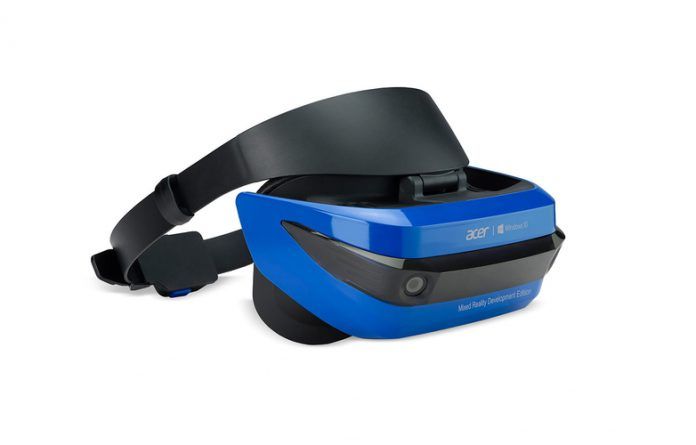 The recently released December's 'Hardware and Software Survey' by Steam has shed some light on the emerging Virtual Reality (VR) market. According to this survey (filled by Steam users about the hardware they use), Windows Mixed Reality (WMR) headsets accounts for 4.35% of the VR market share. This figure had doubled since November when it had owned just 2% market share. This is rapid growth for a device that came out back in October 2017, and only received support from Steam in mid-November.
Windows Mixed Reality still has some ways to go when compared to its competitors. The HTC Vive leads the pack with Steam VR user base of 47.26%. Oculus Rift trails just behind with a user base of 46.14%. The first Oculus Rift Dev Kit seems to have been completely abandoned in favour of the Oculus Rift DK2. However, the latter merely holds a 2.25% share.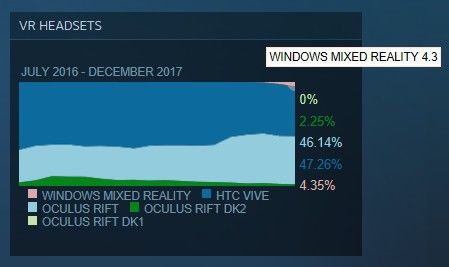 The quick adoption rate of the WMR could be the result of the lower price tag of $399 compared to the hefty $599 price of HTV Vive. The price of the Oculus Rift recently dropped to a comparable $399. However, it seems that people are gravitating towards WMR more with the added support for VR games on Steam. About 14 of the top 40 Virtual Reality titles now have support for Windows Mixed Reality.
Microsoft recently announced its plan of expanding the Hololens Market. On the other hand, HTC has hinted on a new iteration of the HTV Vive coming out this year. The 'Virtual Reality', 'Augmented Reality' and 'Mixed Reality' space is still a very niche market, but this tremendous adoption rate of WMR coupled with the push by manufacturers for newer, better AR head-mounted displays (HMD) might just lead 2018 to be the year this trend takes off.
Thanks for reading till the end of this article. For more such informative and exclusive tech content, like our Facebook page