The much rumoured Intel processors with Radeon Vega M graphics were made official by the company yesterday. Today, Intel has taken a step further and announced two NUCs based on those processors. Intel is calling these two new devices as Hades Canyon NUCs. The Hades Canyon NUCs are the successor to the Skull Canyon NUCs. The Hades Canyon NUC is available in two variants.
The top of the line variant is the NUC8i7HVK; it uses the Core-i7 8809G processor. The Core-i7 8809G processor is based on Intel Kaby Lake architecture, and it has Radeon Vega M graphics. The Radeon Vega M graphics used in this processor have 24 CUs, and the GPU clock frequency is  1063MHz (base) to 1190MHz (turbo); it puts out 3.7 teraflops at half precision. The processor has a TDP of 100W. The Intel NUC8i7HVK costs $999 in the United States.
The second variant is the Intel NUC8i7HNK; it uses the Core i7-8705G processor. The Core i7-8705G also uses the Kaby Lake architecture and Radeon Vega M graphics. However, the Radeon Vega M GPU used in this unit has only 20 CUs, and it also has a lower GPU clock frequency of 931MHz to 1101MHz. Due to the lesser computing units, the Core-i7 8705G has a TDP of 65W. The Intel NUC8i7HNK costs $799 in the United States.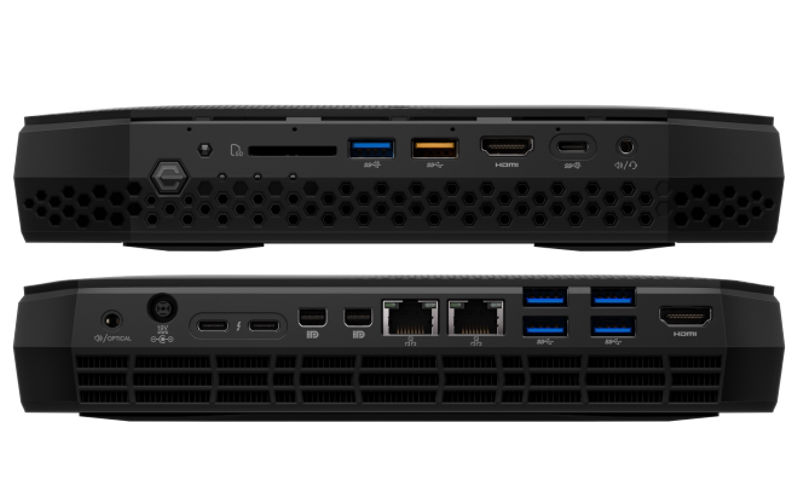 The Intel NUC8i7HVK, as well as, the NUC8i7HNK have two slots for RAM (DDR4 2400 SO-DIMM), and two M.2 slots for storage. Both the NUC kits come with a host of connectivity features, including USB 3.1 Gen 2 Type-C, USB 3.1 Gen 2 Type-A, Thunderbolt 3, SDXC card slot, 7.1 channel audio output, four beam-forming microphones, Gigabit Ethernet, Wi-Fi ac, and Bluetooth v4.2. The Hades Canyon NUCs have an aggressive design with an illuminated scull the top and game-inspired power button on the front. According to Intel, both the devices use 230W of power, and they come bundled with 19V/12.1A adapter.
The Intel NUC kits are popular for their affordability, compact footprint, easy upgradability, and low power consumption. The NUC kits are widely used as media servers and for tasks that require low-processing power. However, the newer NUCs with their enormous computing and graphics power are perfect for Full HD gaming and graphics-intensive applications. The is no information on availability and pricing of this two new devices for India yet. According to us, these two NUC kits will be an instant hit upon their release, as no other OEM is currently offering such a powerful, compact PC at such an affordable price.
Intel NUC8i7HVK & Intel NUC8i7HNK Specifications
Processor
Intel Core i7-8809G

Kaby Lake, 4 cores/8 threads, 3.1GHz (base) to 4.2GHz (turbo) clock frequency, 100W TDP

Intel Core i7-8705G

Kaby Lake, 4 cores/8 threads, 3.1GHz (base) to 4.1GHz (turbo), 65W TDP

Graphics
4GB Radeon RX Vega M GH, 24 CUs, 1063-1190MHz clock frequency, up to 3.7 TFLOPS
4GB Radeon RX Vega M GL, 20 CUs, 931-1101MHz clock frequency, up to 2.6 TFLOPS
RAM
2x DDR4 2400 SO-DIMM slots (max 32GB support)
2x DDR4 2400 SO-DIMM slots

(max 32GB support)

Storage
2x M.2 slots
2x M.2 slots
Connectivity
Dual-band Wi-Fi ac with MU-MIMO

Bluetooth v4.2

Four beam-forming mics

Rear I/O ports

2x Thunderbolt 3

4x USB 3.0 Type-A

1x HDMI 2.0a

2x mini-DP 1.3

2x Gigabit RJ-45

Front I/O ports

1x USB 3.1 Gen 2 Type-C

1x USB 3.1 Gen 2 Type-A

1x USB 3.0 Type-A

1x SDXC UHS-I Slot

Dual-band Wi-Fi ac with MU-MIMO

Bluetooth v4.2

Four beam-forming mics

Rear I/O ports

2x Thunderbolt 3

4x USB 3.0 Type-A

1x HDMI 2.0a

2x mini-DP 1.3

2x Gigabit RJ-45

Front I/O ports

1x USB 3.1 Gen 2 Type-C

1x USB 3.1 Gen 2 Type-A

1x USB 3.0 Type-A

1x SDXC UHS-I Slot

Power Supply
230W, 19V/12.1A power adapter included
230W, 19V/12.1A power adapter included
Dimension
142mm x 39mm x 21mm
216mm x 116mm x 23mm
Extra Features 
Replaceable and customisable top-lid
Replaceable and customisable top-lid
Price
$999 (United States)
$799 (United States)