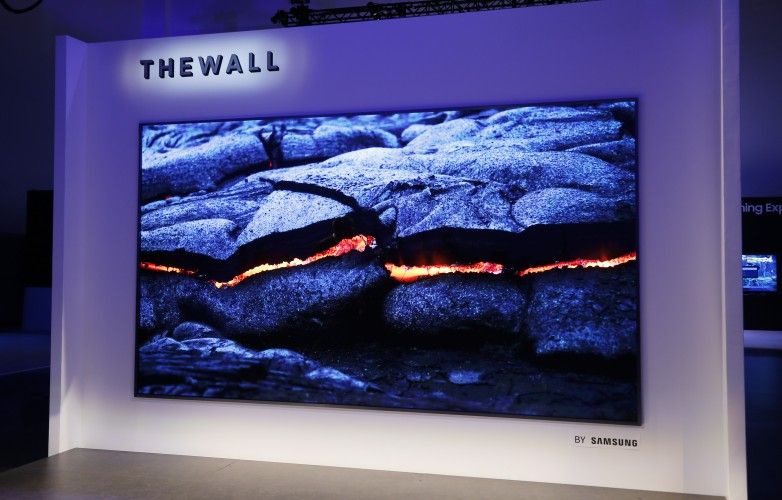 It not uncommon for people to describe a rather large TV set as a wall. Samsung seems to have taken this hyperbole to heart and launched a 146-inch monstrosity of a TV at its annual First Look event at CES 2018. Dubbed as 'The Wall', the gigantic screen is comprised ironically of a rather massive array of MicroLEDs. Designed around Samsung's Cinema Screen technology, which specialises in engineering large form factor TVs. At 146 inches of diagonal screen size, The Wall is almost as big as most average walls, with its dimensions measuring in at 10 feet wide and 6 feet tall.
What sets The Wall apart from other large form factor displays is that it can get even bigger than its already astronomical proportions. That's primarily because Samsung has designed this gigantic TV to be completely modular. In other words, the TV is comprised of smaller display components that can be added or removed to achieve the desired size. This comes in handy for consumer applications because each household has varying restrictions on the viewable area on their walls.
The modular technology behind The Wall allows the TV to be customised to individual viewing room needs. The best part is that such customisability is claimed to have zero impact on the performance and image quality of the display. What's more, an early report by CNET states that the seams between modules isn't visible, unlike other modular large form factor displays. Unlike most such prototypes, The Wall is actually expected to go on sale sometime in 2018.
The technology underlying The Wall is quite interesting. The MicroLED panels comprising the TV are quite unlike existing LED-backlit LCD technology, otherwise commonly found in LED TVs. MicroLED panels are inherently emissive just like the competing OLED TVs, which are the current performance kings. In other words, the MicroLEDs within The Wall are tiny LEDs equipped with their own RGB sub-pixels. This allows the MicroLEDs to do away with image quality-sapping colour and polarisation filters as well as backlights, which allows them to rival OLEDs in terms of black detail and colour reproduction. What's more, unlike OLEDs, MicroLEDs can potentially go brighter and exhibit immunity to ageing and burn in issues.
Samsung Q9S 85-inch TV employs AI and machine learning
Samsung isn't just content making TVs bigger. In this age of AI and machine learning, the company has just made one of its TVs a whole lot smarter, if the company is to be believed. The Samsung Q9S is a pretty large QLED TV by itself, even if it can't compare to the aforementioned The Wall, but it makes up for that by rendering content in all its 8K glory. Now, if you're wondering where will Samsung find 8K content to play on the Q9S, this is where the AI component comes into the picture.
Touted as a TV with artificial intelligence, the Samsung Q9S packs in some serious processing power to run a sophisticated AI engine that converts any format – be it 4K, FullHD, or SD – into 8K resolution through the magic of upscaling. However, unlike the regular upscaling algorithm found in your average 4K television set, the one underpinning the Q9S is a lot more complicated. The AI engine leverages a multitude of image samples within its database and applies machine learning to create additional detail, reduce noise, and intelligently restore edges to fill up its QLED 8K panel.
The TV extends AI and machine learning to sound as well, to identify the source and distinguish between a movie and football match to optimise the sound output accordingly. What's more, the AI component promises to improve the accuracy of upscaling by focusing and identifying individual areas of the content for optimal image processing. The AI engine is also touted to learn as it works to improve its capability over time. The Samsung Q9S and other models of 8K TVs equipped with AI technology are expected to be launched during the second half of 2018.