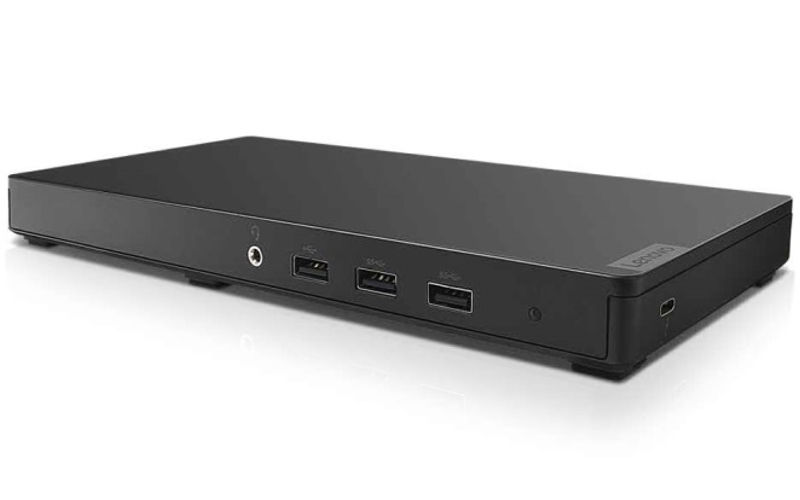 After the launch of new ThinkPad laptops, tablets, docking stations, and ThinkVision monitors, Lenovo has now launched an external graphics dock that connects using the Thunderbolt 3 port. Surprisingly, the Lenovo Thunderbolt 3 Graphics Dock also has an inbuilt GPU, unlike the other graphics docks, for which you have to buy the graphics card separately.
According to us, the Lenovo Thunderbolt 3 Graphics Dock has a custom designed GPU, due to which, it is extremely slim. The dock has a metal chassis, and it looks very simple; it measures 248.92 x 129.54 x 22.86mm and weighs a mere 1.4 pounds;. At the front, the dock has two full-sized USB 3.0 ports, one USB 2.0 port, and a 3.5mm audio jack. At the rear, there are two DisplayPort 1.3 ports, one HDMI port, one Ethernet port, and a proprietary power adapter port. On the side, it has a USB Type-C Thunderbolt 3 port, which apart from providing graphics power, can also be used to charge a laptop that supports the USB Power Delivery.
Even though the GTX 1050 may not seem like a very powerful graphics card, according to Lenovo, it is good enough to power a Windows Mixed Reality headset with refresh rates up to 90Hz. However, if you are into graphics-intensive games, then this Lenovo Thunderbolt 3 Graphics Dock isn't for you. Sadly, there isn't even an option to opt for a more powerful GPU in the Thunderbolt 3 Graphics Dock. Hopefully, Lenovo will launch more powerful docks in future if there is a demand.
The Lenovo Thunderbolt 3 Graphics Dock is priced at $399, and there is no word yet on the availability of the device. Also, Lenovo hasn't revealed any information, whether and if this product will be launched in India. If it does launch in India, we expect it to be priced around Rs. 35,000. It is to be seen how the market adopts the trend of external graphics docks, as the Thunderbolt 3 is available on a limited number of laptops and motherboard that are currently on sale worldwide.