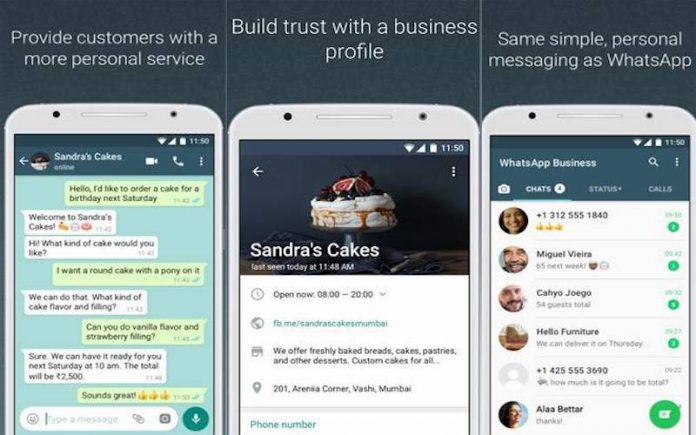 With the changing times, WhatsApp has realised that its app platform can be used for promoting business. The Facebook-owned instant messaging service has launched a separate platform for enterprises, dubbed WhatsApp Business App. As the name suggests, this platform is wholly and solely dedicated to businesses and will let them seamlessly connect with their customers over instant messaging and other features in the app. In this article, we will enlighten you about all the features in the WhatsApp Business App and how you can use it.
WhatsApp Business app is initially released for Android and is aimed at helping small-scale business owners promote their enterprises and connect with customers. For now, the app has been made available for download in Indonesia, Italy, Mexico, the UK and the US. It will soon be launched in India and other regions.
How to estimate whether my business is eligible for WhatsApp Business app?
As we mentioned above, this platform is reserved for small businesses so it will only come handy if you own such business that caters to the segment. If you have a business like a local bakery, general store, or any other shop that runs along the lines of small business. If you do not have any such business then WhatsApp Business app is not meant for you. You're better off with the regular version of the app.
In its blog post, WhatsApp mentions the stats and why its business could drive sales for small businesses in India:
Over 80% of small businesses in India and Brazil say WhatsApp helps them both communicate with customers and grow their business today (Source: Morning Consult study). And WhatsApp Business will make it easier for people to connect with them, and vice versa, in a fast and simple way.
The app is yet to launch to in India, so if you are a Small Scale Business (SMB) owner, then you will have to wait for some time before it gets listed on the Play Store. In an official blog post, WhatsApp states,"the app is rolling out around the world in the coming weeks."
WhatsApp Business App: Features
WhatsApp Business app is made for small businesses to connect with their customers. Here are some of the features that the app will offer to the users:
Business Profiles: Help customers with useful information such as a business description, email or store addresses, and website.
Messaging Tools: Save time with smart messaging tools — quick replies that provide fast answers to frequently asked questions, greeting messages that introduce customers to your business, and away messages that let them know you're busy.
Messaging Statistics: Review simple metrics like the number of messages read to see what's working.
WhatsApp Web: Send and receive messages with WhatsApp Business on your desktop.
Account Type: People will know that they're talking to a business because you will be listed as a Business Account. Over time, some businesses will have Confirmed Accounts once it's been confirmed that the account phone number matches the business phone number.
As one can judge from the features mentioned above, WhatsApp wants to make business communications easier than ever for the Small Scale Businesses. Tools like quick replies can escalate the sales for these businesses. SMBs owners will be able to create their business profiles on the platform. The platform will also offer customised or pre-loaded greeting messages for customers and away messages as well.
How to use WhatsApp Business app?
Once the app is launched for India, enterprise owners can head to the Play Store and download it. After downloading, they will be asked for some details and once the sign-up procedure is done (just like the regular WhatsApp), users will be allowed to import their previous chats to the new account. On completion of every step, they will be able to operate their business communication via WhatsApp. The best part being features like Auto Response that give a more professional look to the entire setup.
So, is it free? Or SMBs will have to pay any subscription price?
Well, for now, the app is absolutely free of charge. However, there are fair chances that WhatsApp may add a minimal fee to it in the future. Especially for the big enterprises, WhatsApp may lay out a plan to charge more. As most of you must have noticed, WhatsApp has already collaborated with service providers like BookMyShow, MakeMyTrip, Netflix, and more. One instantly gets WhatsApp Message or alerts whenever they use any of these services.
What about regular users who do not want to get spammed by businesses?
WhatsApp has duly noted the after effects that WhatsApp Business app can cast, which is why it mentions in its blog post that "people will continue to have full control over the messages they receive, with the ability to block any number, including businesses, as well as report spam."
When will it be available for iOS?
WhatsApp has not mentioned any timeline for launching the app on App Store. Neither did it confirm its arrival on the platform. However, one can expect that to happen as without listing the app on App Store, it may lose a substantial chunk of potential users.
Harking back to the old times when WhatsApp did not allow businesses on its platform
Back in 2014, MySmartPrice was among the first businesses in India to have launched its services on WhatsApp, but we had to stop our operations on the platform as WhatsApp did not allow businesses to use its services. Fast forward to present times, we are glad that the company has realised the value of its platform and is now supporting businesses to contact consumers. It will be interesting to see how the service pans out.
What's your take on WhatsApp Business app? Do you think it will help owners and customers in providing or getting better services? Share your thoughts with us in the comments section below.
Thanks for reading till the end of this article. For more such informative and exclusive tech content, like our Facebook page