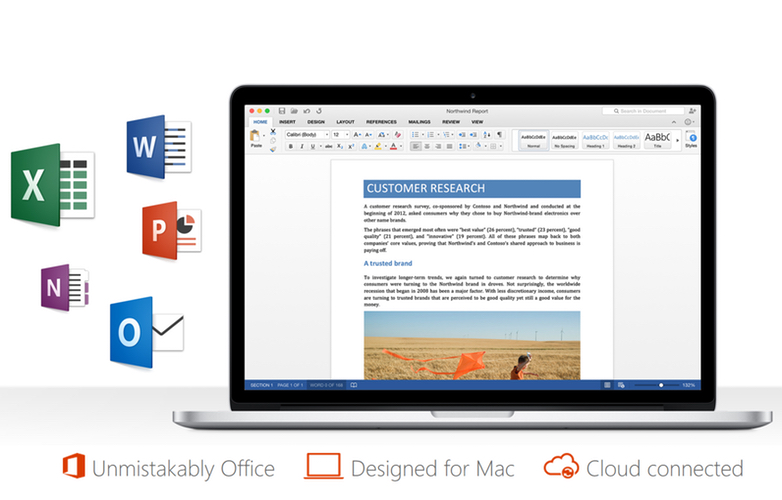 Microsoft has released a major update for its Office 2016 for Mac, which, among other things includes the possibility to collaborate on documents in real time. It also adds the ability to save documents on a shared cloud automatically. In a tweet, Microsoft's principal software engineer Erik Schwiebert said, "Mac Office 2016 version 16 is now live! For the first time in over 20 years, Office is again built out of one codebase for all platforms (Windows, Mac, iOS, Android)!" All three core Office apps – Microsoft Word, Microsoft Excel and Microsoft PowerPoint – have undergone significant updates, along with a few for Microsoft Outlook. The update is available to download as of January 18, and further details can be obtained from Microsoft's official release notes.
In Version 16.9.0 of Office for Mac, Microsoft brings over many features that have already existed but on its other platforms. One of these is the ability for multiple users to edit the same Word, PowerPoint, or Excel document simultaneously. Users will be able to see each other's changes in real-time. A thumbnail in the upper right corner will show all the users who are collaborating on the file at any given time. Along with the shared files being saved to the cloud (OneDrive), users will also have the ability to revert to previous versions of the file by going to the 'version history'.
In individual aspects, Word does not get any significant new features. It does, however, get a couple of "Remote Code Execution Vulnerability" security patches. Excel receives a bunch of new charts. These include funnel, sunburst and histogram for modifying visual aspects, a new Map chart for converting geographical data into a map format, and improved support for PivotTable charts. Excel also receives new, faster and shorter formulas with added support for multi-threaded calculations.
PowerPoint receives a new QuickStarter feature that will provide a helpful outline for presentations depending on the topic. It gets the ability to trim audio and video clips within the application and allows the mouse to be used as a laser pointer in slide shows. Finally, we have Outlook that has received a substantial update that enables the use of Google Contacts and Google Calendar straight from the application. It also receives support for 'time-saving' trackpad gestures such as a two-finger swipe left for archiving and a two-finger swipe right for deleting an email.