Instagram seems to be following a launch streak, the photo-sharing app has been bringing out a slew of new features and is now gearing up for introducing more. Today, Instagram has added GIF support to its Stories features, which means that Instagram users can now add GIFs to their stories.
The new GIF option is added to the sticker option in Stories. When users click the sticker icon, they will find the new GIF option among several other options. Instagram has collaborated with GIPHY to fetch the best GIFs from its vast library, users can also search for particular GIFs. For Instagram lovers, this feature will make their stories more cheerful and lively. After all, for our generation, GIFs and Memes are what keeps us going, right?
GIF support is just the beginning of new features that will be coming to Instagram in some time. In the coming weeks, Instagram will be adding the ability to upload videos and photos of any size to a story. Also, when sharing a story, users will be allowed to pinch for adjusting dimensions according to their requirement, be it square, landscape, or portrait. Extra spaces along the sides will be taken care by adding matching gradient colors so that the story looks crisp.
The GIF stickers are available on Instagram version 29 for both Android and iOS, starting today. You can head to the Instagram app now on your phone and check it out. If you don't find it there, then you must head to the App Store or Play Store to check if your Instagram app has been updated to the latest version or not.
For the ones who are not much into sharing Stories on Instagram, but want to try the GIF stickers anyway, here's how you can use it.
How to add GIFs to Instagram Stories
Step 1: Open "Stories" on Instagram by clicking on the camera icon in the upper left corner. Tap on the capture button once for taking a photo or press and hold it for taking video. After clicking a picture or taking a short video, you will see the options shown in the image below, click on the sticker option as annotated in the picture: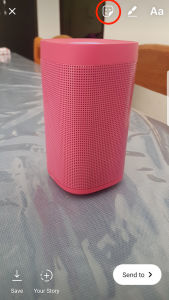 Step 2: After clicking on the Sticker icon, you will be greeted with multiple options. You will find "GIFs" option too, click on it to add GIF to your story.
Step 3: You can also search for GIFs as shown in the images below.
As easy as it gets, adding GIFs to your Instagram stories is a cakewalk indeed. Let us know if you are happy with the inclusion of this feature in Instagram Stories, share your thoughts in the comments section below.