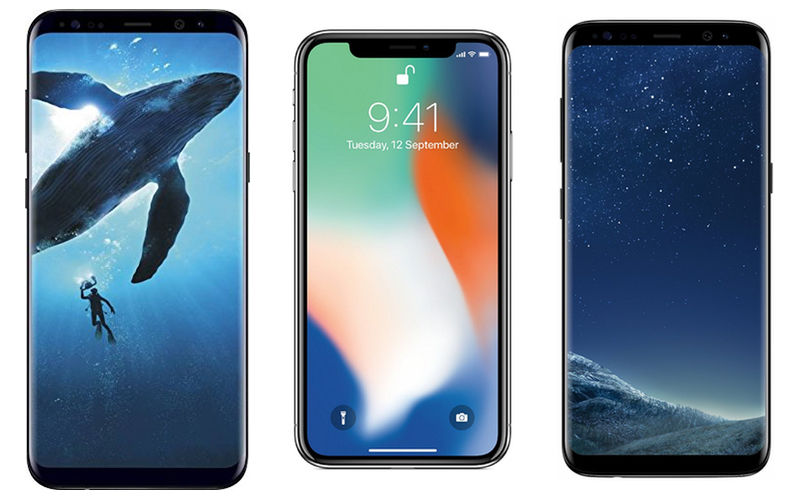 If you are looking for the ultimate smartphone to buy in India right now, Apple's top-of-the-line iPhone X might be a very appealing option. But is it worth investing your hard earned money when newer options are coming soon that might offer just as good performance for a lower price tag? With the launch of the highly awaited Samsung Galaxy S9 and the Samsung Galaxy S9 Plus just around the corner, we decided to have them compared side by side against Apple's flagship to see if it holds up to the new competition. We have a pretty good idea of what the new phones are going to offer regarding most of their hardware and software configurations. With the launch scheduled to be on February 25th, we don't have to wait for much longer to know what the end product will offer. So is the iPhone X worth the price, or maybe waiting is a better idea? Let's go ahead with comparing these phones to figure out the best option.
iPhone X vs Samsung Galaxy S9 vs Samsung Galaxy S9 Plus: Price in India
As of February 5th, 2018's hike in import duty, the price of the 256GB variant of the iPhone X has gone up to Rs. 1,05,720, while the cost of the 32GB variant is now Rs. 92,430. On the other hand, we have reports stating that the Galaxy S9 will be priced around Rs.63,990, while the Galaxy S9+ is going to be priced around Rs.64,990 in India. Final prices may vary, and the import duty price hike might affect this as well. However, the price would still be comparatively less than the iPhone X.
iPhone X vs Samsung Galaxy S9 vs Samsung Galaxy S9 Plus: Display
When it comes to the display, each one of these phones offers the absolute best they can. The iPhone X has a  5.8-inch Super AMOLED display sourced from Samsung. It features HDR10 and DolbyVision for an enhanced viewing experience. Then there's the controversial notch at the top that some find unbearable while others claim that it isn't that noticeable in daily use. Other than that, the display has excellent colours, deep black levels and offers a clean and sharp viewing experience.
According to the specifications that were revealed ahead of launch, we know that The Samsung Galaxy S9 will have a 5.8-inch QHD+ Infinity Display with a Super AMOLED screen, rounded corners, and curved edges. The Samsung Galaxy S9 Plus would sport a similar panel with larger 6.2-inch size. On paper, it looks like Samsung would be offering a comparable display on the Samsung Galaxy S9 without the notch, making this phone quite appealing.
iPhone X vs Samsung Galaxy S9 vs Samsung Galaxy S9 Plus: Camera
The Apple iPhone X flaunts a dual-camera setup with two 12-megapixel sensors. The dual-camera configuration uses one sensor for a normal FoV, and the other sensor has 2x zoomed FoV. This camera offers Portrait mode. Additionally, this camera features 4K video recording at 60 frames per second. The secondary camera is 7-megapixels which can record full HD videos at 30fps and has facial recognition, HDR and panorama.
With the Samsung Galaxy S9, we get a 12MP primary camera which will offer a variable aperture (f/1.5 – f/2.4) lens. Samsung Galaxy S9 Plus, on the other hand, will feature a 12MP primary sensor paired with a f/1.5 aperture lens and a secondary 12MP sensor paired with a f/2.4 aperture lens. Thanks to the bright f/1.5 aperture lens, both the smartphones should be able to deliver superior low-light performance. Both the smartphones are said to have the ability to record "Super Slow-mo" videos at 960 frames per second along with 4K 60fps recording. For the front, both phones will feature an 8-megapixel selfie snapper with autofocus and iris recognition.
Looking at this extensive camera specs list, the Samsung might just offer better photo and video capabilities than the iPhone X.
iPhone X vs Samsung Galaxy S9 vs Samsung Galaxy S9 Plus: Performance
A hexa-core Apple A11 Bionic chipset powers the iPhone X. Until now, the Apple A11 Bionic chipset was the most powerful processor available in a smartphone thanks to its six custom-designed CPU cores and a custom GPU. It comes paired with a reasonable 3GB of RAM that helps in multitasking. According to the leaked specifications of the Samsung Galaxy S9 and Samsung Galaxy S9 Plus, the devices will ship with latest Exynos 9810 SoC in most regions. This new processor from Samsung, combined with the 4GB of RAM it is expected to have, should offer significantly higher raw performance when compared to Samsung's last year flagships.
iPhone X vs Samsung Galaxy S9 vs Samsung Galaxy S9 Plus: Battery
As for the battery, the iPhone X has a 2716 mAh battery that lasts well over two days of decent use. The Samsung Galaxy S9 and Samsung Galaxy S9 Plus will arrive with a 3000mAh and a 3500mAh battery respectively. How well Samsung has optimised its devices' power consumption is to be seen. But taking into consideration the backup provided by the previous year's line of Galaxy S8, Galaxy S8 Plus and Galaxy Note 8, the newer devices should also offer similar, if not better, battery life. The iPhone x does provide fast charging technology, but it does not come with the appropriate charger for this, and it needs to be purchased separately. On the other hand, Samsung phones have always come with quick charging wall adapter right out-of-the-box.
iPhone X vs Samsung Galaxy S9 vs Samsung Galaxy S9 Plus: Verdict
With all the new features that the Samsung Galaxy S9 and Samsung S9 Plus offer at a lower price point compared to the iPhone X, it really makes us lean towards the Samsung. Samsung has even listened to its customers and has moved the fingerprint scanner under the camera, to a more accessible and natural position. Furthermore, there are rumours that the production of the iPhone X might end to give way to a larger smartphone, which might be called the iPhone X Plus (or something along those lines). It might be a better idea to hold on for now and wait for the devices to launch before making any purchasing decisions.