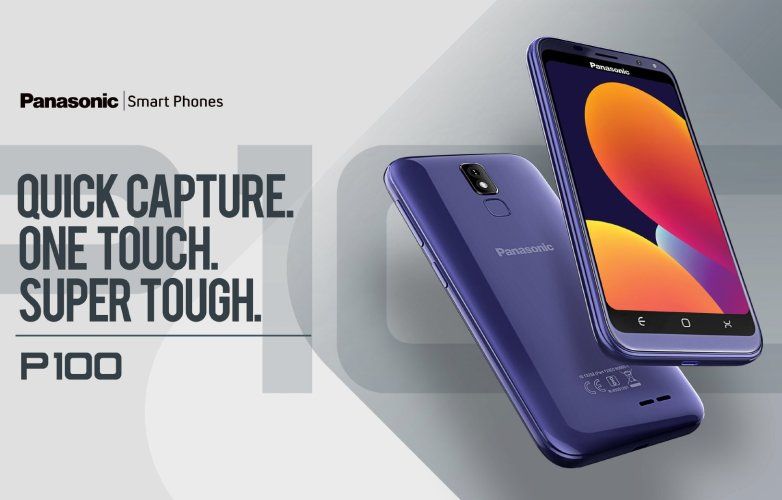 It is said that technology makes no distinction between the rich and poor, and nothing proves this fact better than smartphones. In recent times, advanced smartphone technology found in expensive smartphones can now be seen in ones costing as much as ₹15,000. The smartphone, you see, is no longer a toy for the rich. In fact, owning a fast, versatile, and feature-packed smartphone is the bare minimum need to succeed in life. However, you don't even have to spend that much for a powerful and feature-packed smartphone.
Budget Price, Premium Specifications
Allow us to introduce the Panasonic P100 smartphone. Starting at just ₹5,299, the P100 is the perfect upgrade for feature phone users who want the complete smartphone experience without compromising on features and performance, as is the case with other budget smartphones. For starters, the Panasonic P100 is a budget smartphone that doesn't look, feel, or perform like anything made on a budget.
The P100's high quality glossy exterior finish is available in professional Dark Grey and Black finishes along with premium Blue and Gold variants as well. What's more, the P100 comes equipped with the industry leader Corning's scratch and shatter resistant Gorilla Glass protection so that you can stop worrying about expensive repairs associated with shattered displays.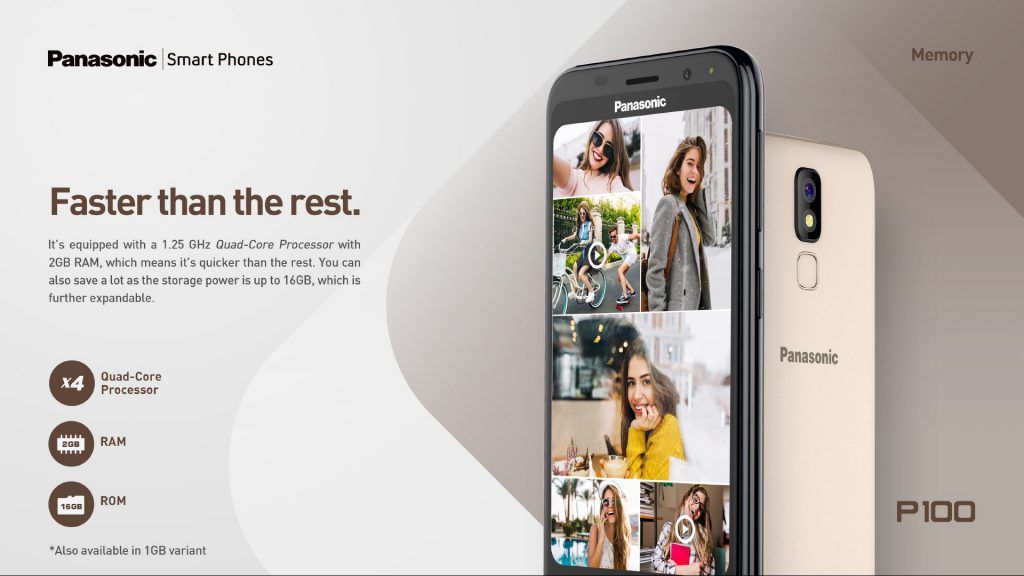 It's not all about style either, the Panasonic P100 has the smarts to go with the good looks as well. The P100's 1.25GHz quad-core processor is backed by 2GB/1GB (two variants) of RAM and 16GB internal storage that can be further expanded up to a whopping 128GB. The best part is that you don't have to sacrifice a SIM slot to use the expandable microSD slot. Pair all this technology with 4G LTE radio, Bluetooth 4.0, sophisticated GPS, the latest Android 7.0 Nougat, and you have a device that does everything that the significantly more expensive smartphones can and then some more.
However, the P100 doesn't just get things done with brute strength, it does it smarter. Introducing Duraspeed technology that intelligently manages background apps to do more with the RAM and CPU power available for a fast and lag-free smartphone experience.
Putting the Smart in Smartphone
The Panasonic P100 also proves how paying less doesn't involve compromising on features. Take the fingerprint scanner, for example. The fast and secure biometric authentication system not only keeps your device safe, but you can also assign each finger to a different app such as camera, email, or browser for added speed and efficiency. What's more, the P100 also offers face unlock with the Trusted Face Mode, which allows quick and intuitive device unlocking. All you have to do is look at the screen and the phone is unlocked. It doesn't get simpler and more high-tech than this.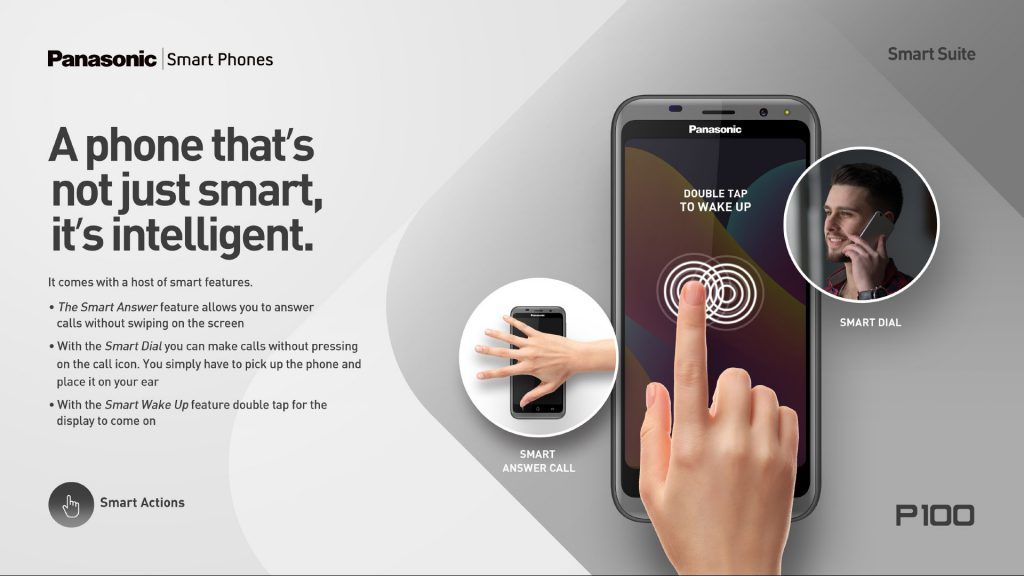 Combine this convenience with innovative features such as On-Body-Detection Mode, Bluetooth Unlock Mode, and Trusted Places and you get a phone that puts the smart in a smartphone by helping you manage screen management and device unlocking intelligently without needing any additional input from you. Then there are smart gestures to make and answer calls, as well as manage display sleep state. What you have here is a phone that provides amazing features that cannot be found in any budget and even most mid-range phones.
More for Less
However, it's not all about work. Its 5-inch HD IPS display is bright enough to be viewed comfortably outside in the burning sun. It also delivers wide viewing angles along with accurate and vibrant colours for an uncompromised viewing experience. And you're going to need just that because the P100 packs in sophisticated 5-megapixel front and 8-megapixel autofocus rear cameras, both equipped with LED flash for fast photo capture and better night shots.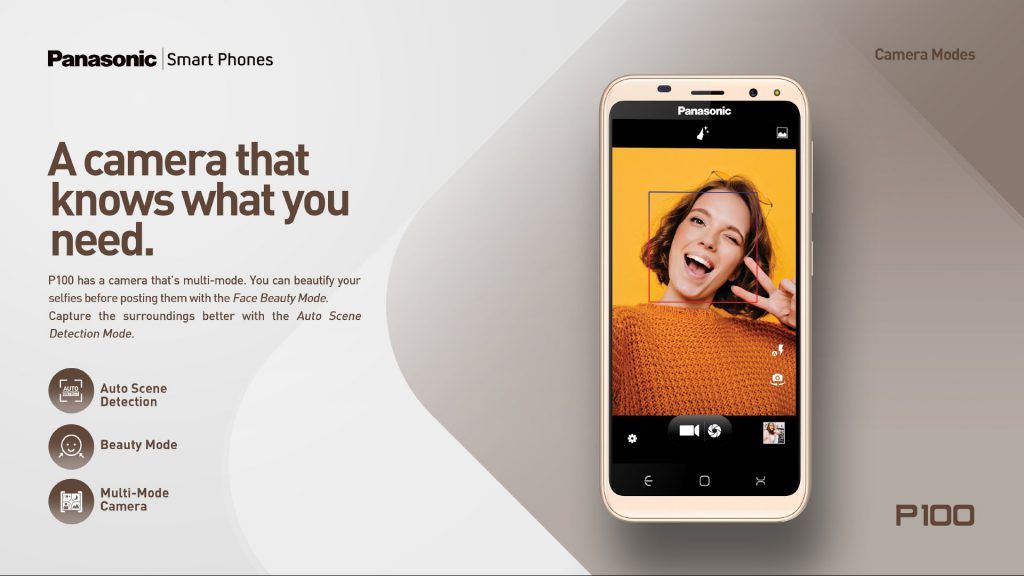 What's more, the image sensor is equipped with larger pixels that improve low-light photography by capturing a greater amount of light. The sensor is filled with all kinds of smart technology that corrects shakes, beautifies faces, auto-detects scenes, and incorporates a unique zero delay shutter for lightning-quick photo capture.
Welcome to the World of Smartphones
Just in case you have forgotten by now, the Panasonic P100 starts at just ₹5,299 and offers the kind of cutting-edge features only found in high priced smartphones. So if you have been shying away from investing in a smartphone for the want of high performance and feature-rich offerings on a budget, look no further than the Panasonic P100.

To know more about Panasonic Smart Phones head to their official website.