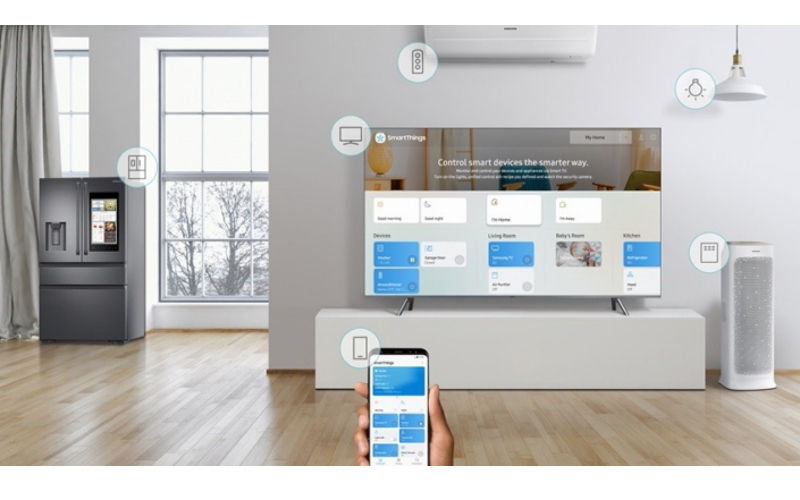 Samsung has announced a redesign of the SmartThings app to bring the company's vast and confusing range of Internet of Things (IoT) applications under one platform. Samsung's smart ecosystem includes Samsung Connect, Smart Home and Smart View, making it unnecessarily complicated to use various Samsung smart devices. The new overhaul is said to simplify the ecosystem by making the Samsung SmartThings app a consistent and straightforward interface. The simplified app would be a part of Samsung's plans of the SmartThings Cloud that was aimed to allow users to control their smart TV, washing machine, and other IoT-equipped devices using a single platform.
Samsung Electronics Australia director of home appliances, Jeremy Senior, said, "Our simplicity and connectivity story is really strong and prevalent among our customers and retail partners. At CES, we talked a lot about making experiences simpler, so we are excited by the innovation of Bixby voice control, as well as our SmartThings app and SmartThings cloud. This means we can bring all of our devices, as well as other manufacturers' devices, together to work across the platform."
Samsung is pitching the new app as the 'Perfect Pair' to the recently unveiled Samsung Galaxy S9 and Samsung Galaxy S9 Plus. The app is promised to transform a Galaxy S9 and Galaxy S9 Plus devices into universal controllers that will allow users to view the status of, and issue commands to, various SmartThings-compatible devices. They would also be able to connect to their Family Hub fridge to check its contents and send images and videos to Samsung Smart TVs or other displays. Further integration with SmartThings-enabled TVs promises to 'streamline and personalise' a user's viewing experience as users will be able to send login information and apps to the TV directly from the app.
The new app is part of Samsung's vision of the SmartThings Cloud which would clear the clutter of having separate apps for different IoT devices. By 2020, the company even expects to make all of its products internet-connected along with the integration of Bixby. The South Korean giant had first announced the move back at CES 2018 and now has provided a confirmed release date for this redesign. Samsung is planning to release the overhauled SmartThings app with the launch of the Samsung Galaxy S9 and Samsung Galaxy S9 Plus in March. The app will be available to download on all compatible devices in the following months.