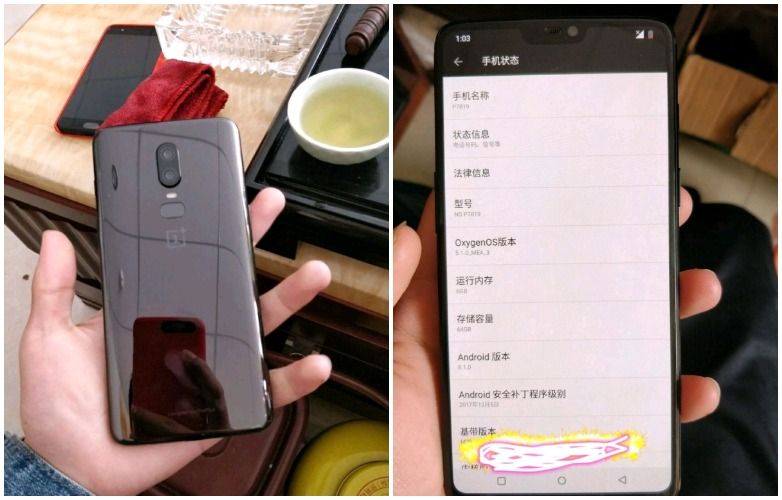 Chinese smartphone maker OnePlus is working on its next-generation smartphone, the OnePlus 6, which should be released by June 2018, at least going by the company's track record. However, it is trying to keep all the details regarding this device a secret for now, but we all know that leaks won't stop. Now, it appears that the first live image of the OnePlus 6 may have been leaked. The image has been revealed by famous leakster "Kumamoto Science and Technology" on Weibo. The image was swiftly removed for an unknown reason, but the folks at ITHome managed to capture the shots before they were eliminating from the web.
The phone appears to be labelled as P7819. This specific model number isn't what OnePlus uses traditionally for its flagship devices, so we can't actually come to conclusion on whether this is an actual phone or even if it is the successor to the OnePlus 5T. For now, we are biting the bullet and calling this smartphone the OnePlus 6. The company is prepping for the launch of the OnePlus 6 in June 2018, which was confirmed by the company's CEO in an interview last month. Apart from this, we also know that the brand is never going to make a successor to the OnePlus X, at least going by the tweet by the OnePlus' co-founder a few weeks ago.
Also Read: Samsung Galaxy S9 vs OnePlus 5T vs iPhone 7: Price in India, specifications comparison
We can see in the image that the phone features a dual-camera setup accompanied by an LED flash. Below the camera setup is the OnePlus branding and a fingerprint reader, which is similar to what Samsung did with the recently announced Galaxy S9 and the Galaxy S9+. That's not all. We can also see an iPhone X-style notch at the top of the phone's screen. Although a lot of consumers hate the notch on the iPhone X, it appears that a lot of Android OEMs, including Huawei, Motorola, and OnePlus, are trying to adopt the same design for their high-end smartphones in 2018. As far as hardware internals of the OnePlus 6 are concerned, it is could be equipped with a Snapdragon 845 chipset, 6GB RAM, 64GB/128GB storage. The image shows the phone running Android 8.1 Oreo.
For now, these are the only details we can make out of the newly leaked image of what is rumoured to be the OnePlus 6. However, we suggest you to take this information with a pinch of salt, as we think that it's too soon for the OnePlus 6's image to be leaked. We might see more accurate details about the upcoming OnePlus phone in the coming months.