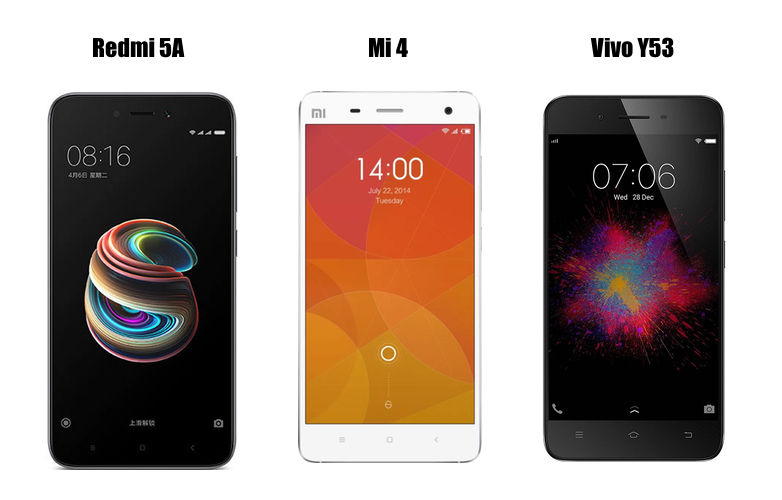 The budget segment of the Indian smartphone market has seen some really impressive models appear in the last year, thanks to multiple Chinese manufacturers. Credit has to be given to Xiaomi which has completely changed the budget segment by offering features that were never seen before at that price. The Redmi 5A, for example, is one of Xiaomi's lowest priced phones and is still a great product. But how would it fare against the Mi 4 and the Vivo Y53, which carry the same price tags? Let's go ahead and compare features and other parameters, so we can have a better idea about which phone is the best among these three.
Redmi 5A vs Mi 4 vs Vivo Y53: Price in India
The Redmi 5A was launched in November last year and currently carries a price tag of Rs.6,999 for its higher spec version. The Mi 4, in comparison, was launched in July 2014 and it is priced at Rs.8,900 today. The Vivo Y53 is currently priced at Rs.7,990 and was launched in March 2017.
Redmi 5A vs Mi 4 vs Vivo Y53: Display
The Redmi 5A comes with a 5-inch IPS LCD display that offers a resolution of 720×1280 pixels. It has an aspect ratio of 16:9 and a density of 296 pixels per inch (ppi). The Mi 4 offers a resolution of 1080×1920 on its 5-inch screen at a density of 441ppi. The Mi 4 also has a standard aspect ratio of 16:9. The Vivo Y53, in comparison, offers 540×960 pixels on its 5-inch screen. It has a pixel density of 220ppi.
Redmi 5A vs Mi 4 vs Vivo Y53: Performance and Battery Life
The Redmi 5A is equipped with a Qualcomm Snapdragon 425 quad-core 1.4GHz processor, whereas the Mi 4 is powered by the Qualcomm Snapdragon 801 quad-core 2.5 GHz chipset. The Vivo Y53 features the same processor as the Redmi 5A: the Qualcomm Snapdragon 425.
The Redmi 5A comes with 3GB RAM and 32GB of onboard storage. Comparatively, the older Mi 4 offers 3GB RAM paired with 16GB internal memory. The Vivo Y53 takes it down a notch lower, offering 2GB RAM and 16GB for your storage needs. The Redmi 5A and Y53, however, offer dedicated memory slots for expandable memory up to 256GB, which the Mi 4 does not support.
The Redmi 5A runs on MIUI 9, which is equivalent to Android 7.1. The Mi 4 runs on MIUI 8, in comparison, and therefore offers Android Marshmallow. The Vivo Y53 also offers users an Android Marshmallow experience on its FunTouch-equipped device.
As for battery life, the Redmi 5A's cell has a capacity of 3000mAh whereas the Mi 4 has a 3080mAh power unit. The Vivo Y53 comes with a tamer 2500mAh battery.
Redmi 5A vs Mi 4 vs Vivo Y53: Camera
Being budget segment phones, none of these phones has amazing cameras. But that is when compared to flagship devices — when compared to phone cameras from a few years ago, these devices offer rather satisfying results.
The Redmi 5A has a 13MP f/2.2 rear camera which does a good job in daylight but stumbles a bit when used in low light conditions. The Mi 4 does a fair job in both good and bad lighting conditions, as it has a 13MP f/1.8 camera on the back. The Vivo Y53 has an 8MP f/2.0 shooter on the back as a primary camera. All three phones can record 1080p videos at 30 frames per second, but the Mi 4 can also shoot 4K (2160p) videos at the same frame rate which the other two phones can't manage.
On the front, the Redmi 5A has a 5MP snapper whereas the Mi 4 comes with an 8MP selfie camera. The Vivo Y53 offers a 5MP front camera, like the Redmi 5A.
Redmi 5A vs Mi 4 vs Vivo Y53: Verdict
Among the four, the Redmi 5A comfortably wins the race. When compared to the Mi 4 and Y53, the Redmi 5A is better in terms of software experience, battery efficiency, processing, and display offerings. So our vote naturally goes to the Redmi 5A!