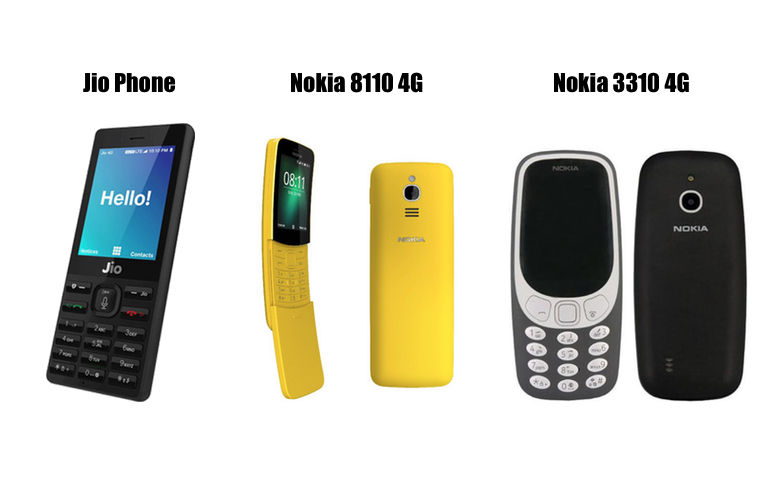 When one considers budget phones, there are three options that immediately come to mind: the Jio Phone, the born-again Nokia 8110 4G and a legendary phone that has made a comeback in a new avatar — the Nokia 3310 4G. Any of these phones make for an excellent secondary phone or even a beginner phone for someone. But though these phones may seem similar, there are features and specifications that set them apart. Let's dive right into it so we can get a better idea of how different these devices are. We'll start by comparing pricing.
Jio Phone vs Nokia 8110 4G vs Nokia 3310 4G: Price in India
The Jio Phone was launched in July 2017 and is priced at Rs. 1500, which is refunded after three years, effectively making the price of the device Rs.0. The revamped Nokia 8110 4G was revealed to the world at Mobile World Congress (MWC) in Barcelona this February and is expected to cost Rs.6300 when it appears on shelves in India. As for the Nokia 3310, the 3G variant made its debut last year but the 4G version was announced in January 2018. The device is expected to be priced at Rs.3,599.
Jio Phone vs Nokia 8110 4G vs Nokia 3310 4G: Display
The Jio Phone has a 2.4-inch TFT display with a resolution of 240×320 pixels and a density of 167 pixels per inch. The display specs of the Jio Phone, the Nokia 8110 4G and 3310 4G are exactly the same — from the display size to the screen technology to the resolution to the pixel density.
Jio Phone vs Nokia 8110 4G vs Nokia 3310 4G: Performance and Battery Life
The Jio Phone is powered by a Spreadtrum SC9820A dual-core 1.4GHz chipset with 512MB of RAM and 4GB of onboard storage. The Nokia 8110 4G is equipped with a Qualcomm Snapdragon 205 dual-core 2.2GHz chip with an Adreno 304 graphics processing unit. It offers 512MB RAM and 4GB onboard storage, like the Jio Phone. The Nokia 3310 4G, on the other hand, has a 1.5GHz dual-core processor under the hood, with 256MB of RAM and 512MB of internal storage. It also features a memory card slot so you can add up to 64GB additionally, which is exactly what the Nokia 8110 4G offers as well.
The Jio Phone runs on the KaiOS and offers apps like MyJio, JioTV, JioCinema, JioChat, JioMusic, JioXpressNews, etc. An interesting feature of the Jio Phone is that you can connect it to your TV with the Jio Media Cable. The Nokia 8110 4G runs on KaiOS as well and while it may not have any Jio apps, you can still surf the web and watch videos and use apps like Google Search, Maps, and Assistant. This is the case with the Nokia 3310 4G as well. You can also connect any of these phones to WiFi. None of these phones offers a fingerprint sensor.
The Jio Phone comes with a 2000mAh battery whereas the Nokia 8110 4G offers a 15000mAh battery. The 3310 4G's battery has a capacity of 1200mAh, in comparison.
Jio Phone vs Nokia 8110 4G vs Nokia 3310 4G: Camera
The Jio Phone has a 2MP rear camera and a 0.3MP front camera. As is expected, the cameras are quite inferior and are just good enough to take a low-quality photograph. Neither of the Nokia phones offers a front camera, but on the rear, both the Nokia 8110 4G and the Nokia 3310 4G have a 2MP shooter with an LED flash.
Jio Phone vs Nokia 8110 4G vs Nokia 3310 4G: Verdict
Of the lot, the Jio Phone makes the most sense unless you want a phone that won't give you an eyesore. It is practically free so we can't compare pricing, but in terms of specs, it is better than the Nokia 8110 4G and Nokia 3310 4G. But the Nokia phones are much better to look at, and that's why it's understandable if you choose them over the Jio Phone.