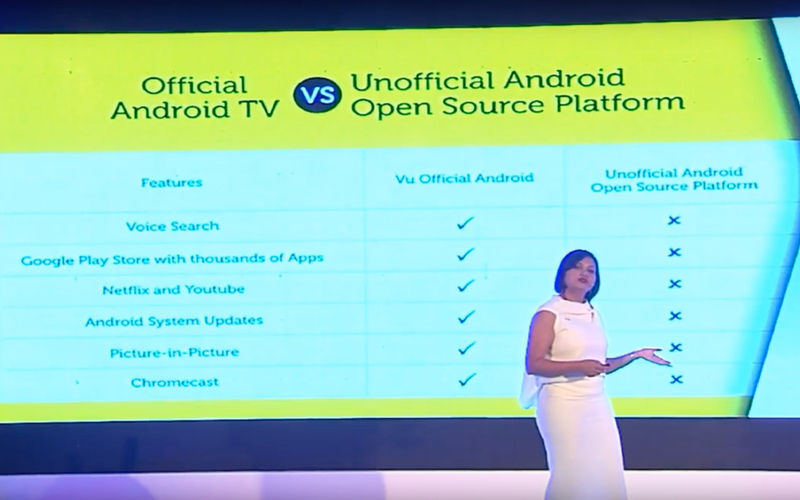 At today's press conference, where Vu unveiled its new line of 4K UHD Android TVs, Devita Saraf, founder and CEO of Vu Televisions called Xiaomi a low-end brand. This happened when a member of the audience questioned the CEO regarding the competition the new Vu TVs would face; especially on account of the recently launched Mi TV 4 by Xiaomi.
Saraf responded by saying that Xiaomi is a low-end brand that competes with the likes of Micromax and Intex. The latter two being budget-oriented TV manufacturers. According to her, Vu's level of hardware quality, its "official" Android ecosystem, and voice search integration has elevated the company to the same level as established international TV manufacturers such as Sony and Sharp.
Saraf also termed the new Vu TVs as "official" Android TVs because Vu has "official" partnerships with video on demand (VOD) providers such as Netflix and YouTube. According to her, most other Android TVs are "dumb TVs" primarily because they don't have Netflix and cannot download apps from the Google Play Store [Editor's note: this is factually incorrect].
These are some bold words coming from the CEO of a home-grown TV manufacturer, while the industry leaders have taken decades to establish their well-deserved reputations. Saraf further stated that Vu counts itself among industry leaders such as Sony, Samsung, LG, and Panasonic. While it is good to have high ambitions, those are some pretty large shoes to fill. Saraf seems to have underestimated the impact of the Mi TV 4 on the Indian TV market, as the TV seems to be poised to be a veritable disruptor in a largely stagnant market.
The Mi TV 4 took the television market by storm with its 4K HDR TV offering at an incredibly low price. Xiaomi's TV is cheaper than Vu's similar-sized 55-inch offering and tops it off with much better features. The Mi TV 4 is HDR capable, while the Vu Android TVs are not. The stock Android UI on the Vu TV looks promising, but we don't expect it to blow us away as Xiaomi did with its PatchWall UI and an intuitive and seamless integration of multiple content sources. Do check back with us for the upcoming Xiaomi Mi TV 4 review, where we will see exactly how large a shadow it casts over the rest of the competition.