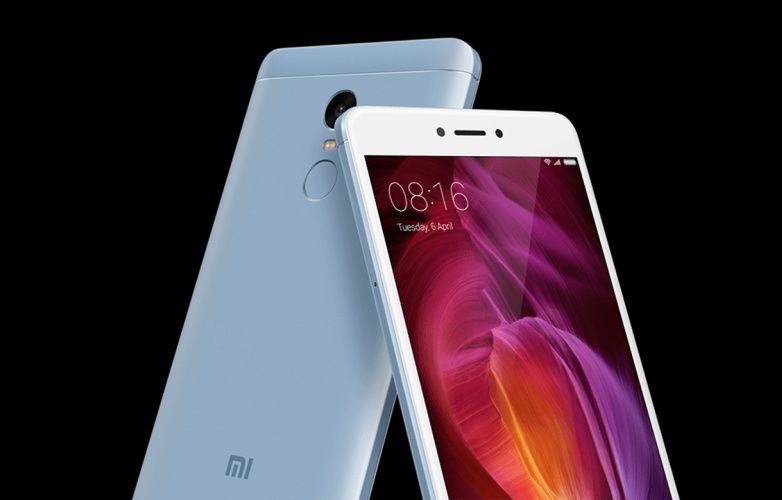 Data released by market research firms Canalys and Counterpoint earlier this year had confirmed that Xiaomi had managed to surpass Samsung as the leading smartphone vendor in the Indian market during the fourth quarter of 2017. A new report released by CyberMedia Research (CMR) has now revealed that Xiaomi managed to overtake Samsung in the largest smartphone market in India during the same period – Maharashtra. According to the CMR report, Maharashtra accounted for 13.7 percent of the total smartphone sales in India in Q4 2017.
Xiaomi
The CMR report claims Xiaomi managed to grab a market share of 31.2% in Maharashtra during October to December 2017, made possible due to the strong sales of the Redmi Note 4 model in the state. It should be noted that Xiaomi had opened two Mi Home Stores in Maharashtra in the months of October and November 2017. Xiaomi's third Mi Home in the state was opened in January this year in Thane. Xiaomi also expanded its offline presence in Maharashtra and other states across India with the help of Mi Preferred Partner stores.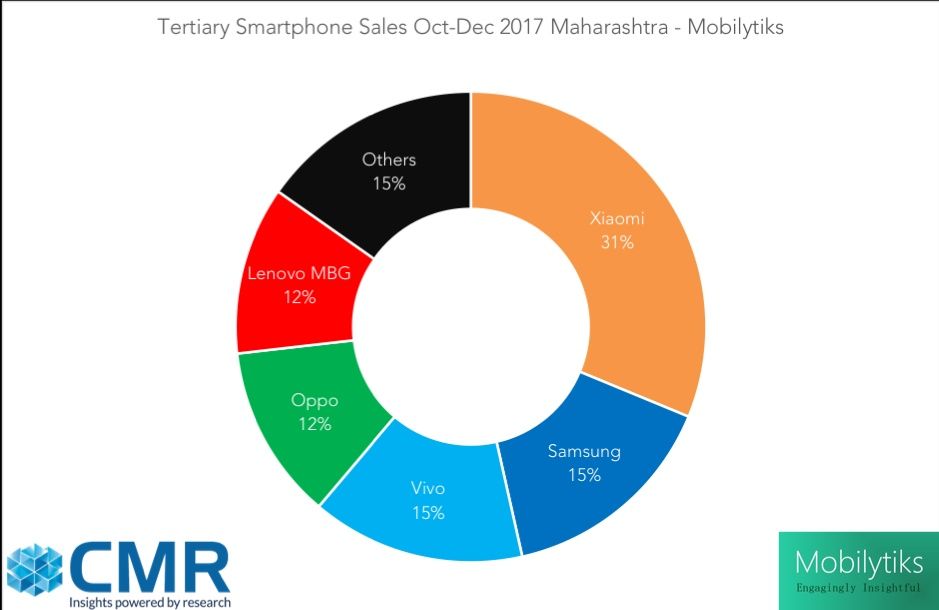 Samsung
Samsung could only capture 15% market share in Q4 2017, less than half of what Xiaomi managed. This suggests a vast number of consumers in Maharashtra no longer consider Samsung to be the default choice when shopping for a new smartphone. Needless to say, the main reason why Samsung has slipped to the second position is the absense of any strong offering in the budget segment of the market, which is where Xiaomi enjoys a huge lead over all other brands in India currently. That said, Samsung was surprisingly not among the top 5 losers during the fourth quarter of 2017 in India's largest smartphone market. More on that below.
Vivo
What is surprising is that Chinese smartphone maker Vivo managed to grab an identical 15% market share of the smartphone market in Maharashtra in Q4 2017. Not only has Samsung been displaced to the No.2 spot in Maharashtra but it appears the company may find it difficult to stay on this spot as Vivo and OPPO seem to pose a big threat. The main reason behind Vivo's success can be attributed to its aggressive marketing as well as incentivizing retailers to push their products to consumers. While the company's latest V-series smartphones haven't exactly managed to set the sales charts on fire, the more affordable selfie-focused smartphones from Vivo continue to remain popular among consumers in India.
OPPO
Vivo's sister brand OPPO grabbed 12% of the market share and was the fourth largest smartphone brand in Maharashtra from October to December, 2017. Like Vivo, OPPO too is popular in the Indian market for its selfie-focused smartphones. Unlike Vivo, however, OPPO does have a significant presence in the online segment as well.
Lenovo (Including Motorola)
At the fifth spot was Lenovo (including Motorola). While Lenovo itself has a reduced presence in the Indian market, the numbers were mainly driven by Motorola's strong performance in the online segment. Together, the top five brands accounted for nearly 84% of the total market in 4Q, 2017. The remaining brands had a combined market share of only 15%.
Fastest Losing Smartphone Brands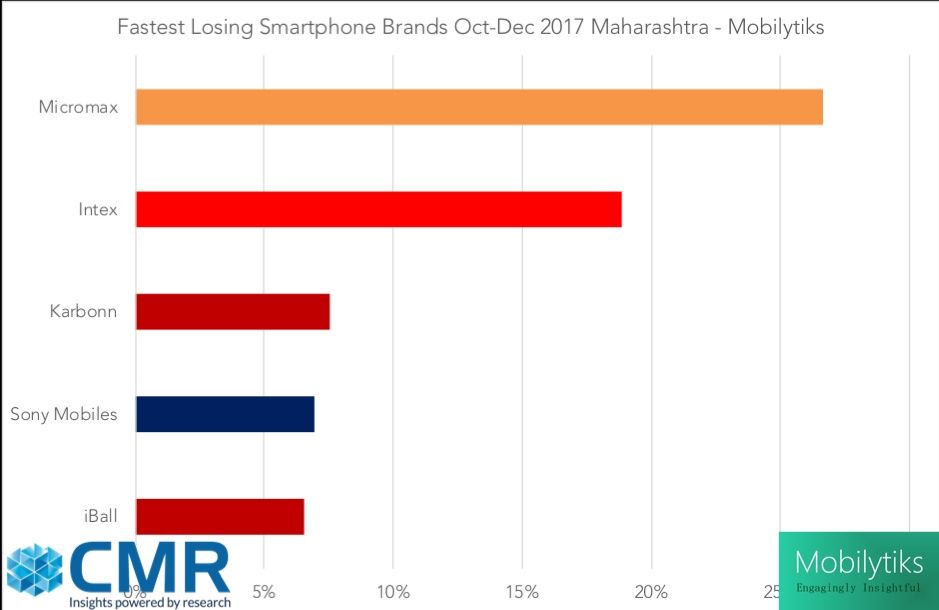 The top losers during the quarter in Maharashtra were Micromax, Intex, Karbonn, Sony Mobile, and iBall. Note that out of the five brands, only one was a non-Indian brand. Going by the data from CMR, it appears as users start upgrading to 4G smartphones, domestic smartphone vendors are starting to lose market share. Most users upgrading to 4G smartphones are opting for Chinese and global Tier I brands such as Samsung. Xiaomi, of course, should be able to continue its domination in the coming months with its new products such as the Redmi Note 5, Redmi Note 5 Pro, and the upcoming Redmi 5. Samsung is said to be coming out with a more competitive lineup of budget Android smartphones for the Indian market, so it remains to be seen if the South Korean manufacturer will be able to regain the top spot in the Indian smartphone market.