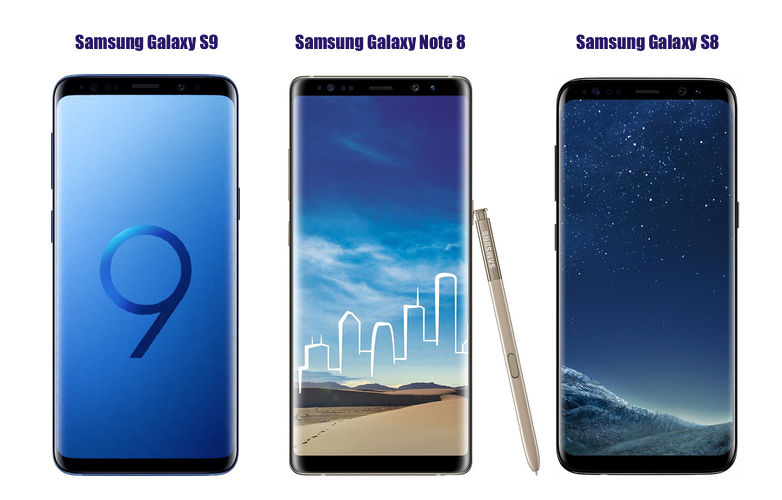 Samsung recently took wraps off its latest flagship, the Galaxy S9, at the MWC 2018 in Barcelona. The launch of the new phone in S lineup has made it necessary for us to compare it with the previous flagships – the Galaxy S8 and the Galaxy Note 8. The Galaxy S9 comes with incremental upgrades over the other two phones, but it does add a fresh set of features. Let's take a look at what the three have in common and what not.
Samsung Galaxy S9 vs Galaxy Note 8 vs Galaxy S8: Display
Regarding display and design, the Galaxy S9 features reduced bezels and has an iris scanner at the top of the display. The iris scanner and the face recognition features work together on the phone. It comes with a 5.8-inch QHD+ Curved Super AMOLED display with 1440×2960 pixels resolution and 18.5:9 aspect ratio. On the other hand, the Galaxy Note 8 boasts a huge 6.3-inch Quad HD+ AMOLED Infinity Display with 1440×2960 pixels resolution and 18.5:9 aspect ratio. It comes in a large aluminum frame with glass coating on the front and rear. The Galaxy S8 features a 5.8-inch bezel-less 'Infinity Display' with a resolution of 1440×2960 pixels and 18.5:9 aspect ratio.
Samsung Galaxy S9 vs Galaxy Note 8 vs Galaxy S8: Hardware and Software
The Samsung Galaxy S9 comes powered by Samsung's in-house Exynos 9810 SoC in India with Mali-G72 MP18 GPU. It comes with 4GB of RAM and 64GB/128GB/256GB storage options that can be further expanded up to 400GB via microSD card. It runs Android 8 Oreo out-of-the-box and is backed by a 3000mAh battery. As an upgrade from the Galaxy S8. the Galaxy S9 comes with new features such AR Emoji, which is Samsung's answer to Apple's Animoji. It lets users turn click their picture in 3D and then turn it into a customised emoji. Another such feature is the Bixby Vision in the camera app that offer live translation features and also has an ability to recognise buildings or objects in the frame.
The Galaxy S8 is powered by an Exynos 9985 chipset paired with 4GB of RAM and 64GB internal storage, which can be further increased up to 256GB via microSD card. The phone was launched with Android 7.0 Nougat, but Samsung recently started rolling out Android 8.0 Oreo to it. A 3000mAh backs the device. The Galaxy S8 launched with Bixby voice assistant, which took some time to get active on the phone but later Samsung rolled out complete support for it.
The Samsung Galaxy Note 8 has similar hardware and software specs to the Galaxy S8. It comes powered by an Exynos 8895 octa-core chipset with Adreno 540 GPU and 6GB of RAM. The phone was launched with 64GB/128GB/256GB internal storage options, but in India, it is only available in 64GB storage variant. A 3300mAh battery backs the device.
Samsung Galaxy S9 vs Galaxy Note 8 vs Galaxy S8: Camera
Concerning camera optics. the Galaxy S9 sports a 12-megapixel rear camera and an 8-megapixel front-facing camera. While the camera resolution may not have changed compared to the Galaxy S8 and Galaxy Note 8, the rear camera on the Galaxy S9 has the ability to switch between two different apertures of f/1.5 and f/2.4 for better photos in bright and low-light conditions. No other phone on the market has an adjustable aperture, giving the Galaxy S9 an edge over its predecessor as well as the competition.
The 12-megapixel Galaxy S9 camera can also shoot what Samsung calls "super slow-mo" videos, which are slow-motion videos recorded at 960 frames per second, allowing one to slow down a moment by four times what's possible on the Galaxy S8 or Galaxy Note 8. The Galaxy S9 can also record slow-motion videos automatically when it detects motion, giving it a leg up against other devices with 960 frames per second videos, such as the Sony Xperia XZ2.
As for the front camera, the Galaxy S9 doesn't bring with it any upgrades, but that's not a bad thing. It supports autofocus and an aperture of f/1.7 for improved low-light selfies. The AR Emoji feature allows the user to create emoji that look and act like them, with the front camera capturing up to 100 points on a person's face to create their digital likeness.
Samsung Galaxy S9 vs Galaxy Note 8 vs Galaxy S8: Price in India
Pricing is one area where Samsung has hit it out of the park with the Galaxy S9. The company's latest flagship was launched in India for the same price as the Galaxy S8 was last year. The Galaxy S9 price in India is Rs. 57,900 while the Galaxy S8 currently retails at Rs. 47,400. The Galaxy Note 8 was launched for Rs. 67,900 and is still going for the same price on online stores, while the Galaxy S8 comes with a cashback offer of Rs. 6,000 for Paytm and HDFC credit card users.
Samsung Galaxy S9 vs Galaxy Note 8 vs Galaxy S8: Verdict
The Galaxy S9 is an impressive device, but is it all that better compared to the Galaxy S8 or Galaxy Note 8? With features such as an S Pen stylus and a bigger screen, the Galaxy Note 8 is a different category. Even the Galaxy S8 remains an excellent device a year after it was launched, and unless you're looking for features like AR Emoji and slow-motion videos, the Galaxy S8 can be a worthy purchase. For the best of what Samsung has to offer, however, including a top-notch camera, go ahead and buy the Galaxy S9!