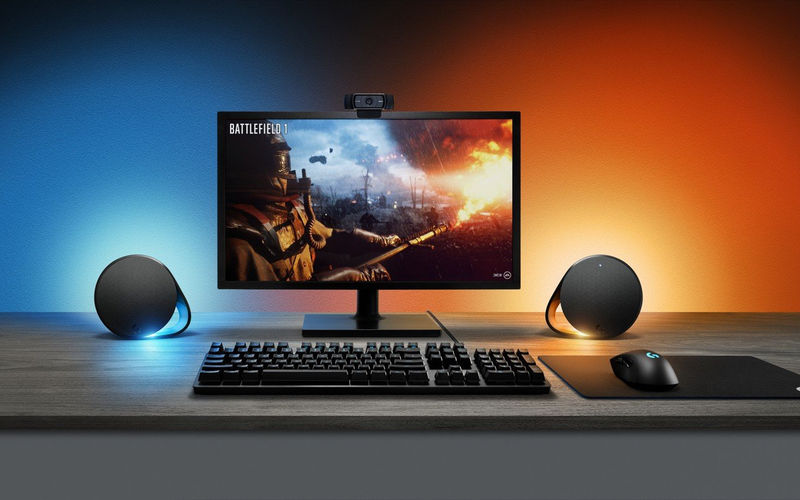 Logitech has expanded its gaming peripheral lineup with two new offerings that promise next-level of immersion in games. We have the Logitech G560 PC gaming speaker and the Logitech G513 Mechanical Gaming Keyboard, both of which come with the latest Logitech G LIGHTSYNC technology. LIGHTSYNC intelligent RGB is Logitech's answer for synchronising RGB lighting with video games on a PC. It will not only light up depending on the colours within the on-screen game but can also be configured to react based on in-game moments such as explosions, approaching enemies, damage taken, finished healing and so on.
"Our goal with these two products was to complement our G502, the world's best selling gaming mouse," said Ujesh Desai, vice president and general manager of Logitech Gaming. "With LIGHTSYNC technology we are able to add real intelligence to what RGB lighting can do – synchronising audio and RGB lighting to on-screen gameplay. If you already own a G502, then the new G513 keyboard and G560 speakers with LIGHTSYNC are the perfect way to complete your desktop, and create a totally immersive solution."
Logitech G560 PC Gaming Speaker
First up, we have the Logitech G560 PC gaming speaker which has inbuilt full-spectrum RGB lighting with Logitech G LIGHTSYNC support. As long as you are playing supported titles such as Battlefield 1, Counter Strike: GO, GTA V or Fortnite, you will be able to use LIGTSYNC to obtain automatic, game-driven lighting effects. The current list of supported games is limited, but Logitech is offering developers with RGB SDK so that they can implement LIGHTSYNC in their own games as well.
All the lighting effects can be controlled by using the Logitech Gaming Software. You have the option to set your own customised lighting effects and animations across approximately 16.8 million colours, with four lighting zones. The G560 also features an 'Audio Visualiser' for lighting effects that will respond to music. The light will emit a soft breathing effect for low sounds, and for high-volume beats, they will emit pulses in the back for bass and front for mids.
When it comes to the physical and acoustic aspects of these speakers, the G560 includes a subwoofer along with the two satellite speaker units out of the box. They can connect with up to 4 different audio sources either via USB, 3.5mm or Bluetooth. USB connection is required for LIGHTSYNC as well as true digital audio with DTS:X Ultra surround sound. Along with the included down-firing subwoofer, the G560 can emit 240 watts of powerful sound.
Logitech G513 Mechanical Gaming Keyboard
The G523 mechanical gaming keyboard is the next evolution of the award-winning G413 mechanical gaming keyboard. This keyboard also features LIGHTSYNC with full-spectrum RGB that can also be customised using the Logitech Gaming Software. The G153 is cuilt using an aluminium-magnesium alloy and uses Logitech's proprietary Romer-G switches that comes in two variants. The Romer-G Tactile will provide physical feedback when pressed, while the Romer-G Linear will provide a completely smooth keystroke.
Among other features, the G513 also includes USB passthrough for charging devices, data transfer or even connecting a mouse. 12 additional stylised keycaps are included, and the keyboard features up to 26-key rollover. There is also an optional memory foam palm-rest that is made from waterproof and sweat-resistant materials.
Logitech G560 speaker and G513 Keyboard: Price, Availability
The Logitech G513 mechanical gaming keyboard is available for purchase for $150 (Rs. 9,750 approx.). It will come in two colour options – Carbon and Silver. The Carbon coloured G513 will offer the option between Romer-G Tactile and Romer-G Linear key switches, while Silver colour will only come with Romer-G Tactile.
The Logitech G560 gaming speaker is currently available for pre-order from Logitech's online store and will cost $200 (Rs. 13,000 approx.). The speaker will start shipping in April.