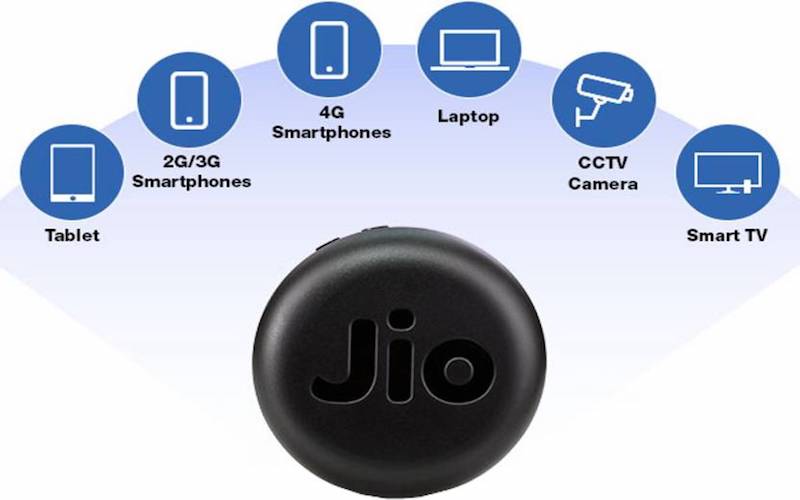 Reliance has disrupted the telecom market with its cheap 4G plans, and it won't be an overkill to say that the company revolutionised the high speed mobile internet segment with pan India coverage. With 4G connectivity being its strength, the company introduced a 4G hotspot device dubbed JioFi hotspot device. Today, the company has expanded the lineup and launched a new JioFi JMR815 4G LTE hotspot device priced at Rs. 999. Keep reading to know more about the device and its features.
JioFi JMR815 4G Hotspot: Price in India and Availability
The new JioFi JMR815 is priced at Rs. 999 and will be exclusively up for purchase on Flipkart. Reliance is offering a one-year warranty on the product and is touting the JioFi JMR815 to deliver up to 150Mbps of download speeds and up to 50Mbps. Furthermore, the device features "Designed in India" tag to woo Indian consumers.
JioFi JMR815 4G Hotspot: Offers and Discount
The JioFi JMR815 4G Hotspot is available on Flipkart at Rs. 999. The device can be bought via no-cost EMI option eligible for HDFC Bank credit and debit cards. While the Axis Bank Buzz credit card holders can get an additional 5 percent discount on the device.
JioFi JMR815 4G Hotspot: Specs and Features

In contrast to the original JioFi that came in a design of an egg-shaped dongle, the new JioFi is more in touch with the latest design trends like Google Home Mini and boasts a circular build with physical power on/ off and WPS (Wi-Fi Protected Setup) buttons. The device also supports notification lights for informing users about the battery, 4G connectivity, and Wi-Fi signal strength.
The JioFi JMR815 allows up to 32 users (31 on Wi-Fi and one on USB) to connect to the high speed internet simultaneously, which could be beneficial for the users who are always on the move and even for users who work in groups. When connected to the JioFi JMR815, users can enjoy HD voice and video calls on their smartphones via Jio 4G voice app.
On the hardware front, the JioFi JMR815 comes powered an ALT3800 processor with support for FDD-Band 3, Band 5, and TDD-Band 40. Storage on the JioFi can be expanded up to 64GB via microSD card. The storage on the device can be used by the users to save files on the device instantly, instead of saving it on another device. The JioFi JMR815 can be connected to a slew of devices such as 2G/3G/4G smartphones, Smart TV, CCTVs, Laptops, Tablets, and more.
Regarding battery on the device, there is a 3000mAh battery, which is claimed to charge in 3.5 hours fully and can last more than 8 hours. The battery capacity better on this new model is better than the one of the original JioFi that was backed by a 2300mAh battery. The device can connect up to 5 users simultaneously on call conference, three on audio calls and two on video calls. The JioFi JMR815 measures 74mm in width, 20mm in thickness, and weighs 95 grams
For now, the JioFi has not been listed on Reliance's official website, Jio.com but it has been listed on Flipkart and is up for purchase.
Reliance Jio: 4G Hotspot Across India
As we mentioned at the beginning of this article, Reliance Jio is focussed on offering 4G LTE all around India. Taking its effort to make India more digital, the company is reportedly planning to offer internet via Wi-Fi hotspots all around the country. With this move, the company is expecting to reduce the network congestion and lighten up the spectrum for better data speeds and lesser call drops. Some of the previous reports have revealed that Jio has set up 100,000 base stations across India and is working on setting up more in the following year.