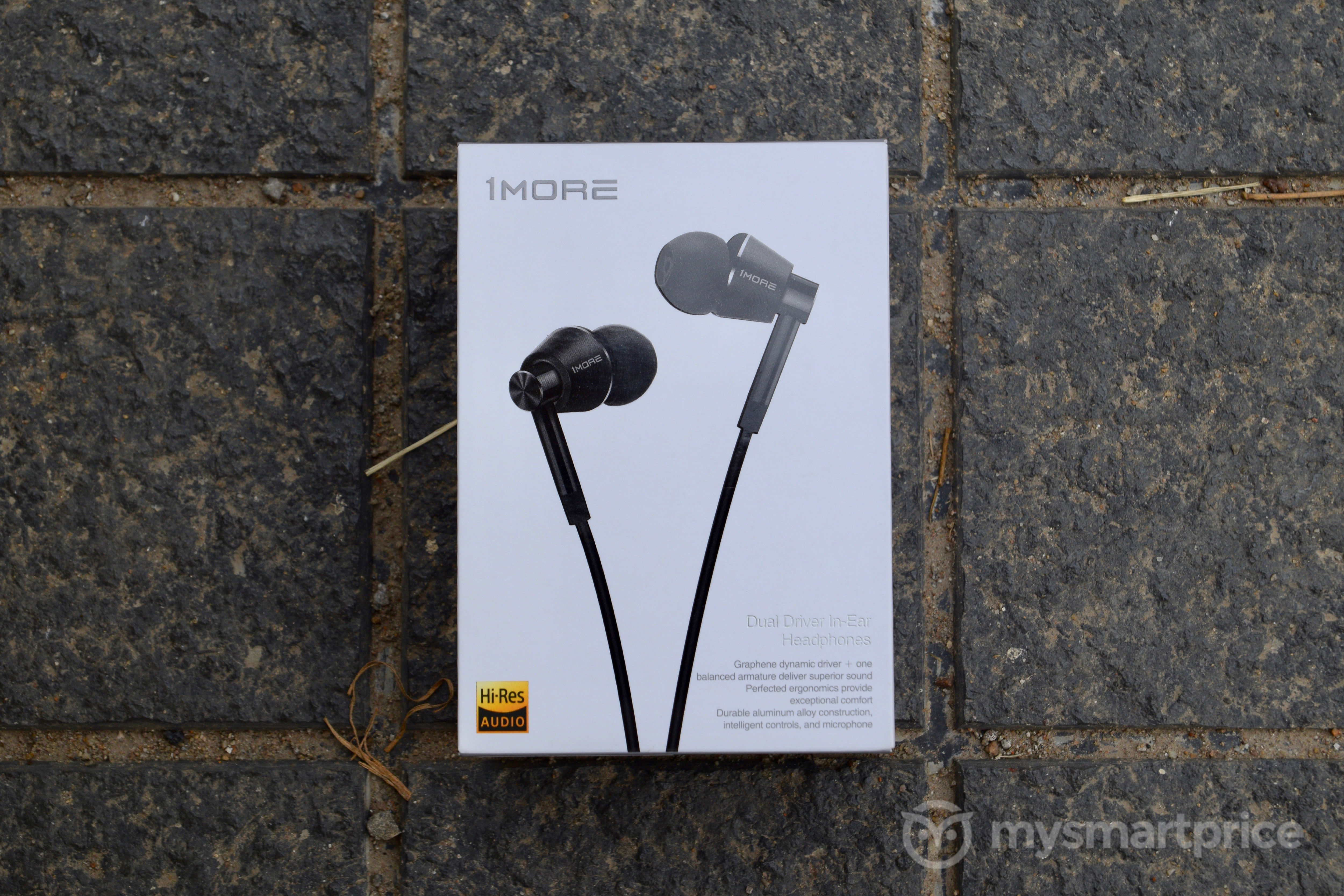 1More is a relatively newer audio firm which was started in 2013 by Foxconn veteran Gary Hsieh, and it became an immensely popular brand among audio enthusiasts in a short span of time, all thanks to its excellent headphones and an unbeatable pricing. I've personally been using the company's Triple Driver in-ear headphones which I had purchased a few months ago for Rs. 8,499, and I absolutely love them. They not only have impressive sound quality for the price, but also a very sturdy design.
When the company launched the 1More Dual Driver Headphones in India earlier this year, I really wanted to test them since the company has picked up pace in the Indian market, with the 1More Piston being one of the best-selling products in its category, and more and more people have been enquiring about the company's products. The 1More Dual Driver in-ear headphones were launched in India for Rs. 4,499, but they have been available for as low as Rs. 3,799 from HeadphoneZone.in and Amazon.in.
The 1More Dual Driver headphones use a balanced armature driver and a graphene dynamic driver on each side, and they have an aluminium enclosure, a nylon-braided cable, and an L-shaped 3.5mm plug. There's an in-line microphone as well as a three-button in-line remote (compatible with both Android and iOS devices). They also come with three pairs of different-sized ear tips, a shirt clip and a soft carry case. What more can one ask for at such a low price point?
1More Dual Driver Headphones Review: Design, Build Quality, & Comfort
1More Dual Driver In-Ear Headphones Design
The IEM enclosure is made out of light-weight aluminium alloy with its surface sand-blasted to resist fingerprints. They're quite sturdy, and should last for years. The ear tips are angular, and sit comfortably in the ears. I've had no problems with the fit of the Dual Drivers, and I think most people won't have any problem with the fit. I wish they had a rubberised surface (like the Marshall Mode) since its hard surface can be slightly uncomfortable for some. They also come with four different-sized pairs of ear tips (extra-small, small, medium, and large), so you can select the ones that offer you the best fit. It's important for IEMs offer a perfect fit since an ill fit can severely degrade sound quality, especially the lows. The headphones also have 'R' and 'L' mentioned on the side walls of the enclosure as well as on the surface that faces the ears. Combine the labelling with the angular design of the ear tip, and it's almost impossible for anyone to get confused between the left and right earphones.
The part of the cable above the Y splitter uses a soft TPE covering, while the lower part is braided with nylon for a tangle-free experience and a long life. There's slight cable noise when it rubs against your clothes, but it's not an issue. The in-line remote, which is on the wire that connects to the right earphone, has three buttons. The middle button can be used to play/pause music or accept/end calls (when connected to supported smartphones, tablets, or computers. The other two buttons are for changing the volume music. The button in the middle can also be used to rewind (press thrice) or skip tracks (press twice), and it worked flawlessly on the iPhone 7 Plus, but the rewind didn't work on the Galaxy S9. Moreover, there's a ratting sound from the remote when you move them. It could be an issue with the review unit, but since I didn't have an additional unit, I can't be sure about it. The IEMs are very well-built though (except the rattling remote), and offer a comfortable fit. You can listen to music for hours without any fatigue or issue.
1More Dual Driver Headphones Review: Sound Quality
Thanks to dual drivers (a balanced armature and a dynamic driver), the earphones sound excellent. The balanced armature is dedicated for reproducing the highs, while the dynamic driver takes care of the mids and the lows. Sound isolation could've been better, but I am not complaining here. Over the course of three weeks, I listened to a wide range of tracks, including EDMs, pop, soul, jazz, and Bollywood tracks for reviewing the 1More Dual Driver earphones. I used it with the Samsung Galaxy S9+, Apple iPhone 7 Plus, and the Apple MacBook Pro since most people end up using these earphones with their smartphones and laptops. While most of the times I listened to music tracks using Apple Music, I played a few FLAC files on my Galaxy S9+.
So far, I've come to learn that it can handle almost anything you throw at it. The graphene driver provides punchy and tight bass, while the custom-designed balanced armature driver produces clear vocals and highs were bright (but not to the extent of producing shrill). The sub-bass is a slightly over emphasised, but I am really nitpicking here. While they may not sound extremely flat as some audiophiles demand, they perform much better than what their price may suggest. All the company's earphones are tuned by Grammy Award winning music producer and sound engineer Luca Bignardi. and as the company's CBO David Kellogg mentions in a blog, "Luca's tuning isn't simply flat." At Rs. 3,799, it is really hard to find faults in the Dual Drivers. Since I own the 1More Triple Drivers, I compared them with the Dual Drivers, and I was surprised that there's such a little difference between the two, and the Triple Drivers cost almost thrice as much as the Dual Drivers. The Triple Drivers offer slightly better highs than the Dual Drivers and the sound is airier, but it's hard to notice the difference if you don't compare them side-by-side.
1More Dual Driver Headphones Review: Verdict
If you're searching for those perfect in-ear monitors within a budge of Rs. 5,000, you should pick up the 1More Dual Drivers without any hesitation. They're well-built and fit well, and more importantly, they produce excellent sound, especially for the price. They're Hi-Res certified, too. If you have the budget, you should go for the Triple Drivers, which offer better highs and slightly tighter bass. But if your budget is anywhere close to 3K-4K, you should absolutely get the Dual Drivers. They even feature a nylon-braided cable, an in-line microphone and a three-button remote, which works with both Android and iOS devices. The rattling sound from the remote could be an issue with the review unit itself, and even if it is the case with all the units, it's not a dealbreaker by any means.
I haven't listened to the FiiO FH1 Dual Driver earphones yet. They use balanced armatures from Knowles (33518) and have MMCX connectors, but they cost Rs. 5,990, which is much costlier than what 1More's Dual Driver earphones cost. I've noticed that 1More used to offer these earphones with a nice leather carry case (the same case that was bundled with my Triple Drivers), but they now come with a soft pouch. Maybe the company dropped the price of the headphones and stopped offering the leather case? That's a nice bet, I am not sure about it. Still, the 1More Dual Drivers are one of the best earphones you can buy for the price. 1More is really killing it with its IEMs.
1More Dual Driver In-Ear Headphones
Rs. 3,799
What Is Good?
Very good design & build quality design: Angled ear tips, L-shaped plug, and braided cable.
3-button in-line remote.
Excellent audio quality.
Great value for the price.
What Is Bad?
Sub-bass is slightly over emphasised.
Rattling sound from the in-line remote.
Bundled carry case could've been better.