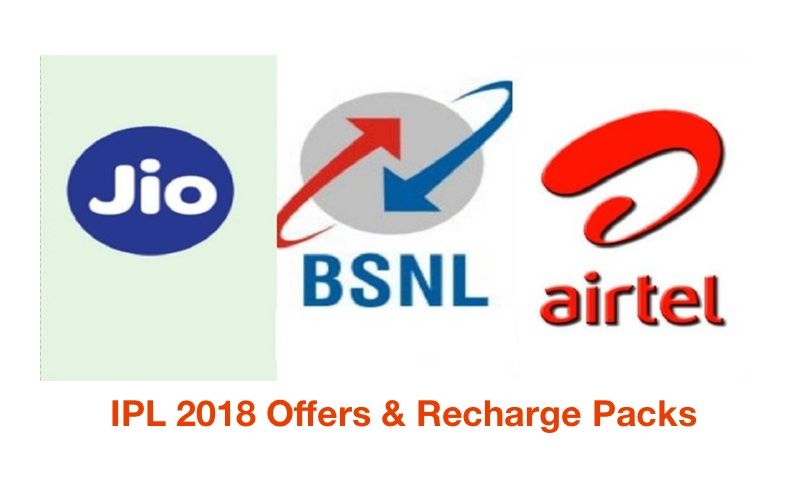 The IPL 2018 has begun, setting cricket enthusiasts all around the country on an excitement spree. Resonating with enthusiasm, telcos in India are leaving no stone unturned to offer seamless IPL 2018 offers to the consumers. Leading telcos like Jio, Airtel, and BSNL are cashing in on the IPL 2018 frenzy and are offering various data offers to allow consumers to watch these matches live on their smartphones seamlessly. Jio and BSNL have already launched special IPL recharge packs for subscribers while Airtel has offered its subscribers to livestream these matches and even the highlights without charging any extra cost. The exclusive IPL 2018 offers will last for the whole 51 days of the series and provide users with an uninterrupted show. Without further ado, let's take a look at what Jio, Airtel, and BSNL have on their platter for the subscribers.
Reliance Jio: IPL 2018 exclusive offers
Reliance Jio has come up with a special IPL 2018 recharge pack, which offers 102GB of data and is valid for 51 days, i.e. the entire duration of the T20 tournament. This special recharge pack is priced at Rs. 251 and offers users with an option to livestream IPL 2018 matches. It's worth noting that this recharge pack comes with a daily data cap of 2GB, which means that users will be able to enjoy only 2GB of high-speed data every day. The entire 102GB is divided into 2GB data per day. Notably, subscribers can use the data for anything and not just streaming IPL 2018 matches. So, if you're not a cricket fan but are still looking for a good data pack then the special IPL 2018 pack can be of much use to you.
Besides, Reliance Jio has also roped in the former Indian cricketer Virender Sehwag to host a live show named Dhan Dhana Dhan Live show on MyJio app.
Bharti Airtel: IPL 2018 livestreaming and highlights
Airtel has chosen an entirely different route to woo its subscribers this IPL season. The company is offering free access to watch live matches and highlight through its Airtel TV app instead of coming up with a special data pack like Reliance Jio. Airtel has collaborated with Hotstar to offer IPL and Asia Cup content to its subscribers free of cost as a part of the new cricket section on its app.
The free access is available to all Airtel users with Airtel 4G SIM, both prepaid and postpaid. The app will be accessible to all the Airtel subscriber until June 30, 2018. In addition, the app also has dedicated games and contest for the cricket fans.
To watch live IPL 2018 cricket matches on the Airtel TV app, users will need to update the app to its latest version and then open the Cricket section. Users will then be redirected to the Hotstar app geared with a viewing "pass".
Moreover, Airtel is also offering a new Rs. 499 recharge pack that provides 2GB data per day for 82 days and also packs in unlimited local and STD calls clubbed with 100 SMSes per day and free roaming.
BSNL: IPL 2018 special packs
BSNL has settled for an exclusive recharge pack to help users watch IPL 2018 matches anywhere, anytime. The company's special IPL 2018 data pack is priced at Rs. 248 pack and offers 3GB data per day, which is valid for 51 days. BSNL subscribers can purchase this new pack until April 30, 2018. However, the only bad point here is that BSNL's network is still stuck on 3G speeds and only has a 4G network in Kerala. The company's lack of 4G compliance is making it lag behind Jio, whose 2GB per day pack is any day better because of its rapid 4G speeds all over the country.