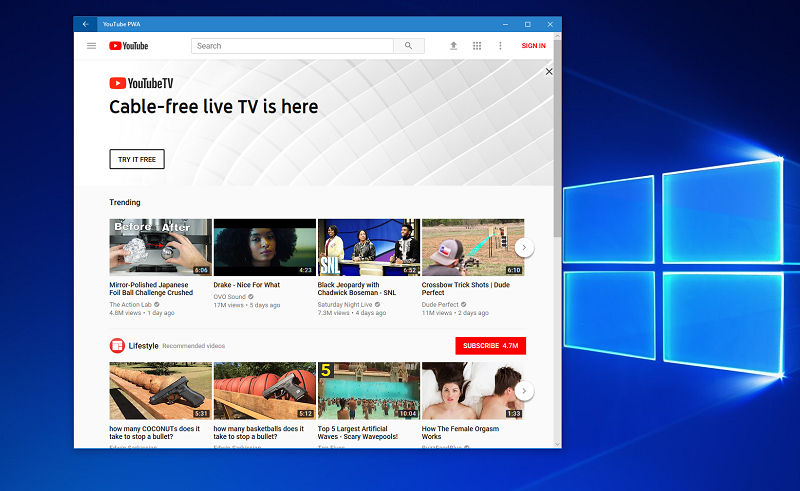 The first group of Progressive Web Apps (PWA) have started hitting the Microsoft Store. It all started with Twitter, and this week two more PWAs were published by Microsoft. These two PWA apps are for YouTube and Uber and involves a third-party developer. Last month, Twitter for Windows 10 turned into a PWA, complete with push notifications.
Twitter, Uber, YouTube PWAs: Not Official Releases
The PWA apps for Uber and YouTube have been published by a developer called Pladoo Interactive. That means there is no official backing for any of these apps. Furthermore, they don't seem PWAs to the core, while they are portrayed as such. The apps are more like web wrappers that provide access to each service. For instance, the YouTube app just loads the website in an app window, showcasing the banners as well as advertisements.
While describing the apps in the Store, Pladoo Interactive states that both are a part of a "Windows Revival Project" the company has been undertaking. The objective of this project is to "bring apps to Windows 10 Mobile using PWA based apps or even native apps." The third-party developer assures that there are several other apps in the pipeline.
Windows 10 Mobile: Still No Support For PWA Features
The PWA apps do just fine when it comes to accessing the service. However, the Edge Platform on Windows 10 Mobile still doesn't support major PWA features including service workers, that enables push notifications from the web. There are many other third-party alternatives to the YouTube app that are worth checking out. Sadly, that's not the case for Uber. The company recently cut support for its app on Windows 10. As of now, this is the only feasible option for the users.
It is important to note that these apps have not been officially backed by either Uber or YouTube. Since there has been no official release, chances are, the companies pull them out of the Microsoft Store. You could still give them a try as long as they are up for grabs. Check out the PWA versions of Uber and YouTube in the Microsoft Store.