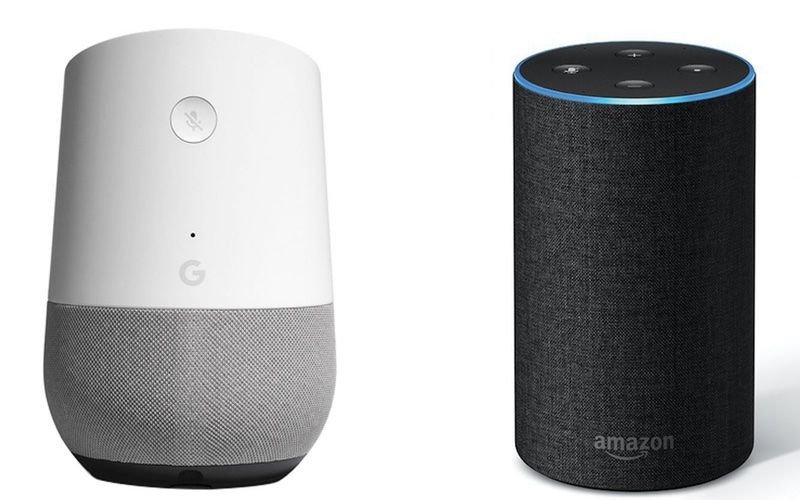 After waiting for a significant chunk of months, Google finally brought its Home lineup of smart speakers to India. To recall, the tech giant first launched the Google Home speaker in the US back in November 2016, and since then audiophiles in India have been waiting for the device to launch in their homeland. Last week, Google finally fulfilled their wish and officially launched the Google Home Mini and Google Home in India. However, the company already has competition in India in the form of Amazon's Echo smart speaker. Not to forget, Amazon already has a headstart in the Indian market as it was launched in February this year. The arch rivalry of the two makes it tempting for us to make a comparison. Keep reading to know how the Google Home and Amazon Echo stand off to each other.
Google Home: Price in India, Availability, Offers
As we mentioned above, the Google Home and the Google Home Mini debuted in India, last week. And as one could expect, the two have been bundled with a slew of offers to woo the Indian consumers. First, let us take a look at their official pricing. The Google Home's price in India is Rs, 9,999 as it prepares to compete with Amazon Echo speaker. It is available in a Chalk fabric base while the Coral variant is expected to launch soon. On the other hand, the Google Home Mini's price in India is Rs. 4,499 as it battles with the Amazon Echo Dot. The Google Home Mini is up for sale in Chalk and Charcoal fabric colour options.
Concerning availability, both the Google Home and the Google Home Mini are staying exclusive to Flipkart for online sales, at least for the initial period. Besides, they are also up for purchase via offline retailers like Bajaj Electronics, Croma, Poorvika, Reliance Digital, Sangeetha, and Vijay Sales. You can also buy it online on Croma's website.
As a part of the inaugural offers, both the Google Home and Google Home Mini come with a free JioFi router when bought via Flipkart. While when purchased via offline stores like Reliance Digital or MyJio, they get the free JioFi router with 100GB of 4G data worth Rs. 2,499. On the other hand, for the ones who are planning to buy the Google Home with the sole intention of automating their homes with lighting control, can buy the Google Home at select Philips Hue and Croma outlets, as then they will get the Philips Hue and Google Home Mini bundled together. Additionally, HDFC bank credit card holder will get 10% cashback when buying the speakers on Flipkart. You can read about more offers here.
Amazon Echo: Price in India, Availability, Offers
Amazon launched its Echo smart speaker back in February 2018 in India. Amazon Echo's launch price in India was Rs. 9,999, as followed by Google Home. However, Amazon recently announced a discount offer for the Echo speaker, which came across as a preventive measure to establish its dominance in the Indian market after the entry of the Google Home. The offer includes a discount of Rs. 3,000 on the purchase of two Amazon Echo. When bought on Amazon, the offer gets pre-applied at checkout on Amazon India website.
Google Home vs Amazon Echo: Design
The Google Home is 5.6-inches tall and has a slightly sloped surface that can be touched to control music and mute audio. There are also four LEDs on the surface that blink when you are interacting with the smart speaker. There is also a mute button at the rear of the smart device that can be activated if you do not intend to use voice-enabled services.
Amazon Echo, on the contrary, is a cylindrical shaped smart speaker that stands at 5.9-inches tall. It also features a responsive surface that is in a ring shape and used for tweaking volume. The surface houses four buttons for microphone, controlling audio, and action. Design-wise we can say that we like the Google Home better, but Amazon Echo is not bad either. Of course, it is also a matter of one's preference, some may prefer the cylindrical shape of Echo more than Google Home's slightly sloped design.
Google Home vs Amazon Echo: Voice Assistant and Sound
Both the Google Home and Amazon Echo are hands-free voice-activated smart speakers integrated with their respective virtual assistants. The Google Home has the Google Assistant, which is also available on your Android smartphones so we can assume that most of you must already be used to Google Assistant and its wake phrase i.e. "OK, Google" or "Hey, Google." The wake phrase activates the smart speaker and preps it to answer your queries. The Amazon Echo has Alexa as its virtual assistant, which answers to the wake phrase "Alexa."
Concerning sound, the Google Home supports HE-AAC, LC-AAC+, MP3, Vorbis, WAV (LPCM), and FLAC audio formats. It comes integrated with a high excursion speaker and Dual microphones that ensures great sound input and output. We have tested the Google Home and we can say that it has got good bass compared to its compact design. You can play songs from any music app that supports Chromecast; you just have to open the app and select the name of your Google Home speaker. Or you can also play songs by giving voice commands, but for that, you will have to sync your device with music services like Google Play Music, Saavn, or TuneIn in the Google Home app.
Not just music you can also listen to daily audio news on your Google Home speaker, as it can pick feeds from NDTV, Times Of India, Dainik Bhaskar, and Aaj Tak. Amazon Echo also offers similar service. What else? well, you can also summon your Google Home speaker to read out recipes while you are cooking. There is so much more that you can do with the speaker. Head to this link to know about it.
For sound, the Amazon Echo comes with a 2.5-inch woofer, Dolby processing, and has 360-degree omnidirectional audio, and a 0.6-inch tweeter. It has a seven-microphone array for to catch voice commands seamlessly.
It must be noted that both Amazon Echo and Google Home support Bluetooth connectivity as well, so you can connect your smartphone or other devices to them via Bluetooth and enjoy seamless audio output. Also, Amazon recently launched Prime Music app in India, which makes it easier for Echo to fetch music. Amazon's Echo is capable of doing a lot more, to know that click here.
Both the speakers have almost the same functionality, but Google Assistant's pervasiveness is quite wide as it is already available on smartphones, which may act as a better option for the buyers in India.
Google Home vs Amazon Echo: Verdict
Both the Google Home and the Amazon Echo come with identical specifications and pricing, but if you are a one who would like to have similar software on both your smartphone and the speaker, then the Google Home seems like a better option. With Google Home, if you have a chromecast on your TV, you can directly ask it to play something on your TV from YouTube or Netflix just by voice command. If this software harmony appeals to you then you should definitely go ahead with the Google Home.
However, if you do not care about having the same assistant on your phone and your speaker then you can give a shot to Amazon Echo that comes with Alexa assistance. You will just need to install the Alexa app on your phone to get it going.