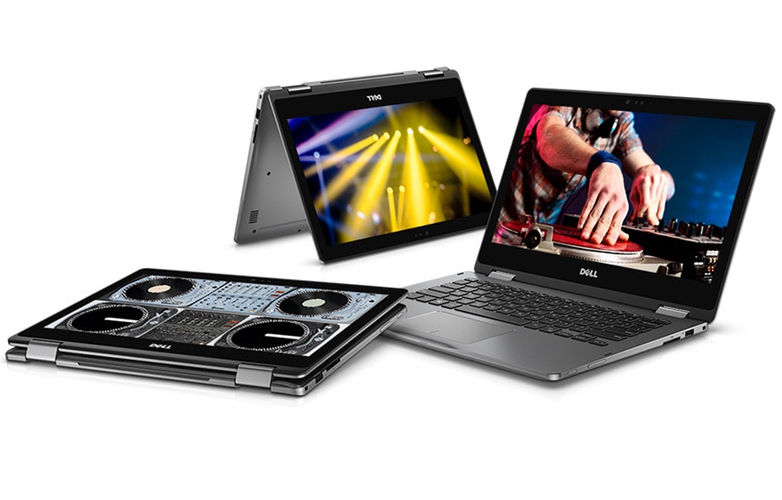 Dell has rather quietly started selling new models of the Inspiron 13 and Inspiron 15 with Ryzen CPUs powering them. The launch is a bit of a surprise since the company did not make any official announcements before doing so, while the previous launch of the 8th Gen Intel-powered lineup had received a noticeably vocal release.
In any case, we now have the Inspiron 13 7000 which is a 2-in-1 convertible, and the Inspiron 15 5000 laptop — both of which are powered by AMD Ryzen Mobile processors with Radeon Vega Graphics. The exact pricing of these laptops depends on which exact configurations you choose. This will also dictate how much performance you get out of one of these devices.
Dell Inspiron 13 7000 2-in-1: Specifications, Features

The Dell Inspiron 13 7000 2-in1 convertible is being offered in two different configurations. One has an AMD Ryzen 7 2700U Mobile processor with Radeon Vega10 Graphics under the hood while the base variant will be powered by an AMD Ryzen 5 2500U Mobile CPU with Radeon Vega8 Graphics. The base variant will offer RAM configurations starting from 8GB, and the higher model offers 12GB. Both can be configured with up to 16GB of DDR4 memory and will offer 256GB of SSD storage.
The rest of the features of the laptops are pretty much the same, comprising of a 13.3-inch IPS Truelife LED-backlit touchscreen display 1920x1080p resolution. These convertibles feature a built-in IR camera alongside the webcam for face detection that works with Windows Hello for easy and secure log-in. Both models also feature Dell's CinemaSound that works with Waves MaxxAudio Pro to boost volume and clarify tones for studio-quality sound, and CinemaStream that uses SmartByte channels to maximise bandwidth for seamless and stutter-free video/music streaming. They also come with Blacklit keyboards and USB 3.1 Type-C ports for excellent transfer speeds.
Dell Inspiron 15 5000: Specification, Features
The new Dell Inspiron 15 5000 laptops actually come in 4 possible configurations. The base model comes with an AMD Ryzen 5 2500U Mobile processor along with Radeon Vega8 for its graphics. This can be equipped with 8GB of RAM which is expandable up to 32GB. There is another variant of the Inspiron 15 with the same CPU and GPU but with the added benefit of having a touchscreen display. This variant will ship with 16GB of RAM which can also be expanded up to 32GB.
Dell is also offering a slightly lesser-priced version of a touchscreen Inspiron 15 with an AMD Ryzen 3 2200U Mobile CPU and Radeon Vega3 GPU. Finally, we have the model with the most powerful configuration that houses an AMD Ryzen 7 2700U Mobile Processor with Radeon Vega10 Graphics. This variant's display is not touch-capable. Both these variants come with 16GB of DDR4 memory which is expandable up to 32GB.
All four models have 15.6-inch FHD (1920 x 1080) displays with widescreen HD (720p) webcams. The Ryzen 7 variant comes equipped with 512GB of SSD storage, while the rest offer 1TB or HHD memory. Just like the Inspiron 13 2-in-1s, the Inspiron 15 laptops also come with backlit keyboards along with Dell's CinemaSound and CinemaStream experience. The power button even features a fingerprint scanner cleverly integrated into the power button. It was weird to see that Dell decided to include a traditional CD/DVD reader-writer as well.
Dell Inspiron 13 7000 and Inspiron 15 5000: Price, Availability
Currently, these laptops have only appeared on Dell's US online store and few other US-based e-retail sites. Dell has the base variant of the Inspiron 13 7000 available for $730 (approx. Rs.47,800) while other stores such as BestBuy have the model available at a slightly lower rate. The higher specced variant is available for $880 (approx. Rs.57,600). Then we have the Inspiron 15 5000 with its base variant starting at $630 (Rs.41,200 approx.), while the top-end model retails for $930 (Rs.60,900 approx.)