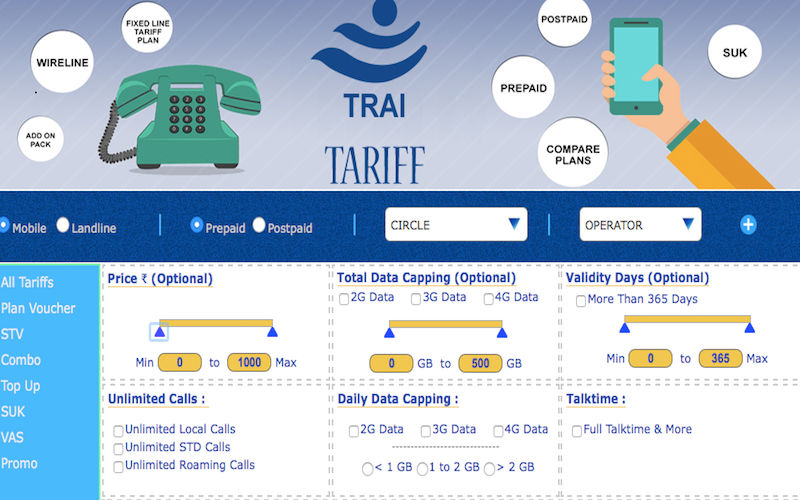 With the rise in telecom service providers in India, the need for transparency has increased manifolds. And it looks like Telecom Regulatory Authority of India (TRAI) has been paying attention, which is why it has launched a new tool that will allow subscribers to compare tariff plans from different telcos in India. Keep reading to know more about the tool and how it can help you in choosing the correct plan or perhaps porting to a better provider with more benefits.
Jio, Airtel, Vodafone, Idea, MTNL – TRAI Comparison Tool: Functionality and Filters
Currently, the comparison tool is in its beta phase, but it can compare regular tariffs, special tariff vouchers (STV), Top-ups, promotions, Value Added Services (VAS), and Combo packs. In a statement, TRAI said that the new comparison portal would also benefit stakeholders alongside general consumers. The authority also mentioned that the tariff plans are available in a downloadable format on the comparison portal. For now, all the tariffs listed in the comparison tool are limited to Delhi circle, TRAI will be adding more circles in the coming days.
You can check out TRAI's latest comparison portal by clicking here, and it will enable you to compare plans from telcos like Airtel, Reliance Jio, Vodafone, Idea, Aircel, MTNL and Tata Tele. Interestingly or perhaps surprisingly, the state-run telecom service BSNL is not a part of the comparison list. TRAI has segmented the comparison between Mobile/Landline, Prepaid/Postpaid, Total Data Capping, Daily Data Capping, Validity, Unlimited Calls, Circle, Talktime, and Price range. It means that user will be able to sort the comparison by the information he or she needs, by selecting "tariff" the tool will compare only tariffs from the providers. It is essential that users choose their type of service – prepaid or postpaid, mobile or landline to ensure accuracy.
Jio, Airtel, Vodafone, Idea, MTNL – TRAI Comparison Tool: Advanced Filters
The comparison tool includes a slew of advanced filters, for example – users can compare calls by Unlimited Local Calls, Unlimited STD Calls, or Unlimited Roaming Calls. While the comparison options are rightly varied, the UI of the portal needs a few tweaks here and there, but as it is in beta phase, we can expect TRAI to scale it up. Regardless, the tool in its present state shows tariff plans in a transparent manner, which was needed by the users as telcos often fail to show transparency in their plans.
TRAI has opened the portal for 15 days so that consumers and companies can register their feedback on the design and working of the portal. After receiving feedbacks from telcos and consumers, TRAI will begin adding more telcos and circles to the tool. The authority has also encouraged third-party service providers like Paytm, Mobikwik, and more to download the data so that they can tweak their tariff data accordingly.
Jio, Airtel, Vodafone, Idea, MTNL – TRAI Comparison Tool: Can't Compare Spot Offers
Although adorned with all types of tariffs and plans, the comparison tool from TRAI does not include special offers that are offered by telcos to maintain their subscriber base. Notably, TRAI has banned individual spot offers that are presented by telcos to individual companies. Such offers have been deemed illegal.
As an additional detail, the TRAI website also includes a dedicated webpage that lists 4G/3G Download and Upload speeds in all the circles by telcos like Airtel, Aircel, BSNL, Idea, Jio, and Vodafone. You can check out this webpage here and compare the speeds at a glance.