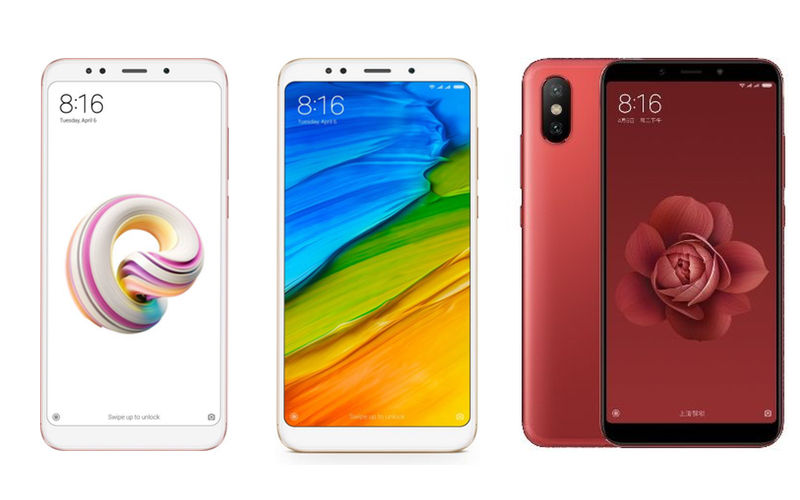 The Xiaomi Mi 6X launched in China just a few weeks ago, and its release was followed by reports indicating that the device could be rebranded as an Android One smartphone before its launch in India. This means that the device would likely arrive labelled the Mi A2 since it would be launching as the successor to one of the best mid-range smartphone of last year, the Xiaomi Mi A1 (review). On the other hand, leaks of an upcoming Redmi S2 surfaced recently, which were followed by a report indicating that this handset could also be launching as an Android One device.
In light of the new developments, we decided to compare these upcoming smartphones not just with each other, but also with the closest offering Xiaomi already has in the country. And so we have the Redmi Note 5 — a device which has already seen its fair share of success ever since its launch in India. We already know what the Xiaomi Mi A2 (Mi 6x) has to offer in terms of its specs. The Redmi S2
Redmi S2 vs Redmi Note 5 vs Mi A2 (Mi 6X): Price in India
The Xiaomi Redmi Note 5 can be bought in one of two storage configurations. It has a starting price of Rs. 9,999 for the variant with 3GB RAM and 32GB internal storage. The 4GB RAM with 64GB storage variant has a price tag of Rs. 11,999. The Redmi S2 is also expected to be launched with similar storage configurations but priced around Rs.8,000 and Rs.9,000 respectively.
The Mi 6X launched with a starting price of CNY 1,599 (approximately Rs. 16,999) in China for the variant with 4GB RAM and 64GB of internal storage. The variant with 6GB of RAM and 64GB of internal storage is priced at CNY 1,799 (roughly Rs. 18,999), while the highest-end variant of the phone with 6GB RAM and 128GB internal storage costs CNY 1,999 (roughly Rs. 20,999).
Redmi S2 vs Redmi Note 5 vs Mi A2 (Mi 6X): Design, Display
When it comes to the exterior design of these smartphones, all three posses similar form factors with their unibody metallic builds. Apart from the different colour options, the devices look pretty much the same. All three even have their fingerprint scanners at the exact same location at the back.
The only real difference comes with the Redmi Note 5 which has a single rear-camera that sits just above its fingerprint scanner, while the other two smartphones have vertically stacked dual-camera setups at the top left corner.
When it comes to the display, all three handsets have 5.99-inch bezel-less screens with 18:9 aspect ratios. The Redmi Note 5 and Mi A2 (Mi 6X) sport similar 1080 x 2160 Full HD+ resolution panels, while the Redmi S2 is likely to come with a 720 x 1440 HD+ resolution display.
Redmi S2 vs Redmi Note 5 vs Mi A2 (Mi 6X): Camera
The Redmi Note 5 is equipped with a single 12-MP camera at the rear, which performs reasonably better than the one its predecessor had. However, the Redmi S2 is said to have a 12-MP primary sensor alongside an 8-MP secondary camera which is surely going to offer better image quality. Then we have the Mi A2 (Mi 6X) with its superior 12MP + 20MP dual-camera setup at the back. These sensors are provided by Sony and are paired with f/1.75 aperture lenses.
The front camera on the Redmi Note 5 is a 5-MP unit that comes with a front LED flash. The 16-MP front camera on the Redmi S2 should make it a more desirable option than the Redmi Note 5 for selfie fanatics. But the Mi A2 (Mi 6X) dominates in this department with its 20MP Sony IMX376 sensor on the front.
Redmi S2 vs Redmi Note 5 vs Mi A2 (Mi 6X): Performance, Battery Life
The Redmi Note 5 comes loaded with a Snapdragon 625 CPU along with a 4,000mAh battery. The Redmi S2 is also expected to arrive with an octa-core Snapdragon 625 chipset, but its battery is likely to be a 3,080mAh cell. The Mi A2 (Mi 6x) is obviously more of a mid-tier device that offers a Qualcomm Snapdragon 660 octa-core processor under the hood, paired with a 3010mAh battery. The lower battery capacity shouldn't matter that much as the CPU is well optimised in its battery consumption to provide a respectable battery life.
The significant difference here comes with the software that these devices will run. The Redmi Note 5 comes preloaded with MIUI 9.2 based on Android 7.1.2. Android 8.0 Oreo has still not officially landed on this device, but it is possible that it will by the time the other two devices launch in India. On the other hand, the Redmi S2 and the Mi A2 (Mi 6x) are likely to launch with Android 8.1 Oreo out of the box and will support Project Treble since they would be part of the Android One programme.
This ensures that these devices will provide a more stock Android experience which would be much more preferable over most of the interface design choices the company's MIUI software offers. This also means that the devices will receive Android version updates as well as security patches faster than MIUI phones.
Redmi S2 vs Redmi Note 5 vs Mi A2 (Mi 6X): Verdict
If the Mi A2 (Mi 6X) launches in India with its price and specs close to what we have mentioned here, then it would truly be the superior choice as long as you are capable of affording it's well-deserved but relatively premium charge. In the end, it comes down to the Redmi S2 and the Redmi Note 5. With what have seen so far, the Redmi S2 offers a more promising value with its better camera and software even though the display resolution might be lower.