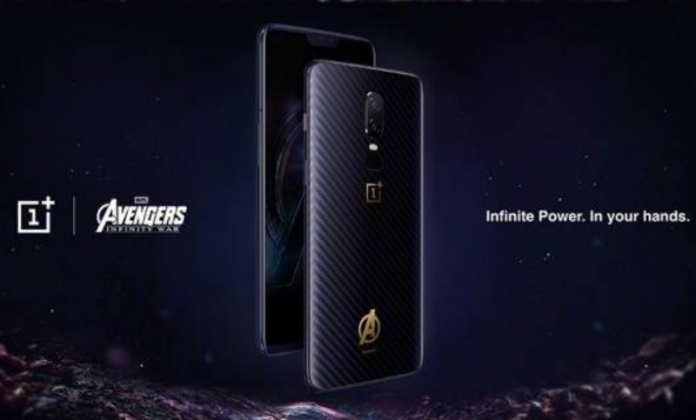 OnePlus has now unveiled the much awaited OnePlus 6 smartphone. The phone was launched during an event in London just yesterday. And now, the limited OnePlus 6 Avengers Edition smartphone has also been launched in China.
The OnePlus 6 gets an all new glass-body and several design changes. It is now a proud member of the 'notch' club as well. Yes, the display on the OnePlus 6 has a cutout on the top. The display is larger at 6.28-inches, but it isn't a full-screen display just yet. A slim bezel is still present at the bottom of the device.
Apart from that, this is the first OnePlus device to get a glass back. The button arrangement, camera placement, and the fingerprint sensor shape have also been changed. The Alert slider is now on the right side of the device, above the Power button. The dual-camera setup at the back is now at the center, with an oval fingerprint sensor below. Now, let's talk about the super cool Avengers Edition!
OnePlus 6 Avengers Edition: Features
This isn't the first time OnePlus is collaborating with a company to release a special edition smartphone. Last year, it released the OnePlus 5T Star Wars edition in partnership with Disney. And this year, OnePlus has partnered with Marvel for the OnePlus 6 Avengers Edition.
OnePlus 6 Avengers Edition
So, what's so special about this one? Well, several things actually. Firstly, the back of the Avengers Edition device gets a carbon fiber skin, which is probably under the glass. Second, the Alert Slider gets a Golden color hue. And finally, there's the Golden Avengers logo at the back of the phone.
That's not all though. The OnePlus 6 Avengers Edition will come in a special box as well. You will get a special Iron Man case that looks really cool.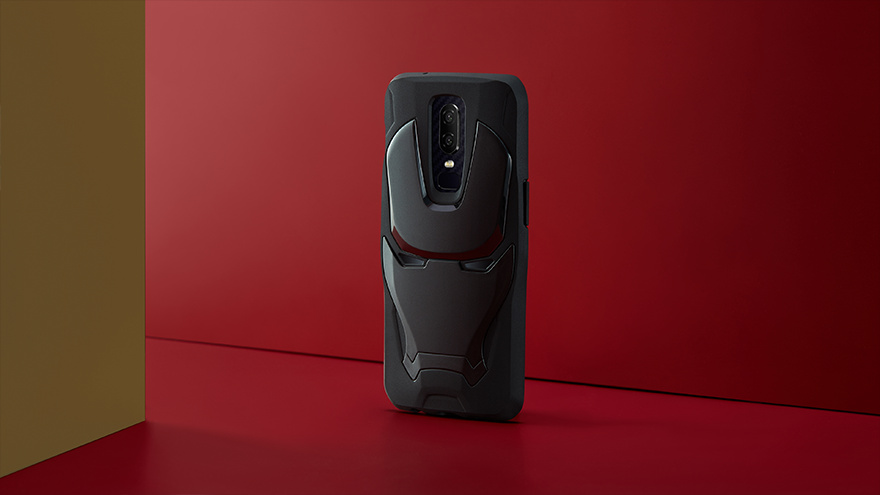 The specifications of the device remain the same, but the Avengers Edition will come only with 8GB of RAM and 256GB of internal storage. So yes, you get the latest Snapdragon 845 chipset, new improved dual-camera setup with OIS and EIS, a 3330mAh battery, and all the latest bells and whistles. Oh, and it also has a headphone jack!
OnePlus 6 Avengers Edition: Price, Availability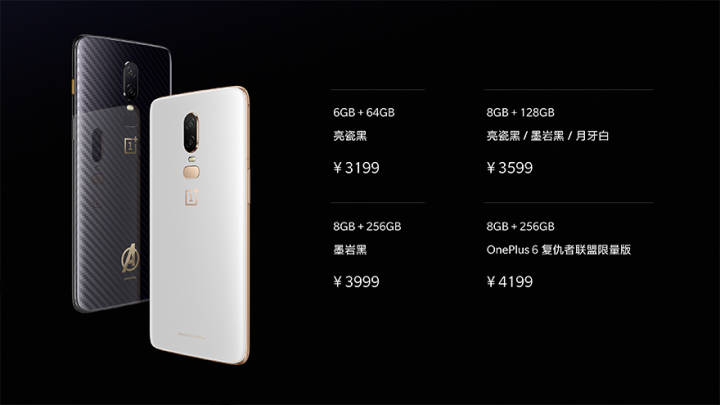 The pricing for the OnePlus 6 Avengers Edition has been announced in China. The phone, which only comes with 8GB RAM and 256GB of storage, will retail for CNY 4,199, which is about Rs. 45,000 when converted into the Indian currency.
As for the availability in China, we aren't very sure yet. Same goes for India, but since the India Launch event is today, we should know more soon. Expect it to be priced similarly in India as well. The standard OnePlus 6 base variant with 6GB RAM and 64GB storage costs CNY 3,199, so that means it could be priced at Rs. 35,000 in India.