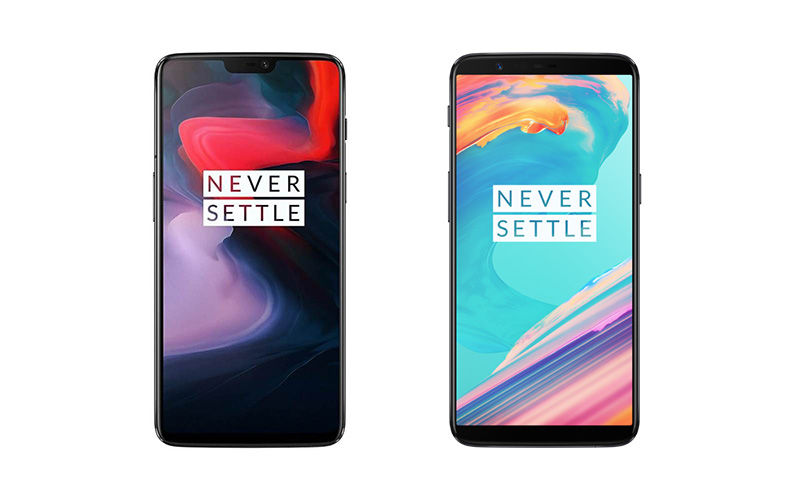 The OnePlus 6 has been announced and it already brings a massive list of improvements over its predecessor, the OnePlus 5T. However, some retailers might still be offering the OnePlus 5T, which is available in the 6GB RAM model and the 8GB RAM version so it is important that you know what improvements the OnePlus 6 brings in comparison to last year's flagship before you can decide on what you want to buy.
Keep in mind that the OnePlus 6 is going to be more expensive than the OnePlus 5T and if your budget allows you to buy it, then whatever leaks and rumors we've reported about so far, you will not be disappointed what the flagship will offer.
OnePlus 6 vs OnePlus 5T: Display
The OnePlus 6 features a 6.28-inch Optic AMOLED display, while the OnePlus 5T has a smaller 6.01-inch display using the same technology. The recently announced flagship has a taller 19:9 aspect ratio with a 2280 x 1080 resolution. The previous-generation phone has a 2160 x 1080 display, which means that the aspect ratio is 18:9.
The OnePlus 6 has a taller display, so you will be able to view lots of things on it but there is a very small difference if you really think about it. Both phones have the protection of Gorilla Glass 5, so there is nothing changed here.
OnePlus 6 vs OnePlus 5T: Camera, Battery
Both smartphones have a dual camera but in different positions. The OnePlus 5T has a horizontal dual-camera with a 16MP (aperture f/1.7, focal length 27mm, sensor size 1/2.8″, pixel size 1.12µm, gyro EIS) + 20 MP (f/1.7, focal length 27mm, sensor size 1/2.8″, pixel size 1µm), but it does not support 2x optical zoom, only digital zoom. The OnePlus 6 is different in this configuration and has a vertical dual-camera.
It has a 16MP (aperture f/1.7, focal length 27mm, sensor size 1/2.8″, pixel size 1.22µm, gyro EIS with OIS) + 20MP (aperture f/1.7) camera with 2x optical zoom. OnePlus 6 can record 4K video recording at 60 frames per second while the OnePlus 5T is limited to 30 frames per second on the same resolution. Both of these phones have a 16MP front camera.
OnePlus 6 has the same 3300mAh battery as the OnePlus 5T's battery. Though your mileage might differ during use, it also means that some people will be able to experience better battery life from the flagship. If battery life is something that you want to experience, then you should head for the newer version.
OnePlus 6 vs OnePlus 5T: Specifications, Features
Starting with the design, the OnePlus 6 looks very different and also features a glass back while the OnePlus 5T has a body that is complete metal and nothing more. The glass back does not mean the OnePlus 6 gets wireless charging but it still improves the design of the phone, and lots buyers seem to prefer the design over other aspects.
For the specifications, the OnePlus 6 has a Snapdragon 845 with the processor configuration being 4 x 2.8GHz Kryo 385 Gold and 4 x 1.7GHz Kryo 385 Silver. As for the Snapdragon 835, it has a configuration of 4 x 2.35GHz and 4 x 1.9GHz Kryo. Both chipsets feature octa-core processors, with both SoCs made on the 10nm FinFET technology. The processor in the Snapdragon 845 is running at higher speeds so obviously, you will see better performance with the OnePlus 6 but only just.
Thanks to less cluttered software through OxygenOS, both the OnePlus 5T and OnePlus 6 will be running smoothly no matter what. If you still want to see the best hardware, then you should pick up the latest model. Both phones also come with 6GB RAM for the base model and go up to 8GB RAM for the best possible version. Again, this will be your preference as most users can easily get by with 6GB RAM.
There is no expandable storage option for any model so users will have to rely on the fast UFS 2.1 internal memory present in both phones, along with dual-SIM support. For OnePlus 6, you get 256GB of storage with 8GB of RAM and 64 or 128GB of storage with 6GB RAM. With the OnePlus 5T, it was 64GB storage with 6GB RAM and 128GB storage for 8GB RAM.
Both phones also have the headphone jack, Bluetooth 5.0 support, Wi-Fi 802.11ac, Face Unlock, rear-facing fingerprint readers and Dash Charge technology. Both devices also charge via a USB-C port.
OnePlus 6 vs OnePlus 5T: Price in India, Sale Date
The OnePlus 6 costs Rs. 36,999 for the 6GB RAM variant, while the price of the 8GB RAM variant is priced at Rs. 39,999. It will go on sale starting May 21, 2018, for Amazon Prime members, through Amazon.in website as a part of the Early Access Sale programme. The phone will also be available through OnePlus.in and OnePlus Experience Store. OnePlus has also introduced special offers that you should read about if you want to be a part of the cashback and more discounts.
If you are coming from the OnePlus 5T, it might not be a great idea to upgrade unless you like the taller screen of the OnePlus 6 the glass back, and the improved camera and hardware changes. OnePlus will also be introducing more software updates for the OnePlus 5T so you will have plenty of support for the phone to last for a couple of years. If you are on the hunt for a flagship that features the best possible hardware for an Android phone, and the Galaxy S9 seems too expensive for your budget, the OnePlus 6 is going to be the ideal pick in this situation.