Update (18th May 2018, 3:15 PM): Bowing to the immense pressure of the public for the global launch of Nokia X6, HMD Global's CPO Juho Sarvikas launched a poll on Twitter in which he asked the users whether they wanted a global launch for Nokia X6 or not. As expected, the affirmative response was overwhelming with over 7000 votes. Sarvikas also dropped another hint about the possible roll out of Nokia X6 in other countries when he responded to a tweet by Android Authority, (which said that Nokia X6 will not launch in the US) by replying that, "Hold the press! We are still polling this!"
Getting a lot of traffic on this so let's ask around. Should we bring Nokia X6 to other markets too?

— Juho Sarvikas (@sarvikas) May 17, 2018
On the other hand, there are also speculations that instead of Nokia X6, the company may launch Nokia X5 and Nokia X7 in other countries. Both these smartphones have different specs compared to the affordable and much-loved Nokia X6.
---
There are chances that the much-loved Nokia X6 may soon witness a global launch. A new variant of Nokia X6 was sighted on a Bluetooth certification site, which led to speculations that the affordable smartphone may soon be available outside China as well.
Meanwhile, the much-acclaimed Nokia X6 was officially launched in China yesterday and it is going to be available for pre-orders from the 21st of May. The Chinese variant is named as TA-1099.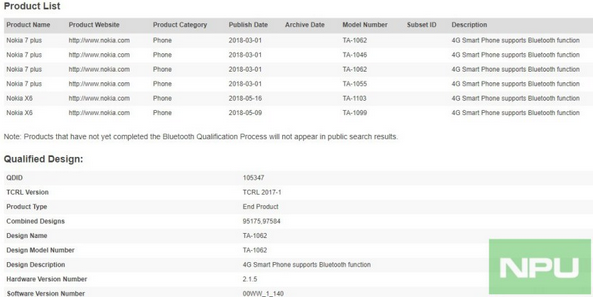 Nokia X6: New Alleged Global Variant Spotted
The Nokia X6 model, which was sighted on the Bluetooth certification website is named as TA-1103. Till date, it has not been seen on any certification site at all, which led to speculations about Nokia launching a new variant aimed at the global market. However, till date there has been no confirmation from Nokia regarding the same.
Nokia fans have been clamouring for the global launch of the flagship smartphone since its launch in China because of its stellar specs and budget pricing. With the sighting of the new variant, it seems that their hopes may finally come true.
Nokia X6: Specifications, Features
Protected by Corning Gorilla Glass 3, Nokia X6 has a display size of 5.8-inches with a PPI density of 435. It has an aluminium frame, which is encased in glass on the front as well as on the rear. The fingerprint sensor is mounted on the rear. It comes loaded with a great Li-ion battery as well of 3060 mAh, which also supports fast charging. It also supports USB 2.0 and a reversible connector for Type C USB as well.
Packed with Snapdragon 636, Nokia X6 is available in three variants depending on the RAM capacity – 6GB, 4GB and 3GB. It is also available with two types of internal storage options – 32GB and 64GB.
Regarding the camera specs, it has a dual primary camera of 16MP and 5MP with dual-LED and dual-tone flash as well. The front camera is of 16MP, which guarantees some great selfies.
Nokia X6: Expected Price in India
The price of Nokia X6 is expected to be Rs. 16990 for the 64GB internal storage variant. It will also have four colour options – Blue, Red, Black and White and all of them have the same retail price.
In case the rumors are true, then it is expected that the global variant of Nokia X6 will soon be launched in India as well, much to the delight of the Nokia buffs.
Nokia Sells Digital Health Startup Withings:
In other news, Nokia recently sold off their digital health startup Withings back to its founder Eric Carreel. Nokia had acquired the startup two years back in 2016, when they wanted to diversify into the health tech domain as well. This acquisition had costed them $191 million but it failed to live up to the expectations of the company. Withings manufactures smartwatches, health monitoring devices such smart baby monitor, smart alarm clock, wireless blood pressure monitor and even a BMI and body fat percentage calculator.
Despite great promise, the company did not perform well and Nokia was ultimately forced to suffer losses of more than $160 million, which prompted them to sell off the startup. Samsung and Google were very interested in acquiring this company as they both wanted to diversify their own range of smart home health devices. However, Nokia decided to forgo the bids by Google and Samsung and ultimately the company was sold back to its original founder only.