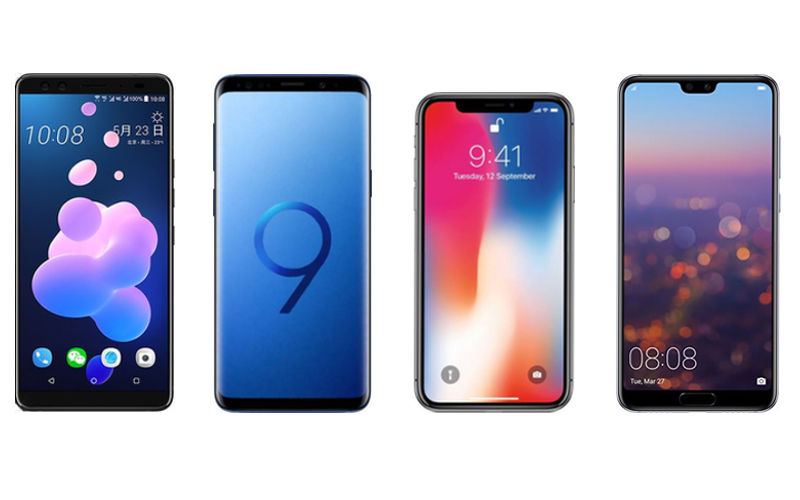 Less than a week left to go for its launch and almost everything including the design, colour variants, specifications and even pricing of the HTC U12 Plus has leaked. From what we now know, this is truly a flagship contraption from the Taiwanese giant, and we can't wait to get our hands on this device once it launches. Now that we know so much about this device, we decided to pit it against the existing flagships of the industry to see exactly how it stands against its competition.
And so we have the Samsung Galaxy S9 Plus, the iPhone X (review) and the Huawei P20 Pro which currently hold the title of being the flagships from their respective manufacturers. So how does the HTC U12 Plus fare against these behemoths? Let's have a look at the comparison of their specs and features to find out.
Samsung Galaxy S9+ Review: Improved, But Not A Big Upgrade Over The S8+
HTC U12 Plus vs Samsung Galaxy S9 Plus vs iPhone X vs Huawei P20 Pro: Price In India
From the information we currently have, the HTC U12 Plus's price is expected to be roughly around Rs.50,000 for the 64GB variant and Rs. 55,000 for the 128GB model. Comparatively, the cheapest Samsung Galaxy S9 variant with 64GB of storage is priced at Rs 64,900, while the 128 GB and 256GB variants cost Rs. 68,900 and Rs. 74,000 respectively.
The Huawei P20 Pro is only available in a single, 128GB variant that costs Rs.64,999. Then we have the iPhone X which is still the most expensive smartphone in this list. It will set you back almost Rs. 86,240 for the 64 GB variant and Rs. 97,900 for the 256GB model.
HTC U12 Plus vs Samsung Galaxy S9 Plus vs iPhone X vs Huawei P20 Pro: Display, Design
The HTC U12 Plus is going to come with a 6-inch screen Super LCD 6 screen with QHD+ resolution (1440×2880 pixels), 18:9 aspect ratio, and 537 PPI pixel density. The slim-bezelled screen is capable of playing HDR content and comes with Corning Gorilla Glass 5 protection. The phone looks almost similar to the HTC U11 Plus with its Liquid Surface design-inspired back, and the squeezable frame is highly likely to return.
The Samsung Galaxy S9 Plus features a large 6.2-inch Super AMOLED panel with a resolution if 1440 x 2960 pixels, an 18.5:9 aspect ratio and has Gorilla Glass 5 for scratch resistance. The handset ends up with a PPI density score of 529. The S9 Plus touts an aluminium frame paired with toughened glass layers both at the front and the rear.
The iPhone X is equipped with a 5.8-inch AMOLED display that has an 1125 x 2346 resolution with a PPI density score of 458. There is the unavoidable notch at the top, while the phone itself feels pretty much like a smooth piece of glass sandwiching a metal frame.
The Huawei P20 Pro also gets a notched display, but the obstruction is considerably smaller when compared to that on the iPhone X. This is a 6.1-inch measuring AMOLED panel with a resolution of 1080 x 2240 pixels and an 18.7:9 aspect ratio that ends up with a PPI density figure of 408. This phone also has a glass back aesthetic that comes in interesting colour  options.
Apple iPhone X Review: The X Factor
HTC U12 Plus vs Samsung Galaxy S9 Plus vs iPhone X vs Huawei P20 Pro: Hardware Specifications
The HTC U12 Plus will be equipped with a Qualcomm Snapdragon 845 processor, which will be paired with 6GB of RAM and 64GB or 128GB of expandable internal storage. For imaging, the handset will have a 12MP+16MP dual-camera setup at the rear, featuring UltraSpeed Autofocus 2 (phase-detection autofocus + laser autofocus), OIS, dual-LED flash, HDR Boost 2, and 4K video recording at 60fps. There will be two 8MP cameras at the front features Bokeh Mode, Live Makeup, HDR Boost, Screen Flash, AR stickers and 1080p video recording.
The Galaxy S9 Plus sold in India is powered by the Exynos 9810 SoC that integrates an octa-core processor. All three previously mentioned storage variants come with 6GB of RAM. The camera setup is comprised of a dual 16-megapixel + 20-megapixel setup at the rear and a 16-megapixel camera at the front.
The iPhone X ships with the Apple A11 Bionic hexa-core 2.39GHz chip which is pretty much the most powerful mobile chip currently out there. There is a dual 12MP+ 12MP rear-facing camera setup here with OIS for both and the ability to record 4K videos at 60fps. The front houses a 7MP sensor that can record 1080p videos at 30fps.
The Huawei P20 Pro is powered by the octa-core Hisilicon Kirin 970 SoC with Mali-G72 MP12 GPU for graphics. While not as optimised as the Snapdragon 845, it is still very powerful and can hold its own in daily usage. The P20 Pro gets a triple camera setup consisting of a primary 40-megapixel shooter, a secondary 20-megapixel black and white shooter, and a third 8-megapixel camera with f/2.4 aperture. The front camera is a 24MP sensor.
HTC U12 Plus vs Samsung Galaxy S9 Plus vs iPhone X vs Huawei P20 Pro: Verdict
This comparison might not entirely be fair considering all four smartphones here are in a league of their own. With enough money to spare, an Apple fanboy would always choose the iPhone X, while the same can be said for Android purists and the Samsung Galaxy S9 Plus. Then we have the Huawei P20 Pro which might not have the same brand recall as the other handsets here, but still seems to offer some exceptional imaging prowess (at least on paper).
With that said, even if the HTC U12 Plus ends up being priced slightly higher than expected, it will still end up being relatively more affordable than any of the other smartphones mentioned here. We will have to save our final verdict until we get a chance to put this device through our full review before we can claim it to be the best option for you.