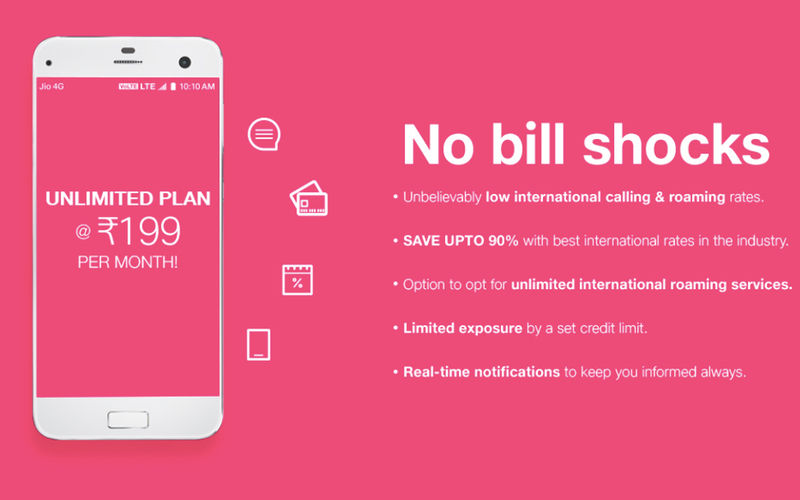 Ever since Reliance Jio entered the Indian telecom sector, customers have greatly benefitted from the ever declining rates for data and calls. This is not just for Jio customers as competitors have been racing to remain relevant by being forced to reduce their prices as well. Until quite recently, this has been true only for prepaid users due to postpaid offers from Jio not being as enticing. But the recent launch of the 'Zero Touch' plan from the telco has definitely stirred up a frenzy in the Indian postpaid sector. The new plan went live starting May 15th and offers a host of postpaid services without the need to have them activated explicitly.
Today, we are going to take a look at how this plan fares up against rivalling postpaid plans from Vodafone under its RED series. The base postpaid plan from the telco is priced at Rs.399. Customers can go up to the Rs.999 package for more data limit and other bundled benefits, while international calling can be activated with packages ranging from Rs.1,299 to Rs.2,999.
Jio Zero Touch Postpaid Rs.199 Plan: Details
As mentioned earlier, the 'Zero Touch' plan by Jio automatically activates all the included services as soon as a customer opts in. These services include free unlimited calls and SMS ( limited to 100 SMS per day) along with 25GB of mobile data for a period of one month. Upon completion of 25GB of data before the billing period ends, Jio is offering consumers additional data at a nominal rate of Rs.20 per GB instead of throttling the speed. The plan also comes with pre-activated international roaming at no additional security deposits. Depending on the country you are in, the international roaming rate can be as low as 50 paise per minute. There is also a 2-2-2 international roaming plan for as many as 33 countries including the US, the UAE, the UK, Canada, New Zealand, the Netherlands and so on wherein customers will be charged Rs.2 per minute for voice calls, Rs. 2 Per MB for data and Rs. 2 per unit on international roaming. There are 42 other countries that include Australia, China, Russia, Germany, Kuwait, Myanmar, South Korea and Spain where users will need to pay Rs.10 per minute for calls and Rs. 10 per MB for data and Rs. 10 per unit for SMSes.
Vodafone RED Rs. 399 Postpaid Plan: Details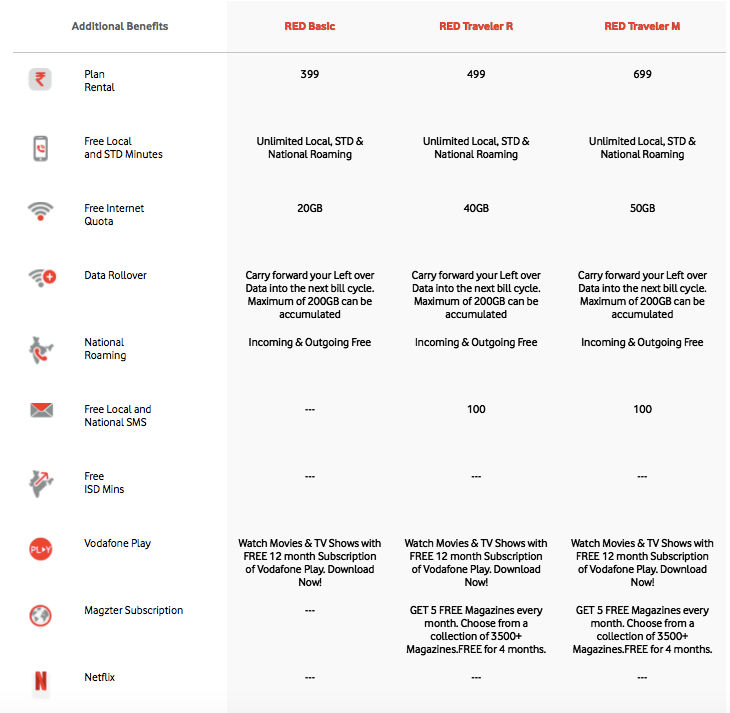 The RED Basic plan from Vodafone which is priced at Rs.399 offers unlimited local, STD and national calls. Monthly data is limited to 20GB, but the telco does provide the ability to roll over any remaining data (up to 200 GB) onto the next bill cycle. On purchasing this plan, customers additionally get a 12-month subscription of Vodafone Play where they can watch as many movies and TV shows as they like from the vast library available.
Other Vodafone Postpaid Plans
Vodafone has three other postpaid packages priced at Rs.499, Rs.699 and Rs.999 that offer additional benefits on top of the services mentioned above. These packs offer 40GB, 50GB and 75 GB of mobile data access respectively along with a four-month subscription of 5 monthly magazines from a collection of over 3,500 to choose from. The plans even offer free "Red Shield" insurance-like for four months against damage an theft. The Rs.999 plan also provides a two-month subscription to Netflix worth Rs.1,000. Then there are the 'RED International' postpaid plans from the telecom giant that range from Rs.1,299 to Rs.2,999 that offer up to 300GB of internet quota, 200 minutes on international calls, 12 months of Vodafone Play subscription, 12 months of Netflix subscription worth Rs.6,000, and up to 12 month 'RED Shield' coverage.