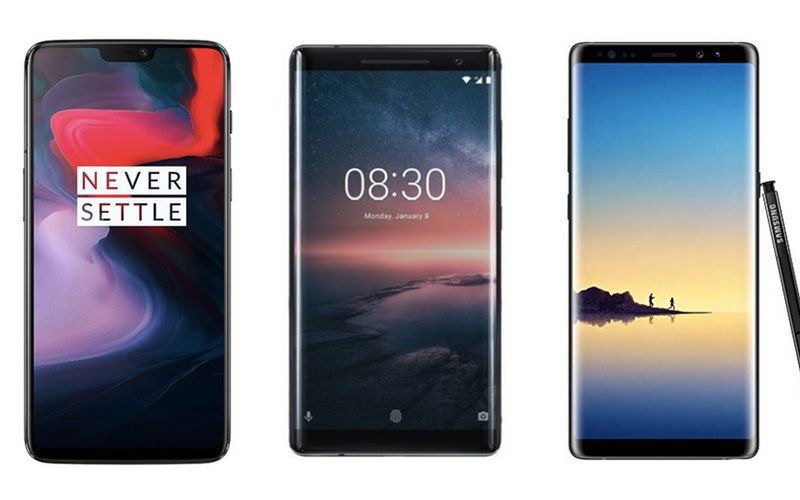 Choosing which smartphone to buy has probably become the most frequently faced problem in our times and also the most difficult one to find a solution to. With every manufacturer offering high-end specs in well-crafted premium designed bodies, the problem becomes even bigger when it's about choosing between Flagships. The OnePlus 6 was recently launched and we compare it to two of the other big-screen, premium Android smartphones in the market right now – the Nokia 8 Sirocco and the Samsung Galaxy Note 8. Which one is the perfect buy for you? We find out.
OnePlus 6, Nokia 8 Sirocco, Samsung Galaxy Note 8: Price in India
First things first, one of the biggest factors that we consider while being a premium phone has to be the price. The OnePlus 6 is the clear winner here starting at Rs 34,999 for its 6GB+64GB model. The phone has gone on sale today exclusively for Amazon Prime members, and will be available for everyone from 22nd May. The Nokia 8 Sirocco is currently retailing for Rs 49,990 and is available to buy via Amazon, Flipkart and even offline retailers like Croma. The costliest of this lot is the Galaxy Note 8, which is currently available on Amazon at Rs 58,990. Notably, The Note 8 launched at an even higher price of Rs 67,990.
OnePlus 6, Nokia 8 Sirocco, Samsung Galaxy Note 8: Design, Display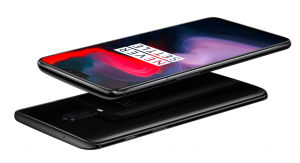 All three of these phones feature premium glass-meets-metal designs with OLED displays that stretch almost end to end leaving minimal room for bezels. Nokia however, chose to give the extra-tall 18:9 aspect screen trend a pass and sticks to a more conventional 16:9 5.5-inch p-OLED screen with QHD resolution. Talking of trends, The Oneplus 6 follows one, as it now has a notch atop its 6.28-inch OLED screen with FHD+ resolution. Samsung has been the king of mobile displays for sometime now and the Note 8 is no exception. It features an extra tall 6.3-inch Super AMOLED display which has to be one of the best displays on any mobile device ever. Outdoor legibility, bright, punchy colors and deepest blacks, the Samsung display is a slice of perfection. The OnePlus 6 comes second in this round, and the Nokia 8 Sirocco comes a close third. Where the Nokia loses is the ease of usage as there are a lot of unwanted touches due to its curved edges, something that the Note 8 manages to tackle pretty well actually.
OnePlus 6, Nokia 8 Sirocco, Samsung Galaxy Note 8: Performance, Hardware
These phones sit at the top of the line for their respective manufacturers and needless to say, they pack in specs to match that status. Nokia 8 Sirocco and Galaxy Note 8 both come with Snapdragon's 835 SoC coupled with 6GB of RAM. As for internal storage, Nokia offers 128GB of internal storage, whereas Note 8 comes with 64GB of storage and a provision for expanding the storage via a microSD card, which the Nokia 8 Sirocco doesn't offer. The OnePlus 6 is the latest of these phones and thus comes with the improved Snapdragon 845 processor, coupled with either 6GB or 8GB of RAM and internal storage ranging from 64GB to 256GB. As far as day-to-day performance is concerned, all three of these phones should breeze through any and every task you throw at them.
The Oneplus 6 has a slight advantage owing to its latest processor, but otherwise, this round is a tie.
OnePlus 6, Nokia 8 Sirocco, Samsung Galaxy Note 8 Camera, Imaging
Cameras have become very important for cellphone buyers and no wonder that all three of the phones here pay special emphasis to their imaging prowess and come with dual camera setups at the back. The Oneplus 6 comes with a primary 16MP snapper with f/1.7 aperture, coupled with a secondary 20MP camera for taking portrait pictures and adding blur effects. The Nokia 8 Sirocco isn't far behind and packs in dual 12MP cameras with Zeiss optics and dual tone LED flash. The Note 8 was Samsung's first device with a dual camera setup and packs in a 12MP primary shooter with f/1.7 aperture, coupled with a telephoto 12MP snapper. All three of these devices offer portrait mode and bokeh effects capabilities.
On the front of the OnePlus 6 is a 16MP snapper with Flash, which is on-paper better than the 5MP and 8MP selfie cameras found on the 8 Sirocco and the Note 8 respectively. All three of these cameras are good performers, however, if taking pictures is your primary objective with the camera, you might want to go for the Galaxy Note 8. The Nokia 8 Sirocco comes in at a close second, with its reliable camera setup. The Oneplus 6 doesn't have bad cameras by any measures, especially for its price, but let's just say, this is one of the differences between a flagship killer like itself and a true flagship.
OnePlus 6, Nokia 8 Sirocco, Samsung Galaxy Note 8: Battery, OS Updates, Other Specifications
The Galaxy Note 8 was the earliest to launch out of these 3 devices and comes with Android Nougat 7.1 out of the box. However, Samsung has already rolled out an Oreo update for the Note 8 so you can directly upgrade it to Android 8.0. Oneplus 6 comes with Android Oreo 8.1 onboard and provides an almost stock-Android experience with its custom UI theme- Oxygen OS. If stock Android is your thing though, you might want to consider Nokia's Sirocco which comes with stock Android 8.0 and is also a part of Google's Project Treble so you are guaranteed to get the latest OS updates on time, a feature which unfortunately not many manufacturers can boast of.
We do like the Samsung experience UI that Note 8 comes with, however, the Oneplus 6 and the 8 Sirocco definitely feel faster and cleaner, thanks to their stock Android roots.
Both the OnePlus 6 and the Note 8 come with 3300mAh batteries. Nokia 8 Sirocco has a smaller battery, albeit only by a thin margin, rated at 3260mAh. As far as battery performance is concerned, all these phones should last you a moderate day of usage although expecting anything extraordinary would be a mistake. The Oneplus packs in the fastest charging out of the three with its patented Dash Charge technology. Nokia isn't far behind with Quick Charge 4.0 technology. Samsung is still using the now-dated Quick Charge 2.0 technology.
If battery usage is your biggest concern, the Oneplus 6 or Nokia 8 Sirocco will serve you the best. The Note 8 features slower charging, and also discharges faster, thanks to that amazing screen upfront. Well, you can't always get everything, right.
OnePlus 6, Nokia 8 Sirocco, Samsung Galaxy Note 8: Verdict
Like we said at the beginning, it's not easy to choose a clear winner when it comes to flagships. Nevertheless, a decision has to be made. In the end, it's mostly a matter of preferences. All three of these are brilliant phones on their own and pack the best of what Android has to offer. The difference mostly lies in the pricing. The Note 8 comes with an S-pen and all the productivity features along with it, so if taking notes or drawing on your phone is something you'd do often, the Note 8 is more or less the only choice you have and it's a beast of a performer. The Nokia 8 Sirocco is a beauty to look at and functions smoothly as well with great camera performance, and also comes with the reliability and trust that the Nokia brand is known for. That being said, If you're looking for a flagship Android phone with fast performance overall, decent cameras and good battery life, the OnePlus 6 seems to tick all the right boxes.
Are you planning to buy any of these phones soon? Let us know what are your thoughts about them in the comments below.