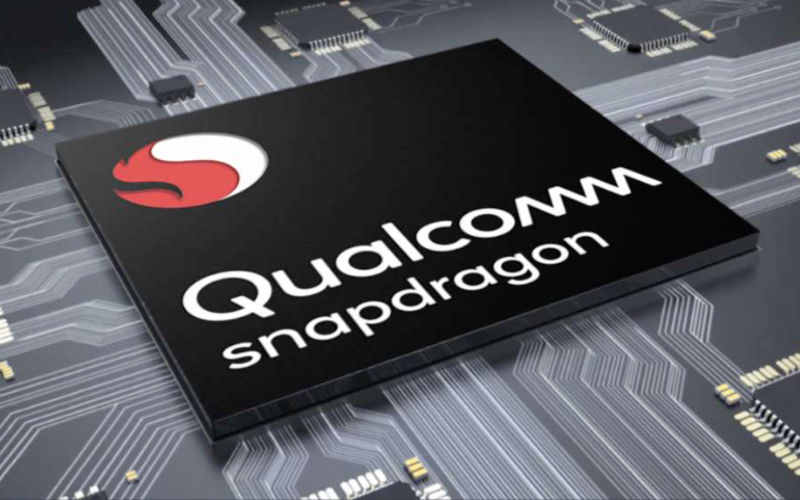 A few months ago, mobile chipset giant Qualcomm had announced the Snapdragon 700 series of mobile platforms during the MWC 2018 expo in Barcelona, Spain. Later, the specifications of the Snapdragon 710 and Snapdragon 730 were leaked. It was being reported that the Snapdragon 710 is nothing but a rebranded Snapdragon 670. Now, Qualcomm has officially announced the first chipset in the Snapdragon 700 series — Snapdragon 710 — bringing an end to all the rumours.
Qualcomm explained to us during its press briefing for the launch of the Snapdragon 710 that the new chipset brings premium features like 10nm architecture, artificial intelligence (AI), neural network processing capabilities, improved imaging with real-time bokeh effects, face unlock with 3D depth sensing, 4K HDR playback, category 15 LTE, and Quick Charge 4.0+ to upper mid-range smartphones. Earlier, these features were only available in the Snapdragon 800 series chipsets, which were used in high-end smartphones.
The company claims that the Snapdragon 710 mobile platform offers 20% improvement in overall performance, compared to the Snapdragon 660 chipset, and 25% faster web browsing, 15% faster launch times, 40% reduction in power consumption during gaming 4K HDR video playback, and 20% reduction in power consumption during streaming videos. Let's have a look at the detailed specifications and features of the Qualcomm Snapdragon 710 processing chipset.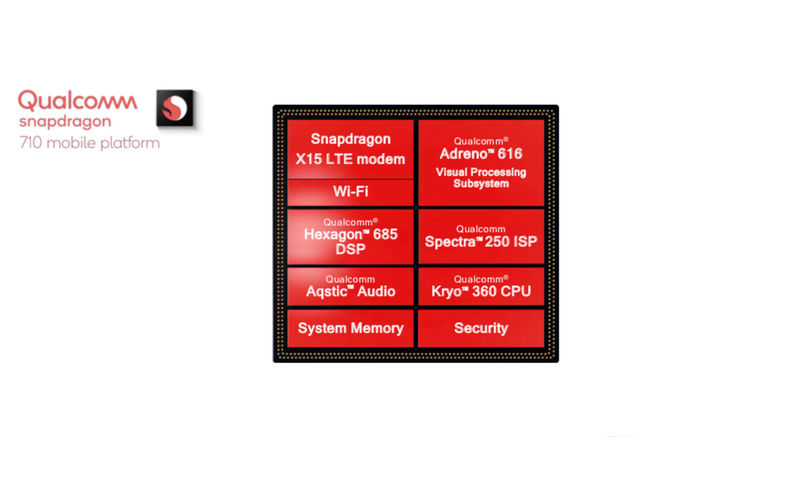 Qualcomm Snapdragon 710: Features, Specifications
The Qualcomm Snapdragon 710 is fabricated using Samsung's 10nm LPE FinFET process. It features two Kryo 360 Gold CPU cores (High-Performance Cores) clocked at 2.2GHz and six Kryo 360 Silver CPU cores (Power-Efficient Cores) clocked at 1.7GHz. The Kryo 360 Gold CPU cores are based on the ARM Cortex-A75 architecture, while the Kryo 360 Silver CPU cores are based on the ARM Cortex-A55 architecture. It has support for UFS 2.1, SD 3.0, and eMMC storage.
The chipset also consists of the Adreno 616 GPU, which supports up to QHD+ resolution screens. It is claimed to feature up to 35% faster graphics rendering compared to the GPU inside the Snapdragon 660 chipset. The GPU supports Vulkan APIs, offers console-like graphics, even at lower power. It supports Unreal Engine 4.1.2 and Unity 5.6. For the first time ever, Qualcomm has included 4K HDR video playback support in a non-Snapdragon 800 series chipset. The Snapdragon 710 processor brings support for up to 10-bit colours (for up to 1.07 billion colours), up from 8-bit colours, for 4K HDR video playback.
Thanks to the Spectra 250 ISP (image signal processor), the Snapdragon 710 chipset supports up to 32MP single camera sensor or 20MP dual camera sensors. It features hardware-accelerated, multi-frame noise reduction for cleaner images and videos. It also helps Snapdragon 710 equipped phones in capturing 4K videos at 40% lower power consumption. Even slow-motion videos captured using the chipset are clearer and consume less power. Video noise is reduced with motion compensation filter. The Spectra 250 ISP inside the Snapdragon 710 chipset also supports 3D active depth sensing for more reliable face unlock mechanism on smartphones and tablets.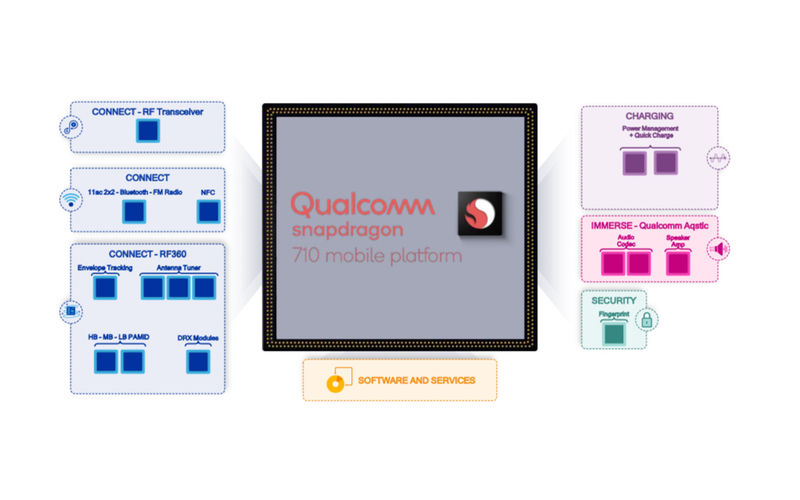 The Snapdragon 710 mobile platform features the X15 LTE modem (category 15), which is up to 2.5 times faster than the Cat. 7 LTE modem. It allows for download speeds of up to 800Mbps. The X15 LTE modem also supports 4×4 MIMO for superior signal quality and faster speeds. Even when the signal is weak, the Snapdragon 710 performs 125% faster than chipsets with a Cat. 7 LTE modem. It performs 118% faster when the signal is strong and 116% faster when the signal quality is average. This means that you can now stream 4K videos on the go and download music and videos at up to 2.5 times faster speeds. The Snapdragon 710 also features 2×2 802.11a/b/g/n/ac (2.4GHz and 5GHz) and Bluetooth 5.0 with Qualcomm TrueWireless Stereo audio technology (supports aptX and aptX HD). There's support for FM Radio, NFC, USB 3.1 Gen 1 Type-C, and USB 2.0 as well.
As we mentioned earlier, the Qualcomm Snapdragon 710 chipset allows much better support for AI, neural network processing (NP), and machine learning (ML). It supports full AI experience and up to 2x faster AI performance, thanks to the Hexagon 685 DSP, Adreno 616 GPU, and Kryo 360 CPU cores. The Hexagon 685 DSP offers platform-wide optimisations, a robust ISV ecosystem, and on-device AI processing of voice UI, photography, and biometrics. It supports the Snapdragon Neural Processing SDK, Android NNAPI, and Hexagon NN tools. Some of the AI frameworks it supports are Caffe, Caffe 2, TensorFlow, TensorFlow Lite, and ONNX. The AI engine inside the Snapdragon 710 chipset allows faster face unlock (2D and 3D), animojis, bokeh effects, image recognition and classification, and video style transfer. It also allows for faster AI scene, object, and face recognition when using camera apps.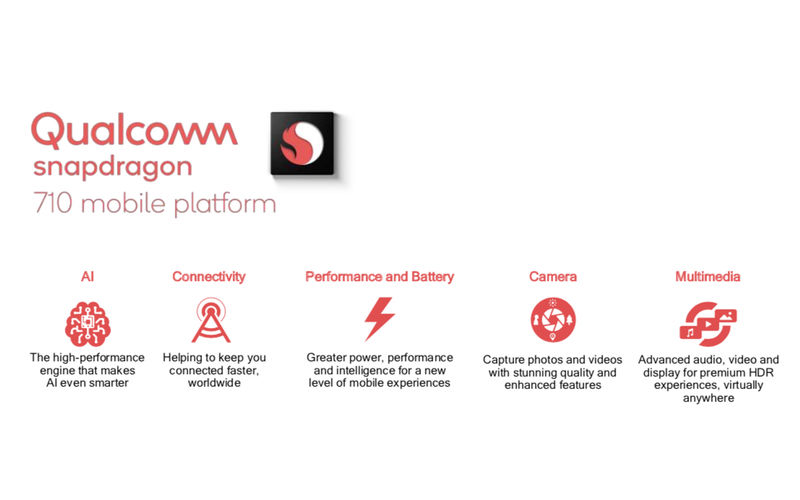 Thanks to all the architectural improvements and 10nm LPE process, the Snapdragon 710 mobile platform has improved power efficiency. It also supports Quick Charge 4.0+ rapid battery charging technology, something that's also present in the Snapdragon 835 and Snapdragon 845 chipsets. Generally, phones equipped with the Snapdragon 710 chipsets can last up to one whole day during voice calls, 5+ days during music playback, 13 hours of 4K video playback, 11+ hours while streaming videos over the internet, 4 hours of 4K video playback, and 9+ hours while gaming.
When To Expect Qualcomm Snapdragon 710 Equipped Phones?
Qualcomm mentioned that the Snapdragon 710 mobile platform is available to partners, ODMs, and OEMs starting today, and consumers can expect devices using the new chipset in the second quarter of 2018.
Kedar Kondap, Vice President of Product Management at Qualcomm Technologies, Inc. said "The Snapdragon 710 Mobile Platform is the first in the newly defined and highly significant 700-tier, offering technologies and features previously only available in our premium-tier mobile platforms. By incorporating key AI capabilities and performance advancements, the Snapdragon 710 is designed to transform our customers products into the ultimate personal assistant, enhancing critical everyday consumer experiences, such as high-end camera features that will benefit from on-device high-speed AI processing, without sacrificing battery life."