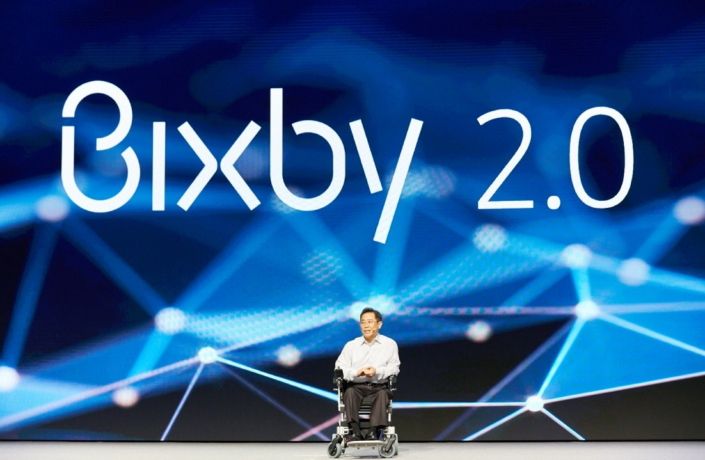 Samsung has confirmed that an updated Bixby 2.0 assistant is soon to debut in its upcoming flagship, the Galaxy Note 9. Speaking to The Korea Herald, Gray G. Lee, Head of the AI Centre under Samsung Research simply mentioned that the company was planning to release the next iteration of its voice assistant with its upcoming flagship. We know that the upcoming flagship can be none other than the Galaxy Note 9, which is expected to be officially announced in July followed by its sale in August.
Bixby 2.0: How much better can it be?
Lee Claims that the new Bixby 2.0 will be "more than just a personal assistant". He calls it an "artificial intelligence platform" that can enhance performance and user experience across the phone. This isn't saying much as the older iteration was supposed to be this as well and we all know how that worked out. But still, he was adamant that the digital assistant would be equipped with enhanced natural language processing, improved noise resistance capability and faster response time. The company is also said to have around a thousand people working on AI and is even considering the merger and acquisition of promising AI businesses in its quest to make Bixby better.
Samsung has already demonstrated how serious it is by having acquired AI startup Kngine earlier this month. The Egyptian startup has a self-titled intelligent engine that can be used to "automate customer service, power voice interfaces and drive enterprise search." In an attempt to gather enough information to be able to answer any query, its engine "crawls the world wide web, enterprise documents, books, FAQs and even customer service logs."
Integrated into all Samsung products by 2020
In another recent interview, Kim Hyun-suk, Samsung's head of consumer electronics confirmed that the company plans to integrate internet connectivity along with Bixby 2.0 into all of its products by the year 2020. The goal is to transform all of Samsung's devices into a proper ecosystem that will revolve around the SmartThings app. The company has opened three new AI research centres this month alone, and has even formed an 'AI Council'. This so-called 'Council' is comprised of 20 top-most Samsung executives and convenes once every month.
To debut with the Galaxy Note 9
A recent Geekbech benchmark report emerged that gave us a detailed look at a Samsung smartphone alleged to be the Samsung Galaxy Note 9. The listing shows a smartphone powered by a Snapdragon 845 processor coupled with 6GB of RAM. It operated on Android 8.0 Oreo. This configuration received a score of 2411 for the single-core and a score of 8712 for multi-core.
While it was expected that Note 9 would be fuelled by an Exynos SoC, it is not uncommon for Samsung to launch two variants of the same smartphone fitted with either CPU's. This might very well be the case here and this model could be a US variant. It is also expected that there will be a variant of this smartphone with 8GB of RAM instead of the 6GB mentioned here.
While other details are scarce right now, it is expected that the Galaxy Note 9 could feature a 6.4-inch Super AMOLED screen with QHD+ resolution (1440×2960 pixels), in the 18.5:9 aspect ratio. There is a chance the bezels have been further reduced this time around. A dual rear camera is inevitable, and 4K video recording at 60fps is impossible not to be present. The battery would be close to a 4000 mAh cell with support for adaptive fast charging along with wireless charging over Qi and PMA standards. Whether or not this device gets an in-screen fingerprint scanner is to be seen.