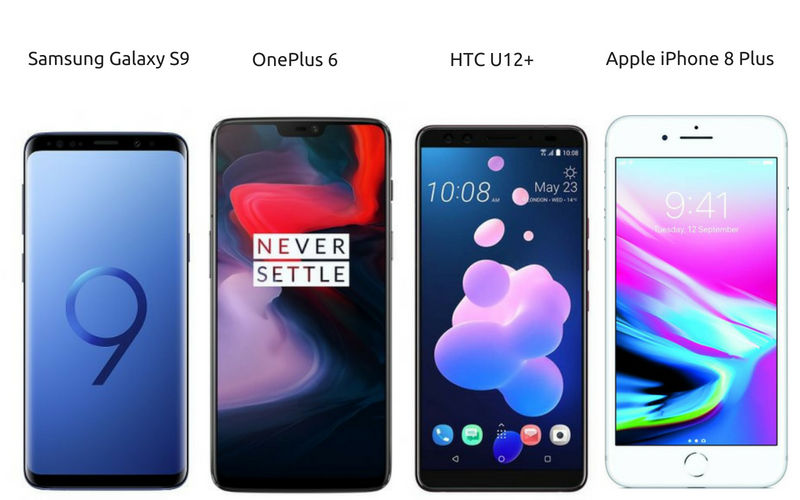 The last few weeks have been golden for tech enthusiasts. We've got not one, not two but three major flagships being launched in the month of May. LG started off by launching the G7 ThinQ, followed by the OnePlus 6 and now the recently announced HTC U12+. We take a closer look at the Oneplus 6 and the HTC U12+ and see how they compare with the currently reigning flagships – the Galaxy S9 and the iPhone 8 plus.
OnePlus 6 vs HTC U12 Plus vs Samsung Galaxy S9 vs iPhone 8 Plus: Price in India
The OnePlus 6 is the most affordable amongst these heavyweights, being available for Rs 34,999 for its 64GB model. The Samsung Galaxy S9 comes a distant second, retailing for Rs 54,950 on Amazon. The iPhone 8 plus is the most expensive of the lot, selling for a "reduced" price of Rs 68,500 for its 64GB base model.
The HTC U12+ official pricing is yet to be revealed however it should mostly be priced somewhere between the 59,000-62,000 range. This might make it a tough sell, and hopefully, HTC will take some lessons from the LG V30's success which proved to be a great buy for its price tag of Rs 44,900.
OnePlus 6 vs HTC U12 Plus vs Samsung Galaxy S9 vs iPhone 8 Plus: Design, Display
All four of these devices feature a glass-meets-metal design. However, that's where the similarities end. The iPhone 8 plus has the most dated design out of these phones, as it carries over the same design language that Apple adopted since the iPhone 6; with thick top and bottom bezels and a 16:9 display, which is a 5.5 inch LCD panel. The Oneplus 6 has a notched 6.28 inch Optic AMOLED screen, which is bright and punchy in its own right, but is no match to the Galaxy S9's 5.8-inch Super AMOLED QHD+ panel which also has curved edges on both sides, giving the phone a perfect symmetry and a design so futuristic-looking, it kind of outshines any other phone design philosophies.
The HTC U12 plus has a great looking extra tall design too, with minimal bezels surrounding the 6-inch Super LCD 6 QHD+ panel, which offers almost AMOLED level color reproduction and vibrancy.
OnePlus 6 vs HTC U12 Plus vs Samsung Galaxy S9 vs iPhone 8 Plus: Performance, Hardware
Performance wise, all four of these smartphones will breeze through tasks of any magnitude that you throw at them. The Oneplus 6 and HTC U12 plus both pack in 6GB of RAM and the latest Snapdragon 845 chipset. The Galaxy S9 comes with Samsung's own Exynos 9810 processor and 4GB of RAM. The iPhone 8 plus might seem the weakest on paper with only 3 gigs of RAM but the A11 processor and Apple's OS optimizations means the 8 plus tears through its Android counterparts' scores in any benchmark tests you throw at it. While the HTC and Samsung models throw in expandable storage, the iPhone and the Oneplus have to do with limited storage options ranging from 64GB to 256 GB.
OnePlus 6 vs HTC U12 Plus vs Samsung Galaxy S9 vs iPhone 8 Plus: Camera, Imaging
Cameras are the strong points of all four of these phones, and the Galaxy S9 is the only one that misses out on a dual camera setup at the back (only the GS9 plus model has a dual camera). The HTC U12 plus has the most cameras on it, with a dual 12MP+12MP setup at the back and a dual 8MP+8MP setup at the front, for bokeh mode selfies and portrait pictures.
The Oneplus 6 comes with a primary 16MP snapper with f/1.7 aperture, coupled with a secondary 20MP camera for taking portrait pictures and adding blur effects. Galaxy S9's rear camera is a single 12MP (f/1.5-2.4) variable aperture lens, while on the front of the device is a 8MP (f/1.7) camera for great selfies even in low light.
The iPhone cameras have always been at the fore-front of mobile imaging and the 8 plus is no exception. It packs in a stellar dual 12 MP setup at the back and a single 7MP shooter at the front. The camera performance of all these phones is top-notch, however if you clicking nice-looking pictures is your primary objective, look no further than the iPhone and the Galaxy S9.
OnePlus 6 vs HTC U12 Plus vs Samsung Galaxy S9 vs iPhone 8 Plus: Battery, OS, Other Specifications
All three of the Android phones here are running Android Oreo out of the box. While OnePlus has its custom Oxygen OS UI layered on stock Android, Samsung and HTC feature a more heavy skinned, feature laden takes on Android, Samsung Experience and HTC Sense. HTC has packed in some nifty features with the updated Edge sense, where you can squeeze, tap or double tap your phone's sides to perform specific functions. It's also the first production phone to do away with physical buttons completely, and instead features pressure sensitive dummy buttons for volume control and screen on/off.
The iPhone 8 plus runs the latest iOS 11 and has a non removal 2691mAh battery, which is the smallest amongst these phones and yet, in day-to-day usage scenarios outlasts almost every other phone out there. Not too far away is the Galaxy S9 with a 3,000mAh cell powering the device. The Oneplus 6 features an even bigger 3300mAh battery, whereas HTC takes the crown on this one with a 3,500 mAh cell.
As far as battery performance is concerned, all these phones should last you a moderate day of usage although expecting anything extraordinary would be a mistake. The Oneplus packs in the fastest charging out of the three with its patented Dash Charge technology. HTC isn't far behind with Quick Charge 4.0 technology. Samsung is still using a slower Adaptive Charge technology. If battery usage is your biggest concern, the Oneplus 6 or the iPhone 8 plus are your best bets.
OnePlus 6 vs HTC U12 Plus vs Samsung Galaxy S9 vs iPhone 8 Plus: Verdict
It's not easy to choose a clear winner when it comes to flagships. Nevertheless, a decision has to be made. In the end, it's mostly a matter of preferences. All four of these are brilliant phones on their own and pack the best of what smartphones have to offer. The difference mostly lies in the pricing. The Galaxy S9 and HTC U12 Plus are probably the best handsets from their respective brands and pack in everything you need from a high-end phone. The iPhone 8 plus might not be a looker but is an incredible phone nevertheless as it functions smoothly consistently, with great camera performance, and also comes with the reliability and trust that the Apple is known for. That being said, If you're looking for a flagship phone with fast performance overall, decent cameras and good battery life without burning a hole in your pocket, the OnePlus 6 seems to tick all the right boxes.
Are you planning to buy any of these phones soon? Let us know what are your thoughts about them in the comments below.