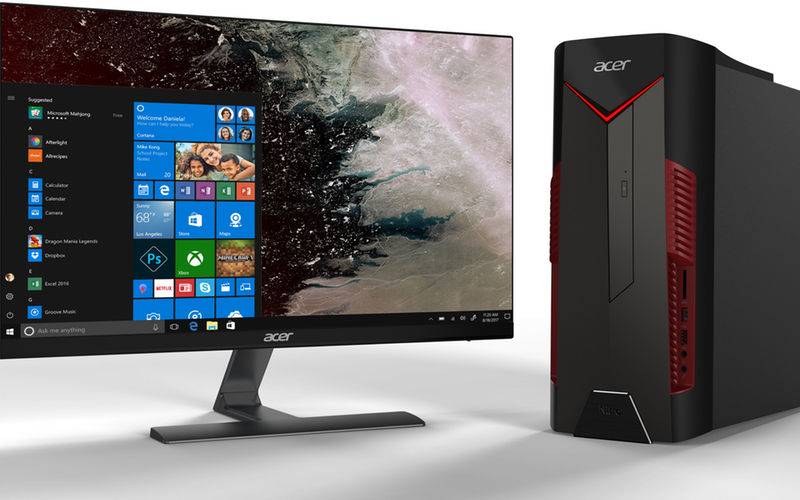 Earlier this week, Acer announced its new range of laptops, desktops, and gaming accessories at the Next@Acer 2018 keynote. A part of these lineups include the Acer Nitro 50 gaming desktop series as well as Nitro RG0 and Nitro VG0 gaming monitors.
The Acer Nitro 50 gaming desktop has a compact design, and comes with the latest Intel CPUs. Buyers also get an option of latest AMD or Nvidia GPUs. It also has other additional features like a Qi wireless charging dock at the top to keep your smartphones charged while you finish that challenging session of your favourite game.
Coming to the Acer Nitro RG0 and the Nitro VG0 gaming monitors use IPS LCD panels and come in various screen sizes and resolutions. They feature AMD FreeSync technology for flicker-free gaming. They have have 'ZeroFrame' design with minimal bezels on all sizes for a near-seamless multi-monitor gaming setup, and they are also compatible with VESA mount. Other features include dual 2-watt stereo speakers, tilt support, and a variety of input ports. They also come with various colour profiles, some to suit gaming, and others to reduce eye strain.
Acer Nitro 50 Gaming Desktop PC: Features, Price, Specifications
Acer Nitro 50 Gaming Desktop PC
The Acer Nitro 50 is the company's new gaming desktop lineup, and the company claims that it has been designed with keeping those in mind who have high performance needs, something that only a desktop can offer. The starting price for the Acer Nitro 50 is $799 (approximately, Rs. 54,499). It will be available in EMEA in May (€999), in North America in June, and in China in July (¥5,999).
The Nitro 50 uses a relatively compact case (measuring 6.4×13.7×13.3 inches), with an attractive V-shaped LED light bar and red-coloured accent areas at the front which act as air vents and also have I/O ports. There are multiple ports at the rear, but the company hasn't specified at this point in time about which variants get which ports.
The Acer Nitro 50 comes in various hardware configurations, but all the variants will be powered by Intel's 8th Gen Core processors and either Nvidia GeForce GTX 10 series or AMD Radeon RX5xx series GPUs. It starts from Intel Core i3-8100 quad-core CPU (4C/4T, 3.6GHz). There would be variants with Intel Core i5+ 8400 (6C/6T, 4GHz Turbo) and Intel Core i7+ 8700 (6C/12T, 4.6GHz Turbo). Memory support maxes out at 64GB dual-channel DDR4-2666MHz RAM. It also has support for up to 32GB Intel Optane memory, up to 3TB 3.5-inch mechanical hard disk drives and up to 512GB PCIe NVMe M.2 SSD storage.
Nvidia GPU options include Nvidia GeForce GTX 1050, GTX 1050 Ti, GTX 1060, and GTX 1070. If you want to go with AMD GPUs, there's only one choice: AMD Radeon RX580X. It can support up to 4 displays simultaneously. The Nitro 50 gaming desktop comes with support for Creative Sound BlasterX 360° audio, Realtek Dragon RTL8118AS gigabit Ethernet, and 2×2 Wi-Fi 802.11a/b/g/n/ac, and Bluetooth 5.0. It has a full-sized SD card slot at the front along with a USB Type-C port, a USB 3.1 Gen Type-C port, and headphone as well as microphone ports.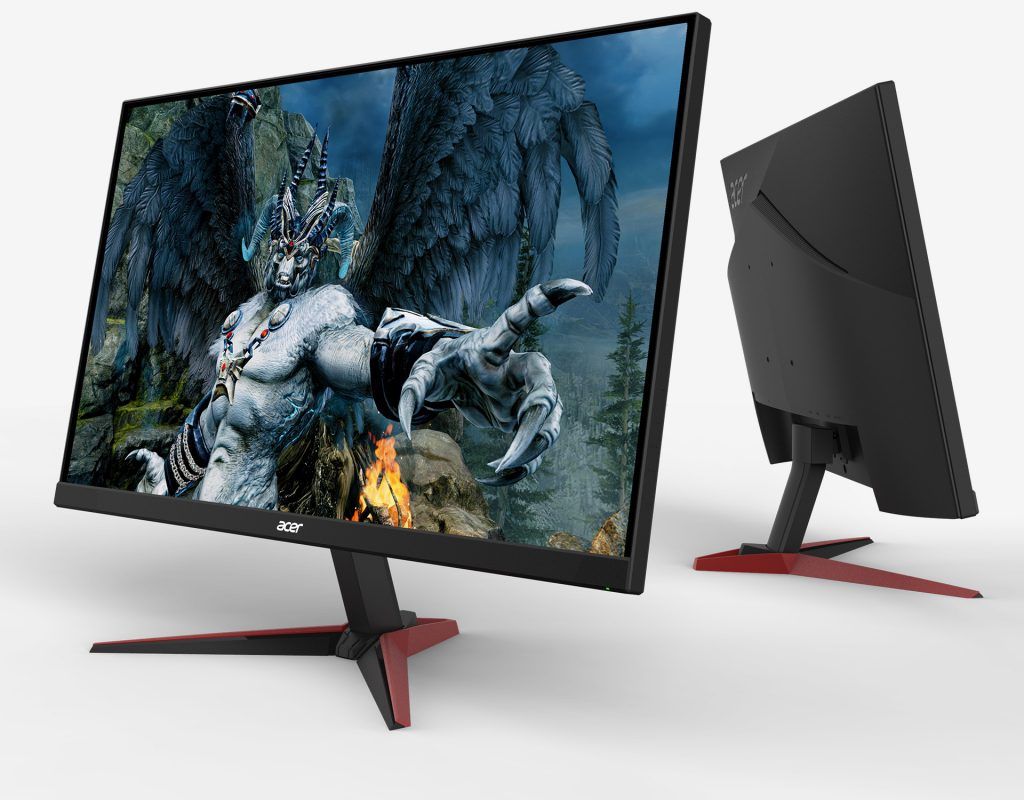 Acer Nitro RG0, VG0 Gaming Monitor: Features, Price, Specifications
Acer Nitro RG0 Gaming Monitor
The Acer Nitro RG0 will be available in 23.8-inch and 27-inch screen sizes, and both variants will have Full HD resolution (1920×1080 pixels). It uses IPS LCD panels with 178-degree horizontal and vertical viewing angles, 6-bit + HiFRC colour depth, 16.7 million colours, 72% NTSC colour gamut coverage, 250 nits maximum brightness, 1ms response time (VRB), and a maximum contrast ratio of 100,000,000:1. It supports AMD FreeSync, but only up to 75Hz refresh rate, which is barely higher than non-gaming monitors. I/O ports include DisplayPort, HDMI, VGA, audio in, and audio out. Acer Nitro RG0 series of monitors also come with dual-2W stereo speakers, -5° to 15° tilt support, and VESA mount. Its starting price of the Acer Nitro RG0 series monitors is $130, and they'll be available starting June in North America and May in China and EU.
Acer Nitro VG0 Gaming Monitor
The Acer Nitro VG0 gaming monitor series has more premium features compared to the RG0 series. It uses IPS LCD panels with 8-bit + HiFRC colour depth and 100% sRGB colour gamut coverage. It will be available in 21.5-inch, 23.8-inch, and 27-inch screen sizes and Full HD (1920×1080 pixels), QHD (2160×1440 pixels), and UHD 4K (3840×2160 pixels) resolutions. It is compatible with AMD FreeSync too, and supports more refresh rates: 60Hz, 70Hz, 75Hz, and 144Hz. It has the exact same brightness, contrast ratio, response time, and viewing angles as that of the RG0 series. Even the I/O ports and speakers are the same. However, its tilt support is relatively wider at -5° to 20°.
Both RG0 and VG0 support these pre-set display modes: Action, Racing, Sport, User, Standard, ECO, Graphic, and Movie. Monitor settings can either be accessed from OSD menu or through the Acer Display Widget software. In addition, they support various eye-comforting technologies: Flickerless, BlueLightShield, ComfyView and low-dimming. The RG0 monitor series has a regular, T-shaped stand, while the VG0 series of monitors have chevron-shaped stands. The Acer Nitro VG0 monitors have a starting price of $170, and they'll be available in North America starting July, while they'll be up for sale in EU with a starting price of €139.