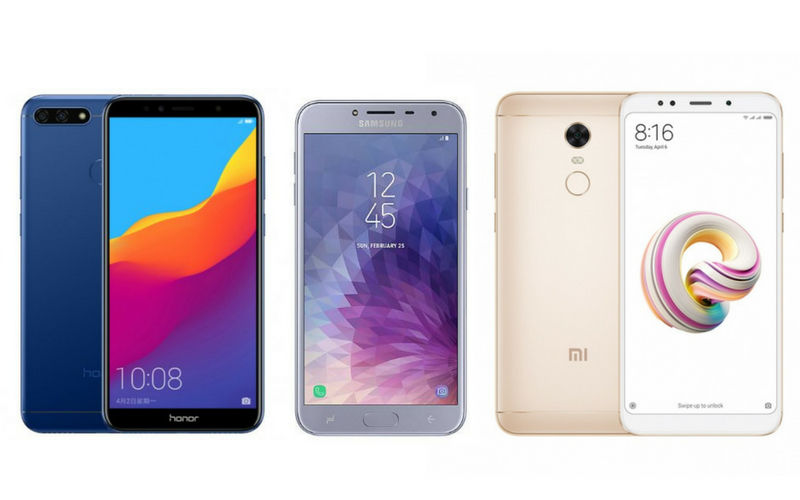 The entry-level smartphone segment has heaten up in the past few months with bigger brands like Samsung, Oppo and Huawei releasing a slew of new smartphones to try and topple the budget segment king – Xiaomi's Redmi series. In today's comparison, we put to test, some of the most all-round entry level smartphones – The Samsung Galaxy J4 and The Huawei Honor 7A, as they take on the current champion – the Redmi Note 5. Will they be able to challenge the Redmi for the crown? Let's find out.
Redmi Note 5 vs Samsung Galaxy J4 vs Honor 7A: Price in India
The Redmi Note 5 is available in 2 configurations. The 3GB+32GB model sells for Rs. 9,999 while the higher 4GB+64GB model retails at Rs. 11,999. The Galaxy J4 is priced very close to the Note 5, selling for Rs. 9,990. However, this price is for the 2GB+16GB variant. The Honor 7A's 3GB+32GB model, on the other hand, sells for Rs. 8,999.
Redmi Note 5 vs Samsung Galaxy J4 vs Honor 7A: Design, Display
Both the Note 5 and the Honor 7A come with an all-metal body and extra-tall screens which makes both of these devices look and feel great in the hand. The Galaxy J4 misses out on premium materials and goes for an all-plastic design. Out of these three phones, the Galaxy J4 feels bland really, with that somewhat outdated, thick bezelled design and plastic construction.
The Redmi Note 5 pulls ahead in the display department as well, featuring a 5.99-inch FHD+ 18:9 panel. Both the Honor 7 and the Galaxy J4 have only HD+ resolution screens, the Honor 7 having a 5.7-inch 18:9 IPS LCD panel, while the Galaxy J4 having Samsung's trademark sAMOLED panel measuring 5.5-inches diagonally.
Redmi Note 5 vs Samsung Galaxy J4 vs Honor 7A: Performance, Hardware Specifications
The Redmi Note 5 is the king of hardware and performance too, coming in with either 3 or 4 gigs of RAM, coupled with 32 or 64 gigs of internal storage. It's powered by the reliable Snapdragon 625 processor, and day-to-day tasks are no issues for this phone. The Huawei Honor 7A runs on a lower, octa-core Snapdragon 425 chipset, with 3GB of RAM and 32GB internal storage. The Galaxy J4 is powered by a quad-core Exynos 7570 SoC, paired with 2GB of RAM and 16 gigs of internal storage. The lack of RAM is surely going to affect the J4's performance in some way or the other, so if you're looking for a phone that zips through your daily tasks, you might want to opt for the Redmi Note 5.
Redmi Note 5 vs Samsung Galaxy J4 vs Honor 7A: Software, Battery, Other Features
The Honor 7A and the Galaxy J4 come with Android Oreo out of the box, both sporting their manufacturer's custom UI theme on top. The Redmi Note 5 is a bit older than the two and runs Android Nougat with Xiaomi's MiUI on top. All three of these phones have Dual SIM capabilities. When it comes to battery performance though, both the J4 and Honor 7A feature 3000mAh batteries, which are not bad by any means, but fall short of giving any competition to the mammoth 4000mAh battery on the Note 5.
Redmi Note 5 vs Samsung Galaxy J4 vs Honor 7A: Camera, Imaging
None of these phones offer a dual camera setup. The J4 has a 13 MP real camera with f/1.9 aperture, autofocus and LED flash. On the front is a 5MP, f/2.2 shooter, also accompanied by an LED flash. The Honor 7 has a 13MP primary camera with Phase detection AutoFocus and LED flash, and on the front is an 8MP sensor, again with LED flash.
The Redmi Note 5 has a 12MP primary camera with f/2.2 aperture and larger, 1.25μm pixels, thus giving better results in low-light conditions. On the front, it has an 8MP camera, assisted by 'Selfie Light', which is basically the phone's screen acting as a flash while taking selfies.
Redmi Note 5 vs Samsung Galaxy J4 vs Honor 7A: Verdict
The Galaxy J4 seems like a half-hearted offering from Samsung, with mediocre hardware saved by that bright punchy AMOLED screen up front. However, it misses out on some features like premium design, SD 600 series processor etc which kind of make it lag behind the competitors. The Honor 7A packs is definitely a looker, but falls behind in processing power and battery capacity, which leaves us with the Redmi Note 5. When it comes to the most all-round phone out of these three, there's no beating it, with its top-class specs and that massive 4000mAh battery. If you're looking for a phone in the 10K range, you can't go wrong with the Redmi Note 5.