The first leak has surfaced of what claims to be the Google Pixel 3 XL showing off what confirms many people have feared or hoped, depending on your personal preference. Of course, we're referring to the notch that has seen pretty much every other smartphone in 2018 adapt. The first images of the Pixel 3 XL show a clear cutout at the top of the display confirming if the images are true, that the device will sport a notch. While it does mean notch-haters may not be particularly happy, it does represent the move towards an all-screen display for the Pixel 3 XL, which is a great move and shows the device will challenge those devices that have improved their display game this year.
Don't miss: Google Pixel 3 to be Built by Foxconn with New Display Hardware, to be Announced in August or September this year
Other keen-eyed readers will notice the front-facing speaker is present in the notch showing Google will retain the feature that many like in previous Pixel devices. It's worth pointing out that the forum post over at the source does state the image is a prototype, which means it is subject to change on the roadmap towards the final product.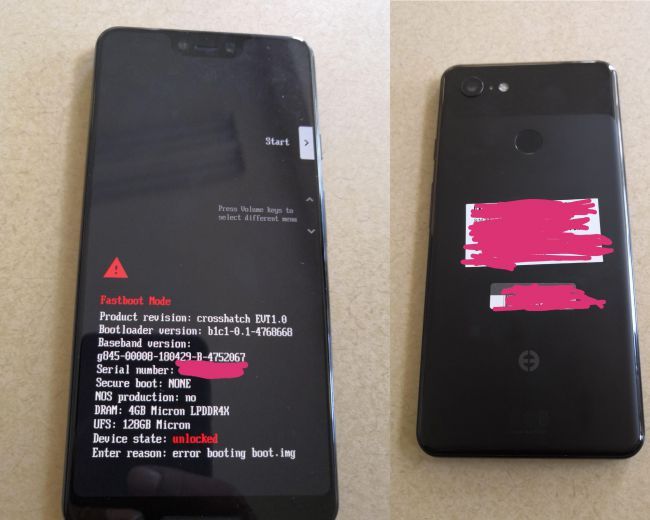 Despite being a prototype, it does have the specs plastered across the screen giving an insight into the internals of the next Pixel device. As far as specs go, the Pixel 3 XL seems to rock 4GB of RAM and 128GB of internal storage. It is interesting that Google has chosen to go down the route of 4GB of RAM given most comparable flagships have increased the RAM to 6GB. While anything over 4GB isn't really necessary, we know the Pixel 3 XL isn't exactly going to be affordable and will be a comparable price to that of the Note 8 (and Note 9 when it releases) and iPhone X, so chucking 6GB of RAM into the device probably wouldn't have increased the price of the device much.
Google is expected to launch the Pixel 3 XL alongside the smaller Pixel 3 later this year around October. No doubt more leaks revealing more details about the upcoming physical appearance of the device and potential specs will be shared as we approach that date.