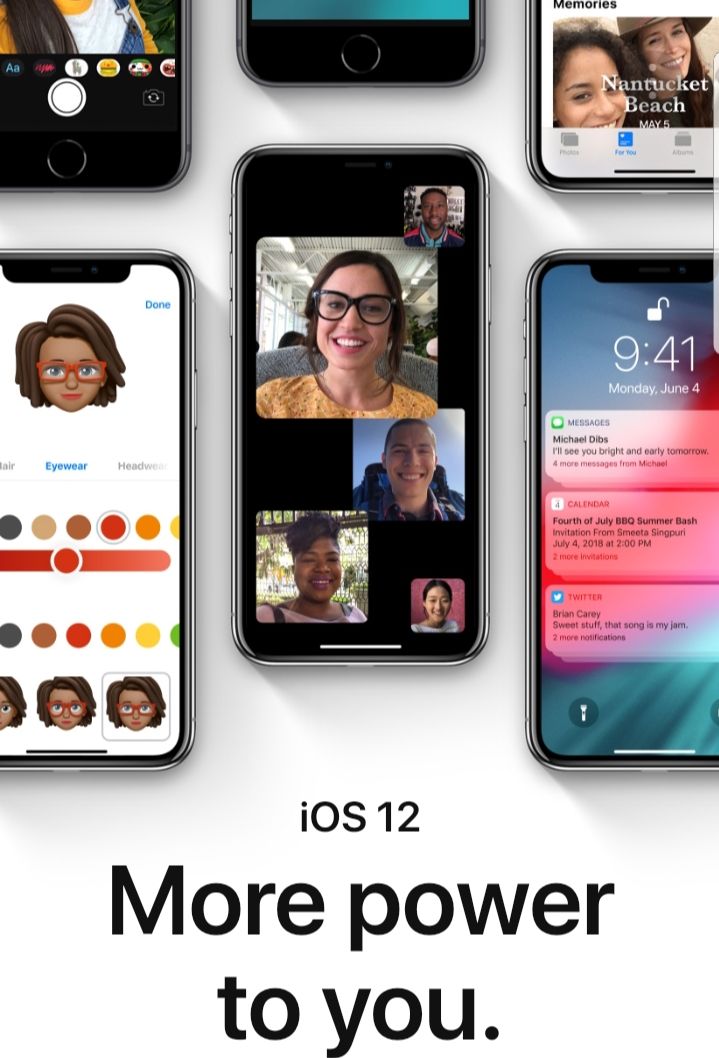 Apple's WWDC 2018 brings a ton of announcements, but there's one that towers above them all: iOS 12. The iPhone is Apple's most popular product, and its software its most popular software.
Without further ado, let's examine iOS 12's new features.
iOS 12: Feature Rundown
FaceTime Video and Audio Now Supports 32 People At Once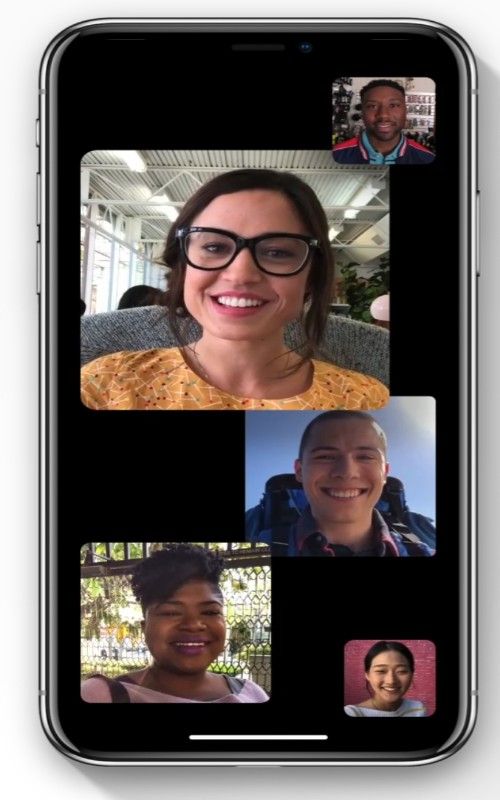 FaceTime is Apple's phone and video chat service, in the same way that Google Hangouts or Google Duo are Google's counterparts. In iOS 12, Apple increases its person limit to 32 people. Companies will find this new chat person limit refreshing because businesses often communicate via chat apps on the go. Conference calls are now possible with 32 people at once. Small companies with 30 or less can talk with their entire workforce now instead of splitting up conference calls.
Screen Time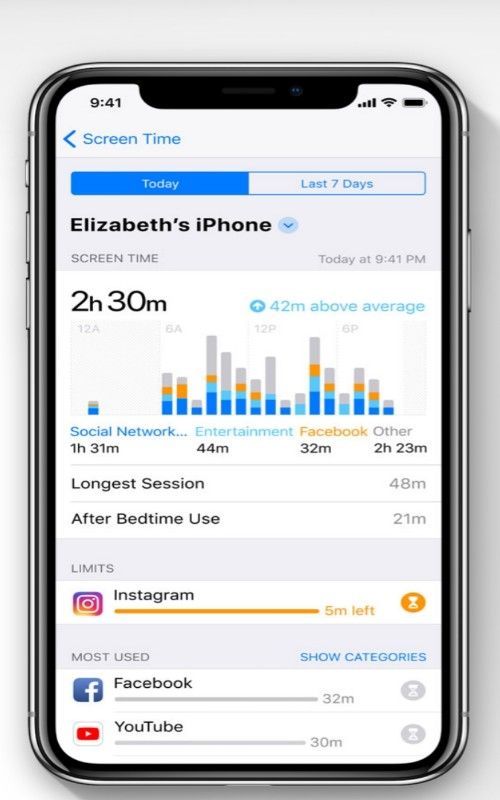 Apple's new iOS 12 brings Screen Time, a feature that allows you to see just how you're spending your time on mobile devices. Screen Time is also a good feature for kids, since parents can see how much technology is impacting their child's day. Perhaps knowing just how much time you spend on your phone or mobile device may motivate you to "get off the couch" and do something more productive.
Notification Improvements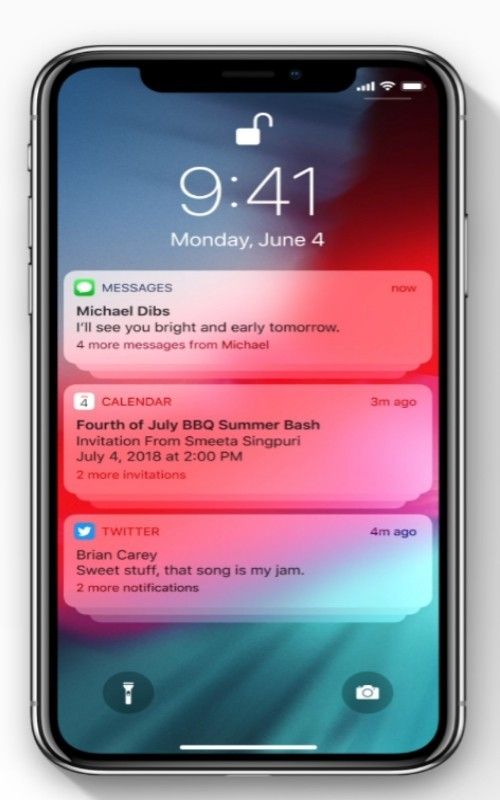 Notifications are an important part of the mobile experience. They are the information we seek to keep us productive, in focus, and in touch with those we care about. In iOS 12, Apple increases notification management to reduce interruptions throughout the day. You can manage your notifications from the lock screen now, meaning that you do not have to unlock your iPhone. You can turn off notifications from the lock screen if you're in a long business call or at work.
Messages and notification topics are grouped together now, making it easier than ever to deal with specific notifications at specific times. You can respond to work emails and texts without getting lost in your friends' text messages about your birthday plans. Business texts and notifications arrive together, friends notifications arrive together, purchase notifications for sites like eBay, Wish, and others arrive together.
The improvement of notifications and easier grouping means that you'll spend more time being productive while viewing them at a glance.
Do Not Disturb Scheduling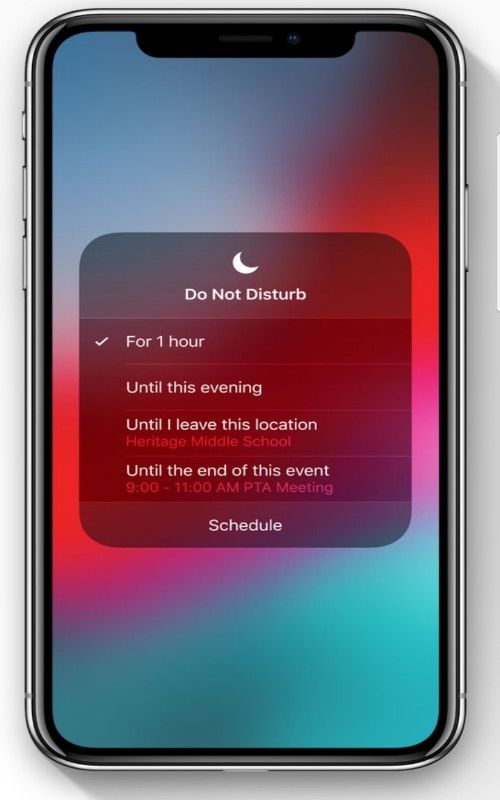 Apple brings Do Not Disturb Scheduling to its iOS devices, not only the iPhone but also the Apple Watch. Do Not Disturb (DND) Scheduling brings more functionality to what is already a favorite feature. Have you ever enabled Do Not Disturb because your smartphone was littered with too many notifications when you turned it on? Do Not Disturb is an excellent feature, but many users don't want to leave it on forever. There comes a time when you must remove DND or risk losing out on notifications, calls, and texts.
This is where iOS 12 comes to the rescue for iDevices. Now, you can schedule a particular time (say, from 8AM to 12PM) to enact the feature. After the time expires, DND will go away and all your real-time messages, texts, and notifications will arrive again. This is ideal for business meetings, friend hangouts, or some good 'ole family time without disturbances. It is certainly the ideal feature when on vacation.
Photo Sharing for your Photo Library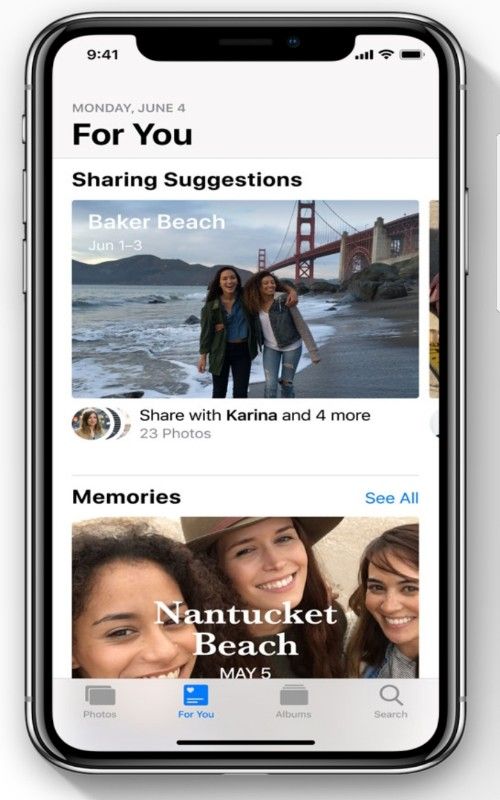 Think about the number of photos you take on your iPhone or smartphone on a regular basis. Thousands of them. The more local storage you have (64GB, 128GB, 256GB), the more photos you'll take. iPhone parents find themselves having rolls of photos of their children doing everything from crawling to walking, speaking, and even eating. Children are miracles, and we like to share those unique moments with those around us.
In iOS 12, Apple wants you to do more photo sharing. With the new photo sharing feature, you'll see a "For You" tab in your photo library that shows photos you've taken recently. The goal is to get you to remember those fond moments with family and friends and share those moments with those you love.
Smarter Photo Search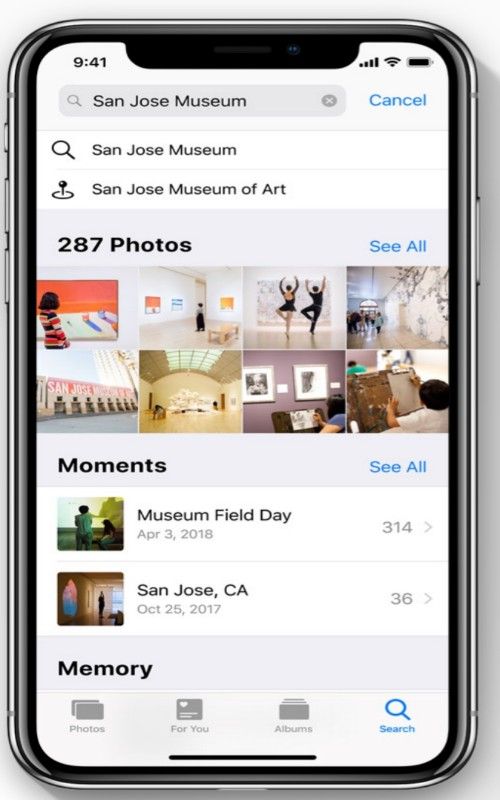 We forget the millions of photos we take on our smartphones and mobile devices, but we also get lost in the sheer number. There was a time when even in Google+, searching for old photos or screenshots was a chore. Apple is bringing a smarter photo search to iOS 12, helping users to find old photos when they need to retrieve them. The new "smarts" behind the feature are the suggestions that appear when you search for a photo in your Photo Library.
Photo searches can also handle multiple keywords. Now, you need not compromise on your search to find the photos you want.
Siri App Shortcuts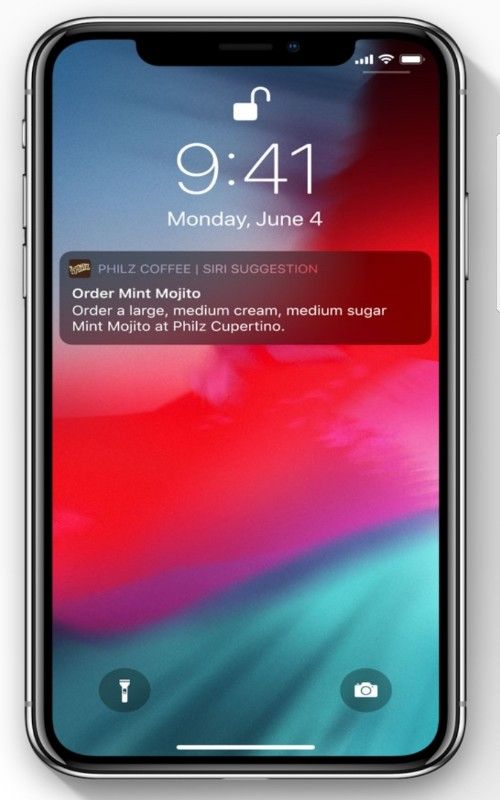 Siri gets smarter in iOS 12, no doubt about it. "Its" capabilities allow you to send texts, make phone calls, etc. on the Apple Watch. In Apple's new operating system update, Apple integrates Siri and third-party apps so that Siri suggests actions based on your activity in other apps. For example, if you like to order Fandango movie tickets or buy from Amazon, Siri can tell you to "purchase some movie tickets" for Valentine's Day or indulge yourself for your birthday. These app shortcuts will appear on your Lock screen alongside your notifications. Siri's on-device learning starts in iOS 11 but pushes forward here.
To experience these Siri app shortcuts, though, keep in mind that third-party apps (Apple is not responsible for these apps) must have access to your Siri usage information and vice versa.
Alongside Siri app shortcuts, Apple adds a Shortcuts app that allows users to create shortcuts with their voice or manually.
Animoji and Memojis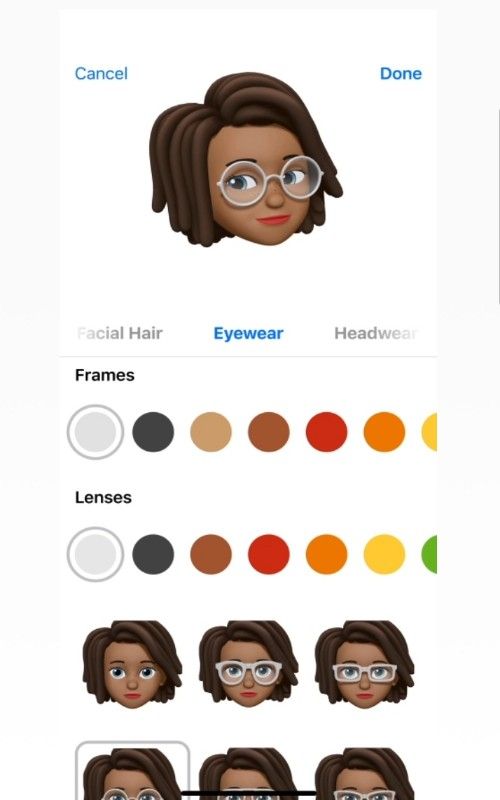 Animoji is a compound word consisting of "animated" and "emoji." The word refers to emoji that have three-dimensional or at least 2D characteristics and are more than the flat "smileys" you send when texting someone. Apple unveiled Animoji in iOS 11 but add new capabilities here.
Animoji in iOS 11 can give an emoji selection your voice (cows, pigs, and horses, for example, even aliens, can sound like you). In iOS 12, Apple allows users to create "Memojis," a term that refers to an emoji of yourself. Memojis not only allow you to create a replica of you on-screen but also allow you to create an emoji to match a particular mood you're in. Are you on an intellectual kick where you're reading a lot? Create an intellectual Memoji with glasses. Feeling adventurous? Create an athletic Memoji.
Memojis express not only you as you appear but also your mood (that is why we call them "emojis," is it not?). You can make as many "alter egos" as you like and use them whenever the mood hits in iMessages and FaceTime.
Four New Animoji: Koala, Tiger, Ghost, T-Rex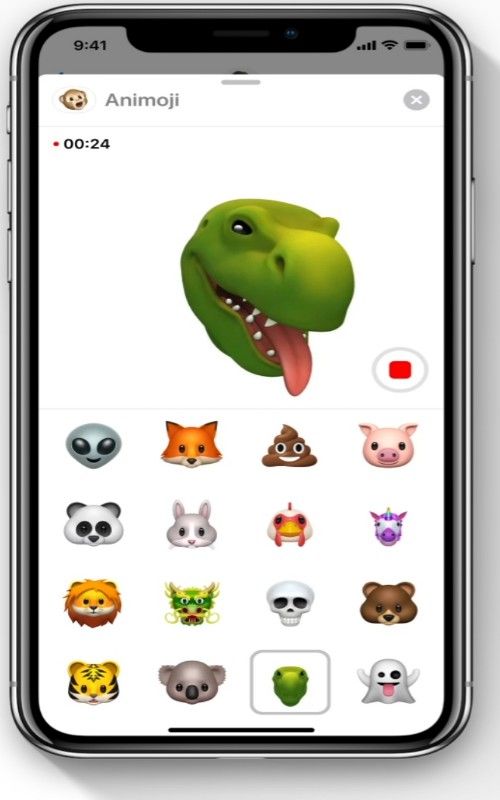 If you appreciate the Animoji, Apple provides four new ones in iOS 12. Koala, Tiger, Ghost, and T-Rex add to the previous animoji, letting you express yourself in even newer ways. Be sure to stick out your tongue before sending your emoji; your friends will find it hilarious.
Add Animoji and Memoji to photos and videos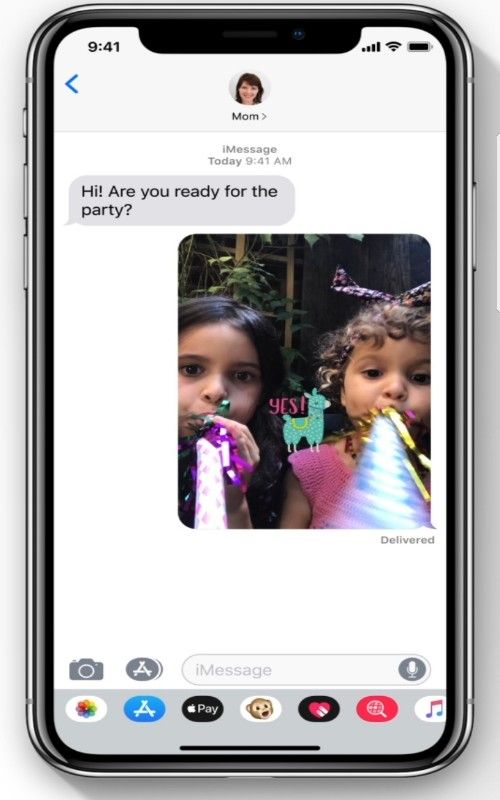 Animoji and Memoji are not just for text messages and FaceTime. They are also for photos and videos that you share. When you share a picture of yourself, you can now add Memojis and Animojis to create a "playfulness" effect.
Measure, AR, Messages and Mail
Augmented reality (AR) is on the rise in the tech scene, and Apple includes it in iOS 12 to avoid missing out. AR objects in iOS 12 can be sent in iMessages and Mail and viewed.
To increase support for AR, Apple adds a new app to iOS 12, "Measure." "Measure" lets users point their camera at something and see its length or distance. Apple's new Measure app goes head to head with the other eighty apps that perform the same function in its Apple Store. Measure's presence in iOS 12 threatens obsoletion for the other AR measuring apps in Apple's App Store.
Privacy: iOS 12 prevents Share button and comment widget tracking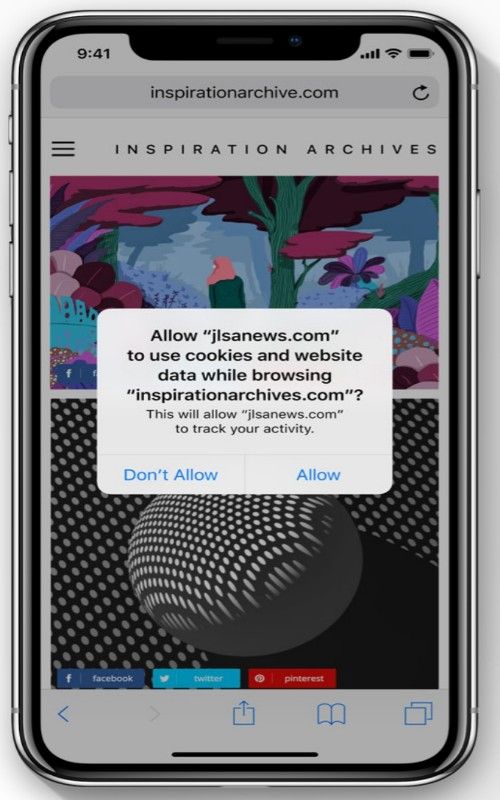 Apple's iOS is big on privacy, as Apple believes users shouldn't have to share their personal information in order to enjoy the web browsing experience. Apple takes things one step further in iOS 12 with Share button and comment widget tracking prevention. Essentially, users who share an article or website or comment on a website won't share their personal data in doing so.
The benefit of this is that users won't have to worry about data tracking ads or advertisers gathering content about them without their consent. Apple's decision to add this tracking prevention to its newest operating system is in step with the rise in ad blockers. Apple's "Do Not Track" option in iOS 12 (since 2014 at least) evolves even further with Share button and comment widget tracking prevention.
iOS 12: Additional Changes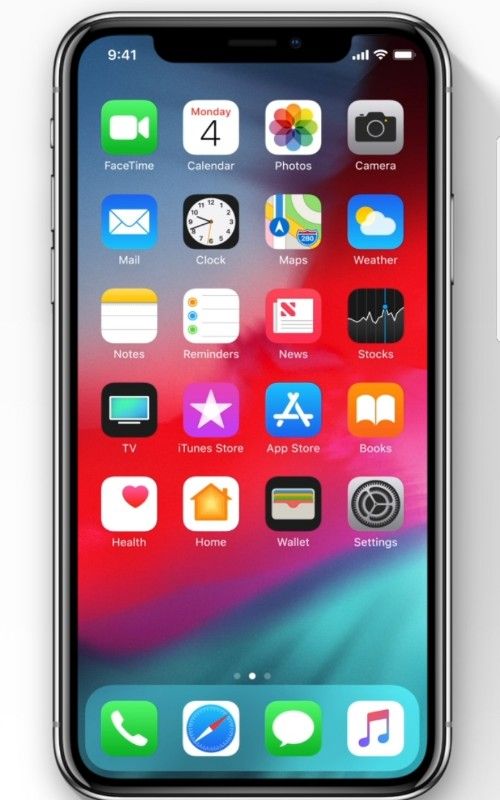 We've covered the 12 best features of iOS 12 here, though there are additional changes Apple is making to its mobile operating system. Among these is the redesigning of the Stocks app, the arrival of voice memo on the iPad,
As for performance improvements, Apple says that The swipe to camera feature is up to 70% faster than that of iOS 11. The keyboard display is now up to 50% faster, app launches are up to 2x faster in heavy load situations than in iOS 12's predecessor.
iOS 12 is compatible with iPhone 5s, iPhone 6, iPhone 6 Plus, iPhone 6s, iPhone 6s Plus, iPhone 7, iPhone 7 Plus, iPhone 7s, iPhone 7s Plus, iPhone 8, iPhone 8 Plus, and iPhone X. The new update will work for the iPad Air and forward. You can expect iOS 12 to land on your compatible iPhone and iPad this Fall.