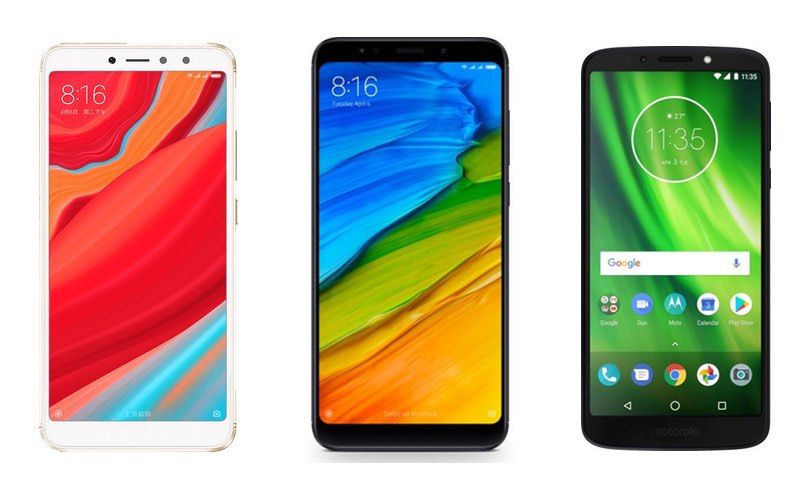 The amount of competition in the entry segment of the Indian market has gotten to the point where its really hard to differentiate one smartphone from the other. To help make the distinction more apparent, we will help you out by pitting three trending smartphones against each other. First, we have the Redmi Y2 which is about to go on sale in India as a budget-tier offering from Xiaomi. We also have the Moto G6 which became available for purchase just a few days ago. To complete the trifecta, we have Xiaomi's own Redmi Note 5 which might be a bit older, but is still a decent offering from the company. without any further delay, let's get on with the comparison.
Redmi Y2 (Mi Y2) vs Redmi Note 5 vs Moto G6 Play: Price in India, Variants
The Redmi Y2 is about to go on sale in the country with its price starting at Rs.9,999 for the 3GB RAM and 32GB storage model. The 4GB RAM+ 64GB storage variant has been priced at Rs. 12,999.
The 3GB RAM and 32GB storage model of the Redmi Note 5 is also priced at Rs.9,999. However, its 4GB RAM + 64GB storage version is priced at Rs. 11,999 instead.
Then we have the Moto G6 Play which comes in only the 3GB of RAM and 32GB storage option and is priced at Rs. 11,999.
Redmi Y2 (Mi Y2) vs Redmi Note 5 vs Moto G6 Play: Display
Both the Redmi Y2 and the Moto G6 Play sports HD+ 720×1440 pixels resolution panels with 18:9 aspect ratios. The only real difference comes down to the former's display measuring 5.99-inches while the latter's is sized at 5.7-inches. On the contrary, the Redmi Note 5 features a 5.99-inch screen with a full-HD+ 1080×2160 pixels resolution which is much better for content consumption.
Redmi Y2 (Mi Y2) vs Redmi Note 5 vs Moto G6 Play: Camera Features
The one section where the Redmi Y2 is clearly superior is in the imaging department with its 12MP+ 5MP dual-camera setup at the back and 16MP camera at the front. Meanwhile, the Redmi Note 5 offers a single 12MP rear camera and a 5MP selfie shooter. The Moto G6 falls in the middle with its 13MP primary camera and 8MP selfie shooter.
Redmi Y2 (Mi Y2) vs Redmi Note 5 vs Moto G6 Play: Software, Performance, Battery
The Redmi Y2 has been equipped with a tried and tested Snapdragon 625 SoC. It will come with Android 8.0 Oreo-based MIUI 9.5 out of the box and will be powered by a 3080mAh battery with 10W charging.
The Redmi Note 5 also comes with a Snapdragon 625 chipset onboard. However, this phone is still running Android 7.1 Nougat with MIUI 9 OS. It does come with a larger 4000mAh battery though, that supports 18W fast charging.
Then we have the Moto G6 Play which runs a slightly dwarfed Snapdragon 430 chipset that runs Android 8.0 Oreo out of the box. In the battery department, this phone also gets a 4000mAh cell that supports 15W TurboPower fast charging.
Redmi Y2 (Mi Y2) vs Redmi Note 5 vs Moto G6 Play: Final Verdict
All three phones provide tough competition, and it was hard to pick one definitive champion here since each has its own strengths and weaknesses. The Redmi Y2 will offer the best camera configuration but has a lacklustre battery and unimpressive display. The Redmi Note 5 has the best screen and battery prowess but is still stuck with the older OS version and its camera is nothing to write home about. The Moto G6 Play ends up in the middle with a decent camera setup, good battery life, and a CPU that will not exhibit any real-world performance difference but does demand Rs.2,000 more for its 3GB+32GB configuration. If you had to pick between one of these three, make your decision based on which benefit you would rather obtain along with the drawback you are willing to endure. On the other hand, there are many other smartphones in this segment of the market, and you can always choose to look elsewhere for something that better suits your needs.