There have been some exciting developments emerging from CES Asia 2018. Huawei held a conference today where it announced that the Mate 10 series would be among the first of its smartphones to receive a GPU Turbo boost feature via an upcoming software update. While the primary focus began with introducing new features on the Mate 10 series devices, Huawei surprised everyone by revealing a full list of its devices that were on track to receive the GPU Turbo feature update. Huawei claims that this feature will increase GPU processing power by up to 60% while dropping power consumption by 30%.
Pushing out such a feature with a software update was probably made easier since Huawei mostly uses its in-house manufactured SoCs from HiSilicon on its devices. The Mate 10 will receive this update by the end of this month with the other devices to follow suit in stages.
GPU Turbo Update: List of Devices, Roll-out Details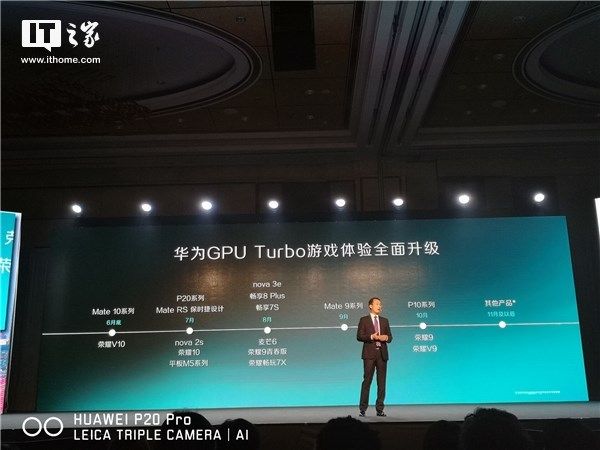 The Honor Play and the new Honor 9i are two devices that recently launched with the Turbo GPU technology already implemented. By the end of this month (June), the Huawei Mate 10 series and Honor View 10/ V10 will be the first to get this feature via a software update.
In July, the Honor 10, Huawei P20 series, Mate Rs Porsche Design, Nova 2s and MediaPad M5 shall be receiving the feature.
In August, Honor 9 Lite, Honor Play 7X, Nova 3e, Enjoy 8 Plus, Enjoy 7S, and Miamang 6 will get the feature.
The Mate 9 series will get the feature in September.
The Honor 9, Honor V9 and the Huawei P10 Series will get the update by the end of October.
Huawei also said that there would be a few other mobiles that shall get the feature in November, but did not specify which exact handsets these would be. We might get more information in the future.
Huawei Mate 10 Series: Other New Features
The Huawei Mate 10 series of smartphones — which is comprised of the Huawei Mate 10, Mate 10 Pro and Mate 10 Lite — are in line to receive additional features and upgraded following the GPU acceleration feature roll out. From June 26, these phones will be receiving support for some type of a cloud service. This will be followed by an OS update for EMUI 8.1 which will be releasing mid-July. This update will bring 960fps slow-motion video recording on these handsets.
Huawei Mate 10 Series: Specifications
The entire Huawei Mate 10 lineup hasn't yet made its way to the Indian market ever since it launched Globally last year. The Mate 10 Pro comes with 6-inch 1080 x 2160 Full HD+ OLED, 18:9 aspect ratio screen that boasts 112% NTSC colour gamut coverage, HDR support and a screen-to-body ratio of over 81%. The Mate 10 comes with a 5.0-inch RGBW HDR display that has a 1440 x 2560 Quad HD resolution and a more traditional 16:9 aspect ratio. The Mate 10 Lite comes with a 5.9-inch LCD panel that comes with a 1080 x 2160 pixels resolution. The former two phones are powered by a HiSilicon Kirin 970 chipset four cores clocked at 2.4GHz and four cores clocked at 1.8GHz. A slightly weaker Kirin 659 SoC powers the Mate 10 Lite.
The camera configuration of the first two phones is the same with a 12MP +20MP configuration at their backs, while an 8MP sensor is housed at the front for selfies. The Mate 10 Lite sports a 16MP+2MP dual-camera at the back with a 13MP+2MP setup at the front. The higher-end models also come with 4000mAh capacity batteries while the mid-ranger comes with a 3340mAh cell. As for pricing, the Mate 10 was priced at 590 EUR at launch, the Mate 10 Pro costs 650 EUR, and the Mate 10 Lite had its price tag as 280 EUR;.