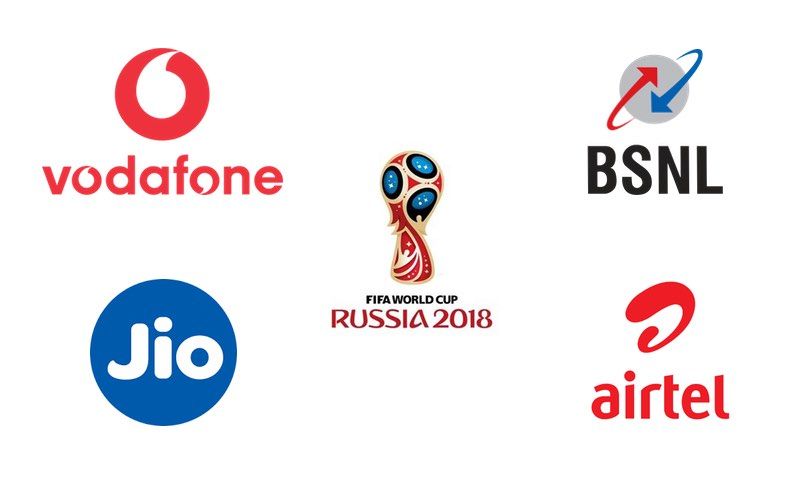 All major Indian telecom operators seem to be getting in the competitive mood as part of the upcoming FIFA World Cup. The most watched sporting event took off on June 14 and will last until July 15. Even if you might not be a fan of the event, there is a great deal to be excited about as you are likely to get some benefit from your mobile operator in one way or another. Reliance Jio, Vodafone, Airtel, and BSNL seem to be in a heated battle to bring the most attractive promotional package this season to not only help fans watch the glorious event, but also enjoy other benefits in the form of additional data. Let's take a look at all the offers subscribers are eligible for with their respective network providers.
Jio FIFA 2018 Prepaid Recharge Offers, Plans:
Jio has announced that all of its 186 million subscribers will have access to watch the world cup matches live this year by heading on over to Jio TV. There would be no additional charges incurred for those who already have access to the service. For customers who might prefer a game of cricket over football, Jio has you covered with live-stream access to India-Afghanistan test match.
Jio also recently launched a Double Dhamaka offer in order to compete with similarly priced plans from Airtel and offer additional data to its customers. Customers who subscribe to Rs. 149, Rs. 349, Rs. 399, or Rs. 449 recharge plans used to get just 1.5GB internet access per day. They now get access to an additional 1.5GB of data, bringing the total daily data access to a whopping 3GB. Users who used to get 2GB of daily data on the Rs. 198, Rs. 398, Rs .448, and Rs 498 recharge plans will now get 3.5GB access instead. Subscribers of the Rs.299 plan will now get 4.5GB data instead of the previous 3GB of access. The 4GB of access from the Rs. 509 package has been bumped up to 5.5GB. Similarly, Jio's Rs. 799 plan will now offer 6.5GB daily data instead of the previous 5GB limit.
Airtel FIFA 2018 Offers:
Airtel has also offered free access to its customers to watch the month-long tournament. Other than just English and Hindi broadcasts, Airtel will provide access to quite a few other local language coverages of the events as well. Furthermore, fans will have access to watch exclusive behind-the-scenes match snippets and will even be able to see match previews/ reviews on the Airtel TV app. Information such as match schedules and other updates will also be accessible to users using the latest version of the Airtel TV app on both Android and iOS devices.
BSNL FIFA 2018 Prepaid Recharge Offers, Plans:
BSNL responded to Jio's Double Dhamaka offer directly by offering its own promotional data pack that provides 4GB of daily internet access for 28 days with a recharge of Rs149. This recharge is specifically called the FIFA World Cup Special Data STV 149 and is valid through the entire FIFA World Cup duration. The pack offers no other benefits apart from the exceptionally high data limit and will be valid for all BSNL prepaid subscribers.
There are also the Rs 186, Rs 429, Rs 485, Rs 666 and Rs 999 recharge plans from BSNL, which used to provide either 1GB or 1.5GB data per day, but will now offer 2GB daily FUP limit. While the validity and other benefits of these packages remain the same, the additional data promotional offer will only be applicable for those who make one of these recharges within the next 60 days.
Vodafone FIFA 2018 Offers:
Vodafone is also getting in on the action by having its own competitions and prizes this season. Various contests and challenges related to the world cup are being held via the Vodafone app right now. The telco is offering the chance to win an iPad Mini to contestants who either win a game or make a transaction. The bumper prize for one lucky winner is a travel voucher worth Rs. 1 lakh.